Surfing the Mediterranean, enjoying the sea breeze and contemplating the coast of Malaga is a memorable experience. Companies like Sail & Fun - Nautical Experiences offer you all kinds of activities to discover the Costa del Sol from a different perspective.
Unique sailboat cruises
Lovers of the nautical world agree that the most beautiful, rewarding and fulfilling way of enjoying a boat is sailing pushed by the wind. That is why Sail & Fun - Nautical Experiences gives a special prominence to voyages in sailing ships with designed routes throughout the Mediterranean, allowing you to adapt them to your preferences. The ideal plan to disconnect from the routine or make a romantic trip with your partner.
Boat rental
If you like making the most of every moment, renting a boat can be the perfect plan for a family day or a trip with friends. Pure air, swims in high seas, music adapted to your own taste, solarium, ski, round tubes, banana boats, wakeboarding, auxiliary boats, diving, paddle surf... and much more!
You can rent it with or without crew, motor powered or sailing crafts, define the duration of the trip and schedule the activities that you like.
Celebrations and events
Sail & Fun - Nautical Experiences offers team building activities for companies looking to promote the internal cohesion of their employees: regattas, special events for companies, corporate meetings...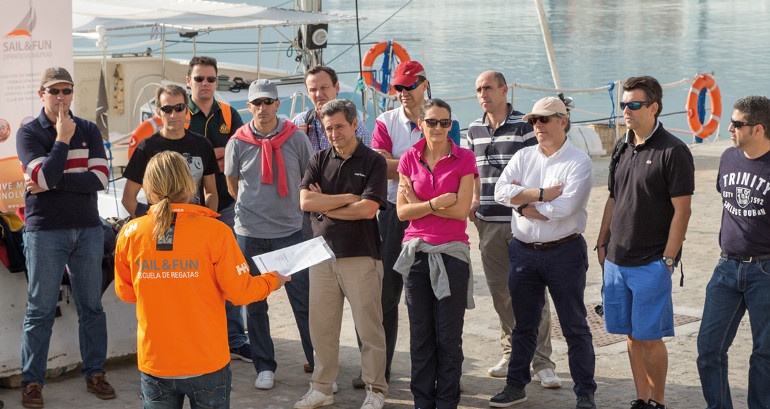 Whether you want to celebrate your birthday, a stag or a hen party, or a just a normal party, a boat on the high seas will surely be one of the most exclusive places where you can hold it. There is no better VIP zone that the Mediterranean, don't you think so?
These celebrations can be completed on demand: from catering service on the deck to all kinds of activities next to the boat, such as water skiing or jet-ski ride.
School of navigators
If you want to go further and become an expert in professional sailing, Sail & Fun is the only private academy in Malaga approved to teach all sportive nautical qualifications and their practices, as well as to obtain the professional maritime certificates, essential to work in the sea.