Paragliding is a sport invented by mountaineers, who intended to come down from mountain peaks quickly by flying, thanks to the help of a parachute guided by suspension lines. The province of Málaga is one of the most popular areas for doing this sport thanks to the variety of mountains available. Kilometres and kilometres of stunning landscapes and natural beauty spots await you!
There are several towns and areas in Málaga that, due to their geographical and climatological characteristics, are classified as ideal flying sites.
Paragliding in Ronda
Ronda is one of the towns that encourages visitors to enjoy the experience of paragliding across its skies. This famous town is an ideal flying site for beginners to take up this sport, as landing correctly is very easy thanks to its gentle slopes. What's more, the route is not very long, which enables beginners to get used to the paragliding equipment and flying rules. During the flight the ruins of the Acinipo archaeological site can be seen.
Paragliding in the Abdalajís Valley
The Abdalajís Valley is another of the most popular sites for lovers of paragliding. Launching takes place in the Abdalajís Mountain Range, part of the Baetic System. This area enjoys a special microclimate, which thanks to its characteristics constitutes a very favourable factor for paragliding. The landscape that can be contemplated during the flight is extremely varied, ranging from the Guadalhorce reservoir in the north-west of the mountain range to the Torcal de Antequera Natural Site in the east.
Paragliding in Teba
Teba is one of the towns with the most tourist attractions in the entire province, and paragliding is one of the offers available to tourists and visitors who are looking for an alternative experience. This inland Costa del Sol town is perched on a mountain, making it a perfect location to start paragliding. From the peak, and during the flight, it is possible to contemplate some of the town's monuments, such as the well-known Estrella Castle, located on a hill near the centre of Teba.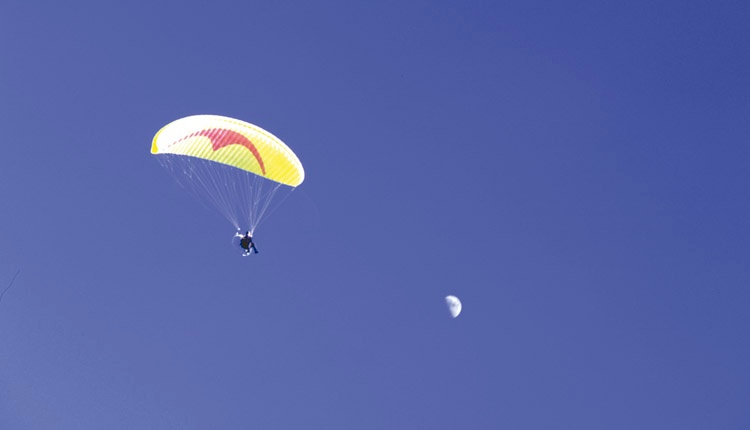 A paragliding flight can be an alternative way of visiting Málaga and the Costa del Sol. This experience provides a completely new way of seeing the whole province, as it is possible to enjoy a bird's eye view of the main natural beauty spots, monuments and towns.