After the over-indulgences, your body asks you to purify yourself and get back to your good eating habits. For this aim, we propose the gastronomy of the Costa del Sol, fine example of the Mediterranean diet. Did you know that this healthy way of eating has been declared Intangible Cultural Heritage of Humanity by UNESCO? A diet that besides being healthy, is an authentic deployment of flavours. Its main ingredients are olive oil, cereals, fruits and vegetables. Here are some recipes for you to enjoy the best cuisine.
In shape with the gastronomy of Malaga
When the holidays end, strict and boring diets usually come as a redemption. However, you can follow a full, healthy diet rich in flavours. Delve into Malaga's cuisine and enjoy the good food of the Costa del Sol, a gastronomic culture based on the Mediterranean diet with basic elements like fruits, vegetables and fish.
For starters, we recommend the Malaga salad, an authentic source of health consisting of oranges, cod, potatoes and spring onions: fruits, vegetables and fish in a finger-licking dish... Ajoblanco can also be a healthy and delicious option. In the elaboration of this cold cream we find another natural health pill: almonds, an ingredient that, along with garlic and breadcrumbs, gives the cream its characteristic white colouring. The muscatel grape of the province is the exquisite finishing touch to this recipe.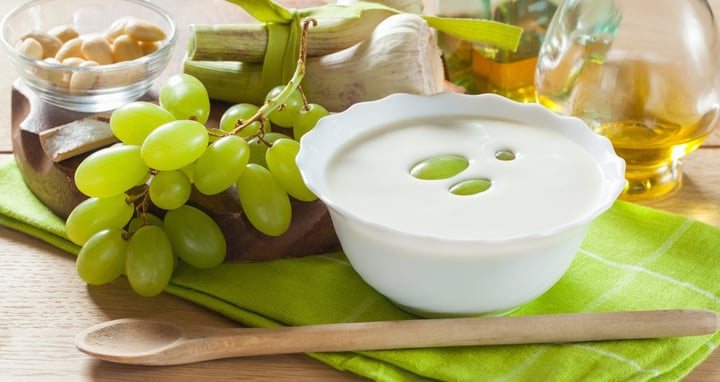 As a hot dish, we suggest a Sopas Perotas, typical of Alora cuisine and the entire Guadalhorce Valley, with its rich combination of ingredients such as potatoes, tomatoes, onions and bread. Of course, the amount of bread we leave to personal choice.
The Mediterranean Sea, the best gym
The fish of the coast of Malaga is a blessing. You should know that there is no place in the world where the fish is better fried, always using high quality olive oil and removing excess fat very well before serving it. However, if you prefer you also have other ways to enjoy it.
One of them is boquerones en vinagre (anchovies in vinegar), a specialty in which fish is cured thanks to the vinegar effect, a great diuretic indeed, seasoned after with chopped garlic, parsley and extra virgin olive oil.
And you don't have to deprive yourself of other delights of the sea. Some almejas a la malagueña (clams) will feel great, similar to the almejas a la marinera but with less consistency. Again, you have the option of dipping the local bread to mop up the sauce.
Another proposal is the Malaga Sopa Viña AB. Hake or monkfish, prawns, clams, potatoes, mayonnaise and lemon constitute a recipe similar to gazpachuelo with the original contribution of Fino Amontillado wine in its elaboration. An exquisite soup you have to try. Keep enjoying the pleasures of good food!