A few years ago, the province of Malaga was awarded for its notable contribution to accessible tourism, and the events held in the area - and there are certainly no lack of them - are no different. As the MICE sector seeks to reactivate following the difficulties of the past year, with events scheduled up to December, we thought it was the perfect time to take a look at the failsafe ways to create an accessible event in an accessible venue where the focus is on the enjoyment, safety and exchange of all guests.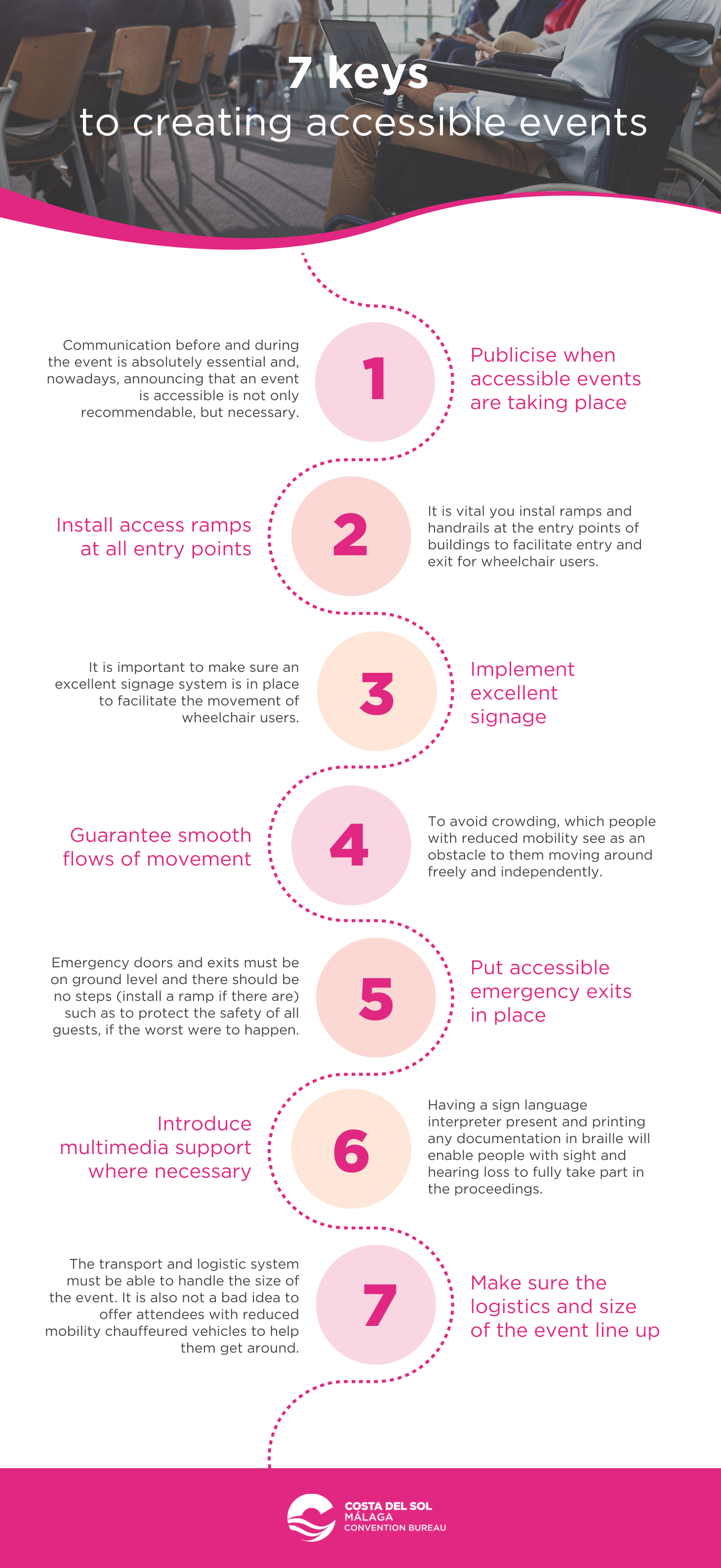 1. Publicise when accessible events are taking place
Every successful event starts with planning. Given that you have to come up with ideas, contact guests and sort out the logistics for a simple birthday party, it should come as no surprise that planning an accessible event with many more attendees requires some careful consideration. Communication before and during the event is absolutely essential and, nowadays, announcing that an event is accessible is not only recommendable, but necessary. Before the event takes place, you need to know how many people with reduced mobility will be attending to reserve them the spaces they need. And this data can only be obtained by promoting the event as accessible in advance and inviting guests to book their spot.
2. Install access ramps at all entry points
As we mentioned before, the Costa del Sol is not only known for its beautiful weather, stunning beaches and incredible towns and cities: it is also famed for accessible tourism. The current level of inclusion has been achieved following years of work to make spaces and places fully accessible. One of the most visible signs of this progress are the ramps and handrails that have been installed at the entry points of buildings to facilitate entry and exit for wheelchair users. When you are planning a conference or any other type of event, you need to think about installing both of these.
3. Implement excellent signage
People with reduced mobility do not only find it difficult to enter or exit buildings; they can also struggle to find their way around a conference hall. It is important to make sure an excellent signage system is in place, particularly in large venues that have a number of different event spaces, in iconic buildings that are less functional and in large and open spaces such as estates.
4. Guarantee smooth flows of movement
Though some event venues are so large that this does not pose a problem, this is not always the case. It is therefore important to remember that keeping guests moving around the building in a smooth and orderly manner is essential to avoid crowding, which people with reduced mobility see as an obstacle to them moving around freely and independently.
5. Put accessible emergency exits in place
Ensuring that emergency and evacuation systems are suitable for people with reduced mobility is another aspect to bear in mind. There is no point in organising an event that attendees can enter using a ramp, but that they would not be able to escape from in the case of an emergency. Emergency doors and exits must be on ground level and there should be no steps (install a ramp if there are) such as to protect the safety of all guests, if the worst were to happen.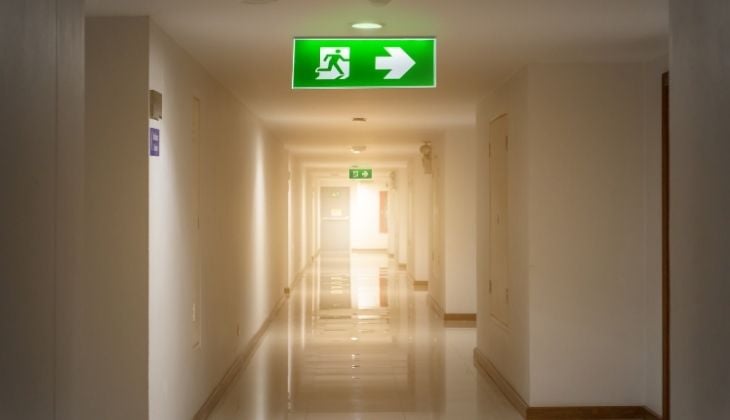 6. Introduce multimedia support where necessary
On some occasions, offering multimedia support and accessories will ensure your event is truly inclusive. Having a sign language interpreter present and printing any documentation in braille will enable people with sight and hearing loss to fully take part in the proceedings. And, in international events, as are many of those held in the Costa del Sol, you could consider hiring interpreters where necessary.
7. Make sure the logistics and size of the event line up
Last, but by no means least, the transport and logistic system must be able to handle the size of the event. The province of Malaga has a superb transport system that comes into its own during large-scale trade fairs, conferences and any other type of event being held. However, it is not a bad idea to offer attendees with reduced mobility chauffeured vehicles to take them to and from the hotel or airport. Though it is not strictly obligatory, it is a thoughtful action for large-scale events lasting a number of days, such as the Solheim Cup 2023, which will be held in the Costa del Sol.
As you can see, there are many aspects to bear in mind when it comes to creating accessible events and accessible venues. With all this information now in your pocket, we're sure that you will pay much more attention to inclusion and accessibility the next time you attend an event in the province of Malaga.