Visiting the Costa del Sol in December gives you the chance to visit and admire them. A perfect plan for doing something with the kids that could be completed by tasting some of the traditional Christmas food and listening to typical seasonal music such as Christmas carols and, more specifically Andalusian, zambombas flamencas.
Nativity scenes in Málaga
The city of Málaga has a deep-rooted tradition of nativity scenes, and to make it known the Malaga City Council edits a guide every year that includes a list of the nativities that are open to the public. The most popular include the City Council's Nativity Scene, which is one of the most visited, the Nativity Scene of the Cathedral and the one in the neighbourhood of La Mosca. The nativity scene of La Mosca is especially interesting as it is 15 metres long and is constantly evolving.
Nativity Scenes in Almayate
For more than a decade this town has had a living nativity scene that has been declared a Unique Provincial Tourist Attraction. The whole town participates in this festival during the last weekend in December and the event is a fusion of the popular Christmas customs of the Costa del Sol with theatre and music. One curious aspect is the fact that some typical local products are actually prepared during the representation of the nativity scene. These products, such as morcilla (blood sausage), chorizo, migas (a dish based on fried breadcrumbs) and chestnuts, are then tasted by the actors themselves and the public who attend the event.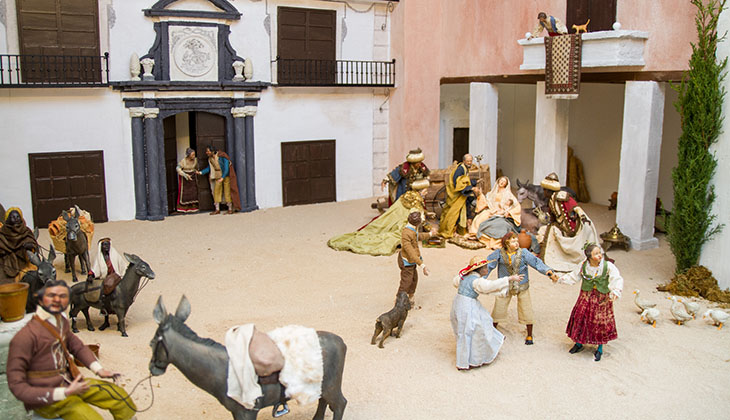 Fuengirola Nativity Scene Contest
One of the most original Nativity Scene contests on the Costa del Sol is the one in Fuengirola. These nativities are sometimes handmade and may include materials such as EVA rubber or Playmobil figures, inviting us to reinterpret Christmas but without losing a tradition that is deeply rooted in the culture of Málaga. Along with these miniature works of art, there are more traditional ones inspired by a specific period or by a particular fashion from the history of Spain, such as the nativity scenes with an aesthetic influenced by Goya.
Marbella Nativity Scene Contest
Every year, Marbella Town Council organises a Nativity Scene contest which is open to both individuals and associations. They also assemble different municipal nativities in various parts of the city that can be visited by the public.