Do you enjoy the landscape more when you're on two wheels? If you can't live without your bike, get ready to tour the Costa del Sol from one end to the other with one of the trails the different active tourism companies in Málaga have to offer. If you'd rather go at it on your own, all you have to do is pay attention to the trail we recommend, grab your bike and enjoy the ride!
Trails along the Costa del Sol
We suggest two easy trails for beginners. There are two ways you can head out on the Costa del Sol:
- Toward the East: A 15-km trail that starts from the centre of Málaga. From there, you'll head to the Peñón del Cuervo, passing by the beaches of La Malagueta, Pedregalejo, El Palo and El Dedo. Then, you'll continue on to the Cala del Moral until the trail finishes at the Rincón de la Victoria.
- Toward the West: A 30-km route that goes from the centre of Málaga towards Fuengirola. It's the same trail but in the opposite direction: You'll head out towards the Puerto de Málagaand continue along the Playa de La Misericordia until leaving the city. You'll pass by the Bird Sanctuary between Málaga and Torremolinos, then see Torremolinos and Benalmádena and end up in Fuengirola.
Inland Trails in the Province of Malaga
Moving away from the beach and heading inland, you'll also find easy trails to take where you can enjoy nature.
- Torrijos Trail. The Torrijos Trail goes through the Montes de Málaga. Its 14.5 km start and finish in Lagar de Torrijos (Museum of the Customs of the Montes de Málaga) and pass by the ruins of Serranillo. The view is spectacular and the trail is not too difficult.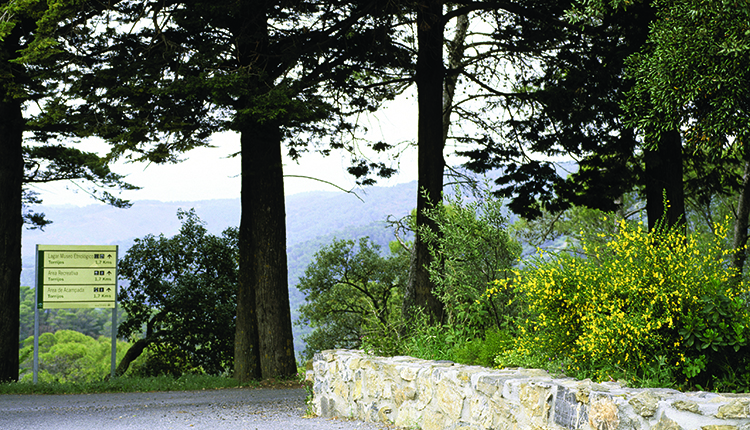 - Trails around Malaga. There is another short, fairly easy trail that starts and finishes in the centre of Malaga. You'll head out towards Teatinos, a neighbourhood on the outskirts of the city and then head towards the Limonero Reservoir. After passing the reservoir, you'll pedal off towards the Ermita de los Verdiales and then pass by the Arroyo Los Pintados, the Embalse del Agujero, the Venta El Túnel, the Presa del Limonero and finally, you'll head back to Málaga.
- Cortijo de Jotrón Trail. This 12-km trail is for more experienced cyclists since it is classified as difficult. You'll leave from the Restaurant Montesol, located on the Las Pedrizas highway (A-45) and head to Cortijo de Jotrón, about 6 km from Malaga. Cortijo is definitely worth visiting.
If you'd rather take the trail with a qualified guide, we recommend that you ask these specialist companies that offer trails for all levels and for groups.
Biking, mountains and beaches. Where else offers all of this?