Practising moderate physical exercise is a recommendation that is as widespread as it is necessary. However, although we are all aware of it, we do not always lead by example. Sport and health are two elements that make up a combo to which we can also add another unrivalled factor: nature. In the province of Malaga, there is space for each of the three elements to merge and achieve perfection, offering the best sporting activities for the whole family. Would you like to know some of them? In this article, we've gathered a careful selection for you.
The Costa del Sol: a Sport Destination
Nutrition, sport, meditation: all healthy holidays should include outdoor and sporting activities in their programme. Costa del Sol, aware of the importance of connecting with the territory and the richness of its natural heritage, is strengthening the promotion of the province as the healthy destination that it is.
More specifically, the province of Malaga has been emerging for years as an enviable destination in the golf and water sports areas. In addition to these, other sports such as football, basketball (the presence of Unicaja Malaga in the ACB League and Euroleague is proof of the interest in this discipline) and water sports or hiking, a sport where the province offers sensational routes and natural landscapes are gaining popularity. Sport and health unite on Costa del Sol.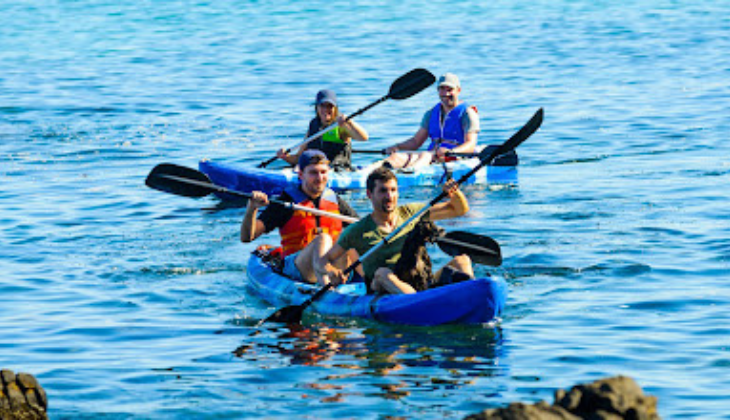 Multiple Exercise Options in the Province
All these actions aimed at promoting participation in sport would be ineffective if there were no sporting potential in the province. But, as we have just seen, this is not the case. Quite the contrary: Malaga's more than 7,000 square kilometres of geographical extension allows for sports that are as diverse as they are healthy. Here are just a few of them:
La Senda Azul
Are you a lover of nature and the sea? The Senda Azul brings together the tourist, heritage and cultural attractions linked to the maritime world of the province of Malaga. Diving, snorkelling, paddle surfing, kayaking, fishing, excursions: this project was created by the Malaga Provincial Council to quench the thirst of tourists from all over the world for knowledge about the Mediterranean Sea and its customs. And, incidentally, to protect the wonders it possesses.
Healing Golf Getaways
Costa del Golf is an unrivalled destination for lovers and enthusiasts of this sport, which boasts the perfect conditions in Malaga. The slightly wavy terrain of the various soils of the province together with more than 320 days of sunshine a year has led Malaga to make a firm commitment to golf; today, it has 70 courses and several schools. Playing golf is positive at any age, for young and old alike. Sport and health are taken care of simultaneously during the game and it is one of the best family activities as it improves social relations and reduces the stress of living together.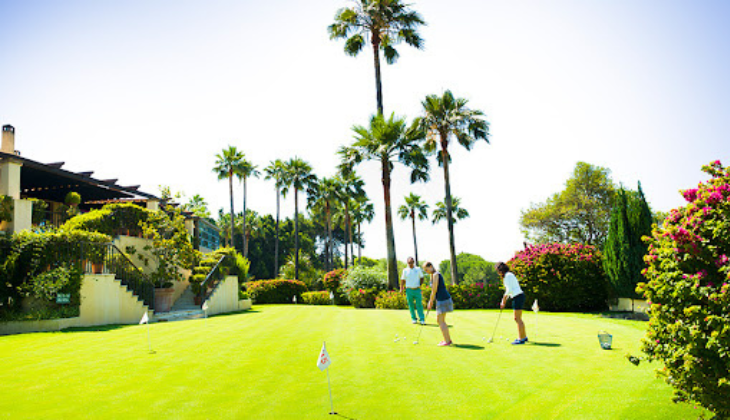 Hiking and Trekking in Malaga's Mountains
The Gran Senda de Málaga, the routes that start from the Fuente de los Cien Caños, the Torcal de Antequera and the historic Caminito del Rey are some of the options available to you if you are a hiking enthusiast. The mountains of Malaga have the added attraction of well-tended vegetation and views of the sea and Africa from some of the peaks. The basis of sports is health and walking is one of the best ways to take care of yourself, as it speeds up your metabolism and lowers cholesterol. So what better way to ensure a healthy heart than walking in the mountains? Find out more about hiking and trekking in the great outdoors here.
Cycling and Touring in the Mountains
Just like with hiking, the trails and rugged peaks that stretch along the Costa del Sol provide a magnificent backdrop for mountain biking. Cycle touring routes and even road cycling are a unique and very healthy option in Malaga. The mouth of the Guadalhorce has a walkway that is perfect for cycling along while you spot some of the birds that nest in the lagoons. In addition, the cities of the Nororma region have created the Bike Territory project, which includes seminars on cycle tourism where the latest news and trends in the sector are presented, as well as meetings and other activities for lovers of this sport. Within this same framework, they are also developing a route of more than 800 kilometres that covers emblematic spots in this area and they are working on new infrastructures and services to encourage the arrival of bicycle-loving travellers. The Sierra de las Nieves National Park and the Montes de Málaga Mountains also have some extremely interesting routes for mountain bikes. However, if you opt for one of the latter, we recommend you train hard before!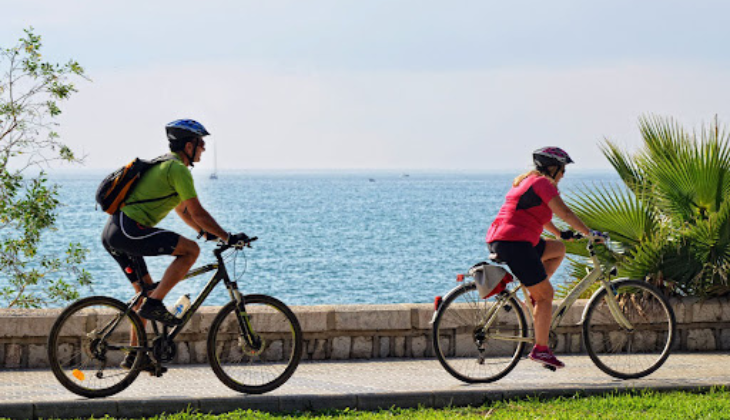 Racquet Sports as a Family
Although it is a possibility that is perhaps less explored, it doesn't mean that it is less healthy or affordable. We are referring to the practice of racket sports as a family, such as tennis or paddle. If you want to play tennis in singles or doubles, you can do so in some clubs in the province.
Horse Riding to Improve your Mood
Direct contact with animals sometimes helps us to forget our worries. Horse riding, an equestrian sport that is practised on horseback, contributes to our health by toning our muscles and improving our sense of balance and our state of mind. Horse riding requires concentration and can contribute, together with the environment in which it is practised (open spaces, in general), to keep negative thoughts away. In Malaga, known for its Andalusian horse culture, there are plenty of equestrian centres and racecourses where this unique sport can be practised.
Of course, in addition to the selection of sports on offer, there are other equally healthy possibilities you can try. Adventure sports, for example, are an alternative for groups of friends, as are the water and nautical sports that can be practised on the province's beaches and rivers. All of them provide a very positive dose of adrenaline and euphoria for the body and mind; get ready to explore what Malaga has to offer. And for those who already know why sport is good for your health and your options in Malaga, which sport are you going to choose? Remember that sport and health go hand in hand and it's always good to keep fit.