Few things bring people together more than a trip. Add some sports to that, and families of all ages will be in heaven! Children need to find fun ways to practice exercise and concentration (both are key aspects of their basic development), and sports are a great way to do that. Furthermore, sports teach kids of all ages important values like the power of commitment, giving your best effort and teamwork. Find out why a family golf game is a great idea for your next vacation to Costa del Sol.

Why play golf with your family
Incorporating a little sports game into your next family trip is good for both parents and children. Not only does it strengthen family ties and reinforce the idea of teamwork, but playing sports also helps build self-esteem, improve social skills, encourage a desire to succeed and implement a healthy, active lifestyle in children and adults alike.
Don't know which sport to play together? Try golf! In particular, golf ignites an appreciation for Mother Nature (especially since it takes place outside) and improves relaxation, patience, flexibility and fine motor and decision-making skills. Researchers have also found that, for children, playing golf enhances concentration and mental development, as the game naturally forces players to disconnect and focus. For these reasons and more, golf is one of the best sports for the whole family to play together. Added bonus? They can do it right here in beautiful Costa del Sol.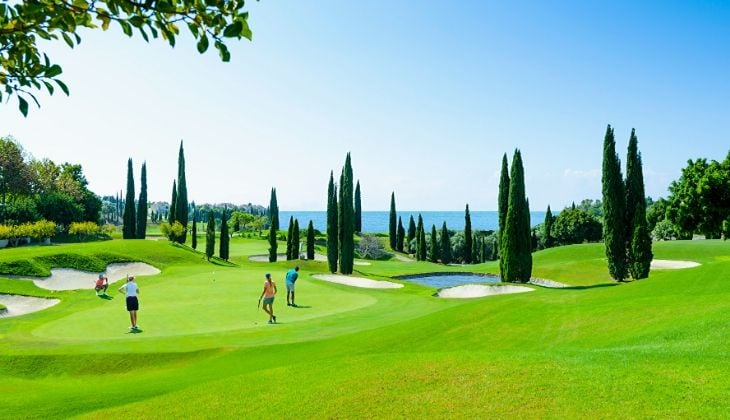 Family golf in Costa del Sol
Whether you're new to the sport or you've been playing for years, playing golf with your kids is something you'll never regret. Luckily, Costa del Sol is one of the best golf destinations in Europe! Home to 70+ incredible golf courses, with a mild climate that's perfect for playing all year long, this part of Spain is actually called the Costa del Golf.
Most of Malaga's golf clubs come with an onsite golf school, which you can use to learn how to play the sport from scratch or simply improve upon your current technique. The best golf courses with an academy in Costa del Sol are La Cala Golf (Mijas), La Dama de Noche (Marbella), Monte Paraíso Golf (Marbella) and Miguel Ángel Jiménez Golf Academy (Torremolinos). La Cala Golf is actually divided into three golf courses: La Cala América, La Cala Asia and La Cala Europa. La Dama de Noche was the first 24-hour golf course in Europe.
Plans to enjoy with the family, beyond golf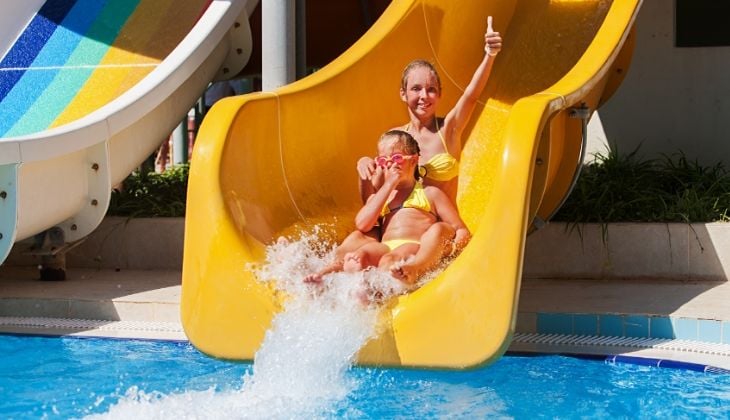 Source: Tivoli World
If not everyone in your family is a golfer, there are plenty of other leisure activities for them to do. Malaga has everything your family could need or want during their Costa del Sol vacation.
Head to amusement parks like the iconic Tívoli World (Benalmádena), or water parks like Aqualand Torremolinos, the largest water park in Costa del Sol. Spend your days together at zoos like Selwo Aventura or Bioparc Fuengirola, try one of the area's multi-adventure centres or go to Costa del Sol's impressive beaches and try a huge selection of water activities, from paddle boarding and kayaking to windsurfing, sailing and more. The options for fun are endless!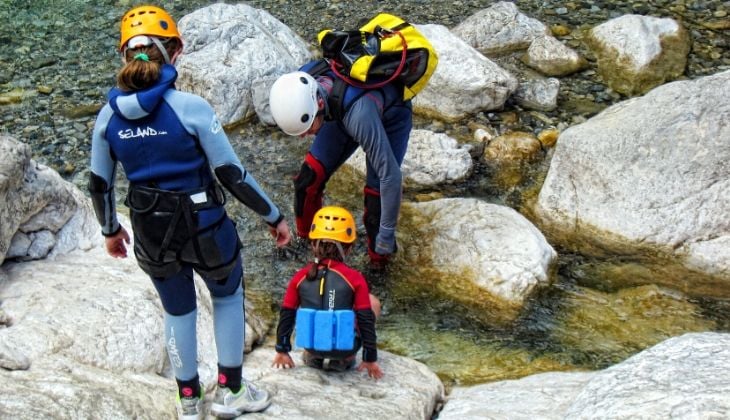 Ready for a dream vacation with golf, beach time, zoos, theme parks and more? Head to Malaga with your family, and let the magic of Costa del Golf suck you in. Find out more activities you can do together in Costa del Sol here.