Event marketing is an absolute must in the MICE sector. Without it, social and even professional events run the risk of not delivering the attendance and engagement figures you expect. In this post, we're going to give you seven useful pieces of marketing advice that you can implement both before, during and after your event. Keep reading to discover how to make your upcoming get-together a resounding success.
Identify your audience and stick to your budget
For your event marketing to be a success, you must start by knowing the people you are trying to reach. Your budget, of course, plays an essential role in this process. Its purpose is for you to achieve the results you want without overspend.
Think carefully about your guest panel
When we say guests, we mean the guest speakers. Your speakers are the lifeblood of your event and though the choice will depend, of course, on the type of event you're planning, you must always take care with your selection. You want to make sure that the speakers are a good fit with your event and are also able to promote it. Our advice is to value experience above all else. Turn your guest speakers into a mouthpiece for your event. There's no better form of advertisement.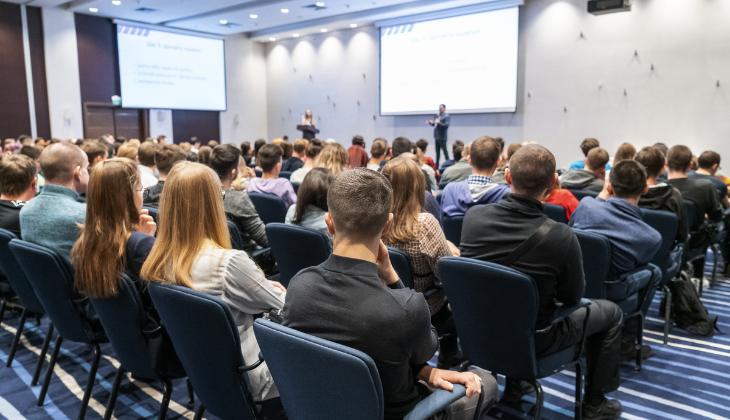 Get some influencers on board
As you can probably tell when you take a look at your social media accounts, influencers are all the rage when it comes to marketing, and your event is no exception. Do you know any names who wield influence in your specific sector? Get them on board posting content about your event on their social media pages and you'll be promoting to exactly the right people.
Make the most of content marketing before the event
There's no doubt about it, content is king. To get your event the traction it deserves, you need to start sharing information about it before the big day. There are different ways for you to do this. You could, for instance, send out press releases, make press kits, use paid advertising and post useful content (content marketing). Get a good marketing team and you'll be one step closer to making your event a success.
Offer experiences during the event
Although it might sound like we're going back to basics, an event needs to constitute a valuable experience for attendees and guests. Beyond the direct and visible experiences and value that attendees expect, optimum event marketing will seek to create invisible experiences. This is everything that you don't necessarily see but that makes the event unique. Examples include making sure the timings are right and that there are no gaps between sessions that keep attendees hanging around. You could also set up networking spaces for anyone who wants to make use of them and make sure there are incentives. Virtual reality experiences also never go amiss.
Stream your event live
Just as content marketing is important prior to the event, live streaming is fundamental during the event. We live in a time in which everything is immediate with live content available at all times. We'd recommend that you live stream your event for free; paid content will make you lose viewers. The benefit of this is that it broadens your reach and helps generate material that you can post after the event, such as the popular 'making of' videos.
Use apps to catch up with your attendees after the event
Having your very own app is one of the most successful event marketing strategies out there. Beyond being useful for following up with your attendees after the event, they are also great in the lead-up. The app will keep speakers and attendees up with all the latest news on their smartphone. After the event, they are also the perfect way to gather feedback, offering your guests the opportunity to give their opinion about how to improve future editions.
So what are you waiting for? Implement all these marketing strategies into the planning for your next event in the Costa del Sol. Come to the province of Malaga to make your event a resounding success.