Golf is the perfect sport for all ages. Whether you're on the older or younger side of the spectrum, the game offers a whole host of challenges for you to overcome. But when you start out in the sport, whatever your age, something you need to pay attention to is getting the right set of clubs for you and your physical characteristics. In this post, we're going to look at all the different types of clubs there are for kids to help you choose the right ones for your little ones. Keep reading to find out more.
Kids' golf clubs: which ones does my child need?
When you're looking to fill your kid's golf club bag, the first club you need to think about getting is the putter. You can then also get a 9-iron for their swings to help them get the ball up into the air with ease. It's also not a bad idea to get a wood or hybrid too.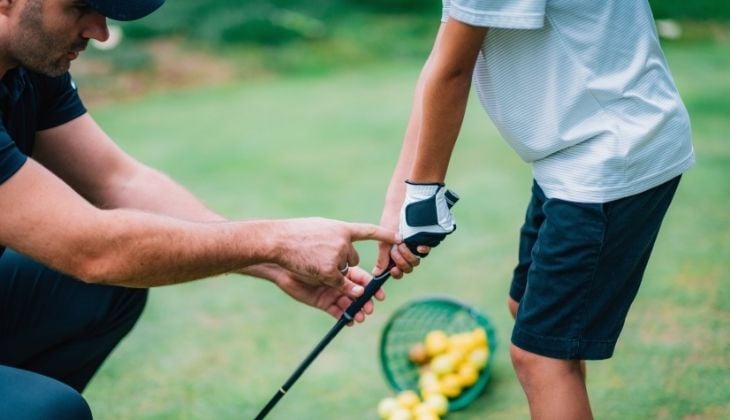 When choosing clubs, it's important to bear in mind that your children are still growing. For them to develop and improve their game, they will need to learn how to grow with the clubs they are using. To make sure your kids are using the right clubs for their height, the best thing to do is measure them every six months or so to ensure the clubs are the right size. The best option is to choose a club that is about 4cm longer than the optimal size. This will enable your child to grow with their clubs, gradually moving their hands up the grip as they grow taller.
It is also important to remember that when your little ones start out in golf (at the age of 5 to 7), they don't need a full set of clubs for their golf bag. A half set (7 clubs), or less, will be sufficient to get them moving around the course and learning how to use their clubs. For beginners, it is best to start out with a set of kids' golf clubs that contain a 3-wood, a hybrid, an iron, a wedge and a putter. As their swing improves, you can then add a couple more irons, hybrids and woods too.
As your children grow, their technique improves and their swing becomes stronger, it will make sense to add a couple more clubs that will help them to achieve greater distance and more precise strokes. At around the age of 12, having 12-14 clubs in their bag is a good number, to help them work on all aspects of their game.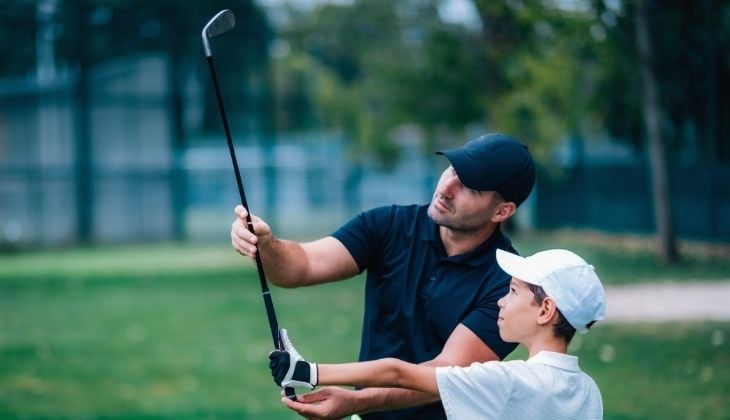 The Costa del Golf: the perfect destination to make your debut on the course
With over 70 world-class golf courses, beautiful weather (average annual temperatures around 20 degrees) and the best golf academies and teachers, the Costa del Golf is the perfect destination to start your little ones out in the world of golf. As they have fun learning the basics, you can enjoy the incredible golf courses and club houses, complete with all the services you could possibly want or imagine. And beyond the course, there are also all sorts of fantastic ways to spend your time together as a family, including having fun at paradise beaches, dining at delicious restaurants, chilling out at beach clubs and exploring the museums and exhibitions. Andalusia has also put in place the Young Golf programme, which offers all sorts of benefits for you and your children. Many courses in the Costa del Sol also offer academies for kids, such as Baviera Golf, Añoreta Golf, Guadalhorce Club de Golf, Miguel Ángel Jiménez Golf Academy, Benalmádena Golf, Guadalmina, Club de Golf La Cañada, Lauro Golf and more. Experience the Costa del Golf with all the family!