Do you want to get started in the world of golf? If the answer to this question is "yes"; read on because we are ready to help you with the most important golf tips for beginners.
As with many other sports, when it comes to golf, some guidelines are necessary if you are playing golf for the first time or have only been playing for a short time. For this reason, we have decided to compile the key aspects of this sport so that you can put them into practice as soon as possible and make your first contact with the sport an unbeatable experience. Moreover, if you decide to get started on the Costa del Golf courses, we assure you that you are already halfway to achieving it... Let's go for it!
1. Get your basic equipment
Our first tip is about the equipment you should have with you if you want to start playing. A golf equipment is undoubtedly one of the most extensive, since it requires at least three types of materials. On the one hand, and indispensable to execute your first drive or tee shot, you need to get the golf clubs. There are more clubs than you might imagine, depending on the material they are made of, the player's level, etc. Therefore, bearing in mind that we are dealing with a beginner golfer, we recommend starting with half a set of clubs (7 maximum). So take note: you must include a putt, a 3-wood and 5-, 7- and 9-irons. On the other hand, and no less important, you will need one of the most basic materials that cannot be missing in any kit: the ball. Just like the clubs, the balls must also be adapted to our playing level. That's why we suggest you choose a rather hard ball, as it will help you to reach a longer distance around the course if you don't have much experience. And to finish with the basic equipment, you can't miss the bag to put all the accessories in. They come in different sizes, colours... So it's up to you!
2. Choose your apparel accessories
In this sport there is a dress code, but here we are going to tell you which are the 3 most basic accessories. Good gloves, comfortable shoes and a cap or visor are a must. Regarding gloves, you need to know that if you are right-handed you will have to wear a glove on the opposite hand and vice versa. In addition, it is important that you choose one that is not too thick in order to have as much sensitivity as possible and to choose the material that is most comfortable for you. With regard to shoes, we must avoid making the mistake that any shoe will do. Keep in mind that this accessory is an element that will determine your grip on the ground, so it is advisable that you choose them with rubber studded soles and, if possible, that they are made of leather for comfort and to avoid chafing. And finally, to avoid being dazzled by the sun, it is important to carry your favourite cap (always facing forwards) or, if you prefer, a visor or straw hat.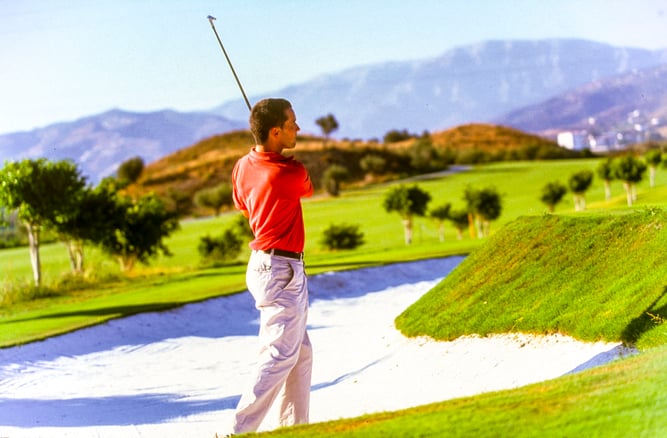 3. Adopt the right posture
Now that you know what equipment and clothing accessories you need, let's move on to the main posture you need to adopt when facing the ball before hitting it. Also known as golf stance, it is very important that you know some tips that will help you to improve your swing or tee shot. These are the most relevant:
Legs apart, at a distance that will vary depending on the type of stroke we want to execute
Slightly bent knees
Back straight, but without being uncomfortable
Buttocks outward for better balance
We almost forgot, hands have to go as loose as possible, avoiding tension in the arms... Easy, right?
4. Familiarize yourself with the game and its language
In addition to all the above-mentioned tips for golf beginners, you should know that familiarising yourself with the sport, its techniques and language will help you a lot from the very beginning. To
learn about it, there are many possible ways and for every taste. You can check information on the internet, watch other people play (live or on video), enjoy a good golf book or even attend lessons given by golf professionals at one of our prestigious golf academies The latter will help you especially with regard to the language that is commonly used, the different techniques, postures, etc. in the most practical and, above all, fun way.
Yes... We know that at first it seems like a lot of things, but we can assure you that it will be worth it. So now that you know what our best tips for golf beginners are, don't hesitate to put them into practice. And if it's on the Costa del Sol... even better!