Sports and physical activity benefit people of all ages, but they especially benefit the correct physical and mental development of children! As a general rule, kids will fall in love with whatever sports their parents play at an early age—so if you're an avid golfer, teach them the rules of the game when they're young! Play golf as a family and watch as your kids reap the benefits below.
It's an ideal sport for the whole family
Golf is a great family sport! It gives you a chance to spend some quality time with your children while getting fit. Experts recommend teaching children to play around the age of five, when they already have good muscle development, motor coordination skills, and an attention span that allows them to learn things quickly. To make sure they learn it the right way, the best thing to do is to enrol them in an academy where they will get expert technical instruction and can play with more children their age.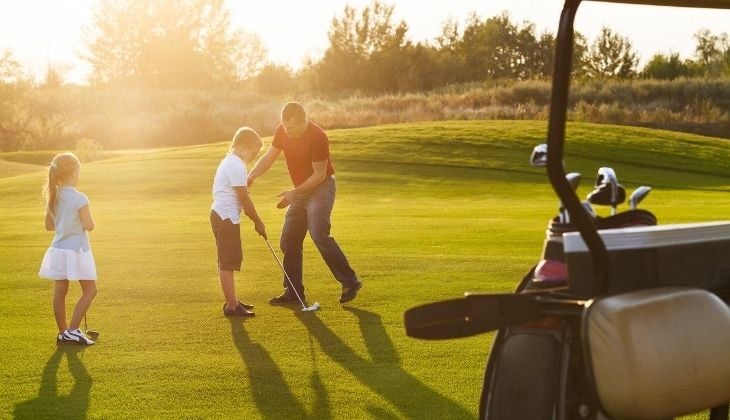 It favours the physical and mental development of children
Golf works many muscles, from your legs, back, abs and shoulders to your lungs and breathing capacity, balance, mental faculties and more. This sport is great for helping kids shape their coordination and positioning! Playing golf requires good concentration skills and a calm demeanour, so it teaches children how to manage their emotions without even realizing they're doing it.
It fosters good socialization
In the world of golf, it's often said that the friends you make are your friends for a lifetime. Golf helps young people relate to other girls and boys in their age group, which allows them to make new friends easily, in a healthy environment.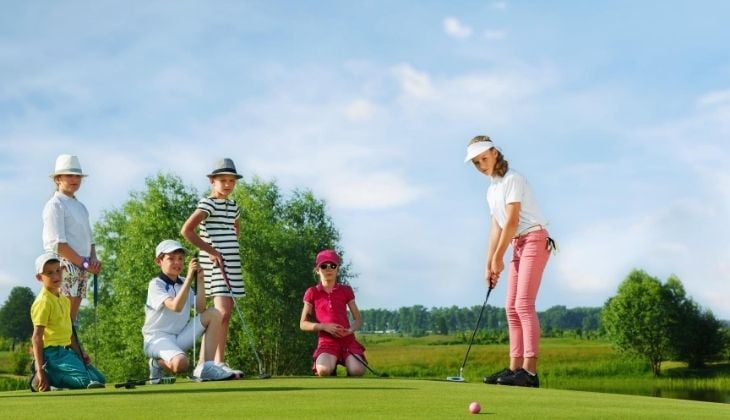 It promotes ethics and fellowship
Golf teaches children basic values and ethics, like camaraderie and respect for both peers and the environment. Along with that, golf requires players to be both their own judge and referee! Honesty is fundamental to the game, and the game instils a sense of honesty in every person who plays.
It's a sport with minimal risk
Another advantage of golf is that it is low risk in terms of injury. This sport has no physical contact between players (unlike other sports like basketball or soccer), making the risk of injury in kids golf very low.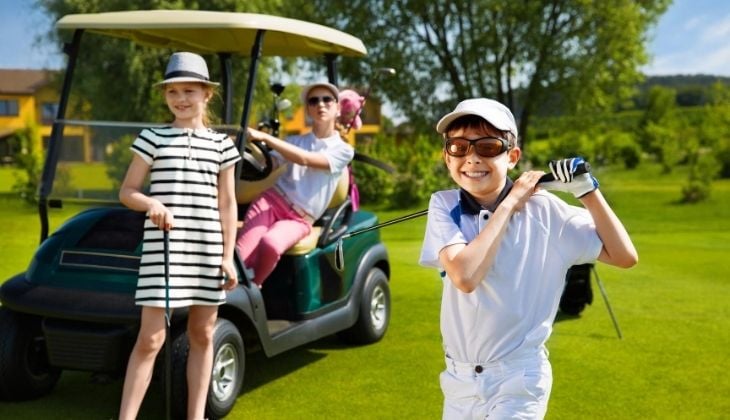 It has a handicap system
Golf makes allowances for children to compete with other children (or even adults!) who aren't on their same skill level. How, do you ask? Because of a handicap system! This is one of the few sports where sons, fathers, grandfathers and even grandsons can play together.
It offers specials for young golfers
Costa del Sol's golf programs have set the standard for strong, grassroots sports organizations! The destination even launched its Annual Young Golf Programme, an initiative that gives young children a national golf license and discounts when it comes to playing golf on many of the province's golf courses. Children under 14 only pay two euros to play golf, and players between the ages of 14 and 25 pay no more than 25 euros. Check the list of golf courses that participate in the 'Golf Joven' program here.
There are many reasons why golf is an ideal sport for children! If you're looking for a place to have fun both on and off the green, head to Costa del Golf. With more than 70 golf courses, some of the best golf schools in Europe, great weather all year long, impressive beaches and a wide range of activities for people of all ages, it's a great vacation destination for golfers and their families alike.