The stress of everyday life, the fast-paced routine in which most people are immersed and the worries of everyday life make meditation an increasingly widespread tool. For some years now, meditation has been practised in the form of occasional or periodic retreats of varying duration. What is certain is that a variant that is as different as it is in demand is that of gastronomic retreats, where gastronomy and meditation intervene. Find out more about this trend and discover why the Costa del Sol is the perfect destination to put it into practice.
Mindfulness Retreats or the Power of the Mind
Immediacy is both positive and detrimental. It's positive because it allows us to communicate instantly and be properly informed, but negative because it sometimes forces us to live in a state of permanent alertness that prevents us from fully appreciating and enjoying things. It is precisely in response to this reality that mindfulness was born, a self-regulation technique aimed at acquiring full awareness of the present.
Meditation or mindfulness retreats (or both) are the order of the day. They were born in response to the continuous and sometimes harmful stimulus of our information society. In such retreats, participants usually set aside several days in an isolated place in nature during which they learn to control emotions, deal with routine problems and live more fully.
But what if we told you that, in addition to pure meditation retreats, the experience can be diversified even further? You'd find that interesting, wouldn't you? That's what gastronomic retreats are all about! Read on to find out more.
Meditate and Experience Cooking
Mindful eating consists of applying mindfulness to eating, paying attention and intention to the experience of thoughts, emotions, physical sensations and behaviours that take place before, during and after the act of eating. In addition, it is important to highlight the great benefits of the Mediterranean diet, characterised by the consumption of fresh vegetables (fruits, vegetables, legumes and nuts) and other cereal-based foods (bread), olive oil and vinegar. The Mediterranean diet contributes to maintaining a state of well-being and healthy ageing. Costa del Sol's climate allows for the production of a wide variety of foods included in this type of diet, which is why the varied gastronomy is undoubtedly one of the main attractions of the province of Malaga.
Gastronomic retreats follow the logic of spiritual or mindfulness retreats, but incorporate the culinary element. In them, participants spend several days living together with the aim of cooking in harmony, learning new dishes, discovering local flavours and disconnecting from their usual routine.
This is an excellent activity for immersing oneself in new culinary trends, such as plant-based, veganism, vegetarianism, culinary reductionism (eating less animal products) or the so-called affective food, which reminds us of our roots and our origins. Of course, the mere fact of spending several days immersed in such an environment is in itself a retreat that makes meditation possible, but with an added element that makes the experience much more complete, healthy and tasty.
One of the most outstanding factors of gastronomic retreats is that they encourage home cooking in different destinations. The local cooking seeks to give local products the prominence it deserves, reformulating the canons of traditional cuisine, including more or less innovative ways of preparing recipes and adding regional foods to the recipe book. It is a seasonal cuisine that works with the foods of each season of the year and has health as one of its priorities, rescuing and promoting the cultural and gastronomic heritage of the destination.
Gastronomic Retreats in Malaga: food and relaxation
In the province of Malaga, a land of flavours, fun and natural beauty, you can live some of these experiences. Gastronomic retreats, meditation and direct contact with the environment will bring you back to life in an explosion of knowledge and flavours.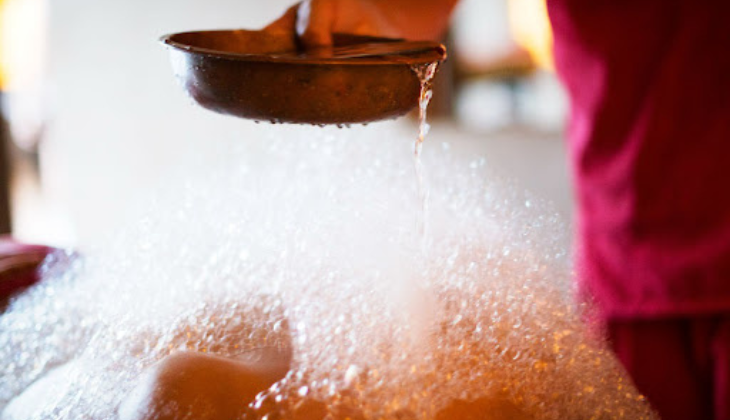 A Complete Experience at Finca La Donaira
Finca La Donaira's rural accommodation offers the luxury of simplicity in experiences as varied as they are transformative. This space, in clear harmony with the nature of the Serranía de Ronda, has more than 100 years of history behind it and today serves as a centre for eco-retreats where it is possible to meditate in bed with bees, taste different wines or practice wellness and many other activities in the middle of nowhere.
Yoga in Orchards at LA Organic Experience
If you are a lover of one of the star products of the peninsular territory, olive oil, do you dare to do yoga among the orchards of the LA Organic complex in Ronda? LA Organic is a unique project that aims to produce olive oil in an organic and traditional way. In addition, and given the charm of the place where it is located, at LA Organic you can practice yoga and meditation and bird watching in the open air, enjoy picnics among the olive trees and pick vegetables from the orchard to cook later.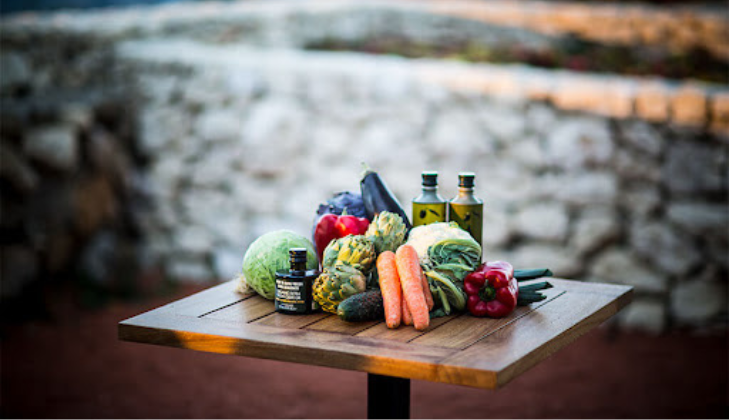 Source: https://www.laorganic.es/actividades/
Finca La Torre: a retreat among olive groves
Continuing with the magic of olive trees, Finca La Torre is one of those places you should visit at least once. This traditional and ancient Andalusian estate has numerous hectares of four kinds of olive groves and different spaces for visitors, who can stay near the olive mill and experience the oil tastings on offer.
The gastronomic experiences you can enjoy on the Costa del Sol don't stop there. In addition to this carefully chosen selection of gastronomic retreats, you can choose from other equally suggestive options in Malaga, such as the excursions and meditations offered by Beetravel or the gastronomic circuits offered by Spain Food Sherpas.
Dream Settings for Meditation on Costa del Sol
As well as country estates and agritourism, you will find an enormous variety of spaces that lend themselves to complete disconnection and, of course, to meditation in the province of Malaga. Beaches, mountain landscapes, and spiritual centres, such as the Enlightenment Stupa in Benalmádena, the largest Buddhist temple in the West, which was created as a place for prayer and meditation and invites you to enjoy peace and harmony. Don't think twice and meditate in Malaga!
The province awaits you with privileged scenery and centuries of gastronomy and history to inspire you and help you unwind.