Whether you're planning a trade fair, conference or any kind of business event, why not make the most of event technologies to treat your attendees to an interactive experience? If something has emerged from the pandemic, it's that technology is here to stay. And the tourism industry is no exception to this. Indeed, as the latest (2021) Hosteltur report puts it, it is "in the midst of modernisation, as is the case of MICE tourism which has undergone notable changes thanks to digitalisation". The study makes optimistic growth predictions for 2022. Event technologies will play an essential role in this progress so we thought we'd dedicate a post to the best event technologies out there. Have a scroll to be inspired.
Touchscreens, the power of interactivity
Interactivity is increasingly sought-after at events. Organisers, DMCs and MICE service providers are hard at work to make every event as interesting and entertaining as possible. Touchscreens are a great way to spark interest among your attendees - whether they are millennials or any other generation. So how about it? Why not use them at your next trade fair or conference?
Virtual reality, welcome to a new dimension
We might have already talked about it in our blog, but it's worth saying it again: virtual reality is a cutting-edge technology that will make your event stand out. VR will transport your attendees to new dimensions. Normally, all you need is a private room and an augmented reality headset to offer this immersive and totally unforgettable experience.
Apps and e-commerce sites, branding's best friends
Apps and e-commerce sites are two additional technologies that can help reinforce the branding of your convention or trade fair. You can share news and important information using push notifications in the app, not to mention make announcements about upcoming editions. On an e-commerce site, meanwhile, you can sell t-shirts and other merchandise for your event. An original way to boost your branding and finance costs.
Drones and robots, successfully sell your event
Outdoor events are popular in the spring and summer; but thanks to the great weather all year round, in the Costa del Sol this period expands to twelve months of the year. Drones and robots are a great technology for this type of event. Film your attendees from the sky, present your venue and facilities in a unique way and give your participants yet another reason to want to attend your event.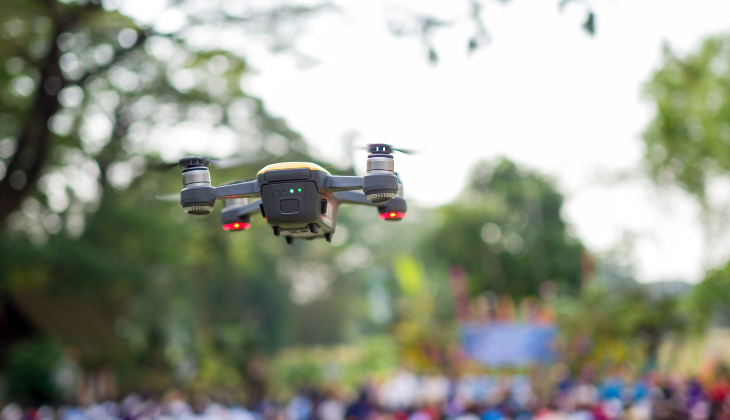 Hi-tech decoration, unforgettable event spaces
Event technology can (and should) also be used for decoration. Have you ever walked into a conference and been transported back to a different period of time? The organisers probably used hi tech decoration. Appeal to the techies at your event by playing with light to create different atmospheres for every moment of the day.
Similarly, you can use holograms at your event. They are particularly effective in smaller rooms and can be used not only to decorate, but also to serve some kind of practical or educational purpose. So that's the end of our list of the top five event technologies. We hope you've been inspired. Think about using them at your next event or enjoy them at some of the many events held in the Costa del Sol.