If you love wine, take a self-guided tour through Malaga's wine regions. Costa del Sol is home to five wine-producing areas, all different in terms of climate and terrain: Serranía de Ronda, Axarquía, Montes de Málaga, North Zone (Vega de Antequera) and West Coast. Because of this, the province of Malaga is able to produce a variety of wines, and visitors can experience them through tastings, special activities, classes, tours and more. Ready to taste your way through Malaga's most iconic wineries? Let's go!
Serranía de Ronda: wine tradition and modernity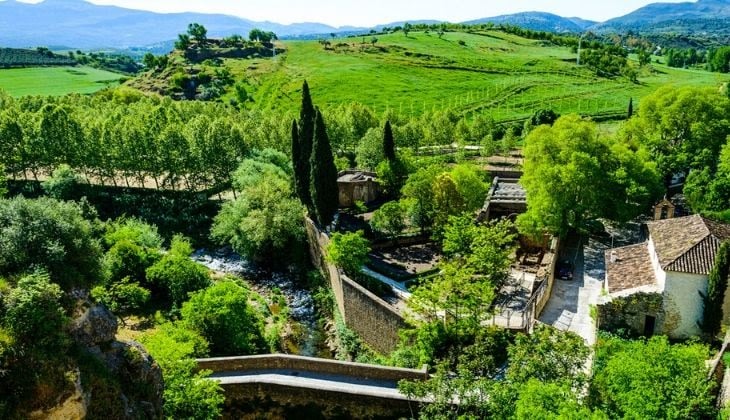 Serranía de Ronda
Serranía de Ronda is one of the trendiest wine regions in Malaga. It has the highest concentration of wineries in Costa del Sol, including some of the most exclusive wineries in Malaga. Two such wineries include: Bodega Descalzos Viejos (which was built in an old oratory of a 16th-century Trinitarian Convent) and DV Minima (which produces a sweet botrytis wine that isn't very common in southern Spain). Making it extra special, visits to Descalzos Viejos include tastings and tours led by professional winemakers.
Another one, Bodega Doña Felisa, has earned a "Certified Quality" seal because it uniquely bases the cultivation of its wine on a control process called "integrated viticulture," which monitors the progress of the grapes from the time they are planted until the moment the wine is served at the table. One ambitious winery, Bodegas La Melonera, serves high-quality wines and conducts an impressive number of research and strain recovery projects. At Cortijo Los Aguilares, 100% pinot noir wines are made from grapes picked in organic Spanish vineyards and are repeatedly ranked as some of the best in the world. Need more suggestions? Try visiting Bodegas Excelencia, Bodegas Lunares, Bodegas Joaquín Fernández (Finca Los Frutales) and Bodega F. Schatz—they are just some of many wineries you're sure to fall in love with in Serranía de Ronda.
La Axarquía: quality vines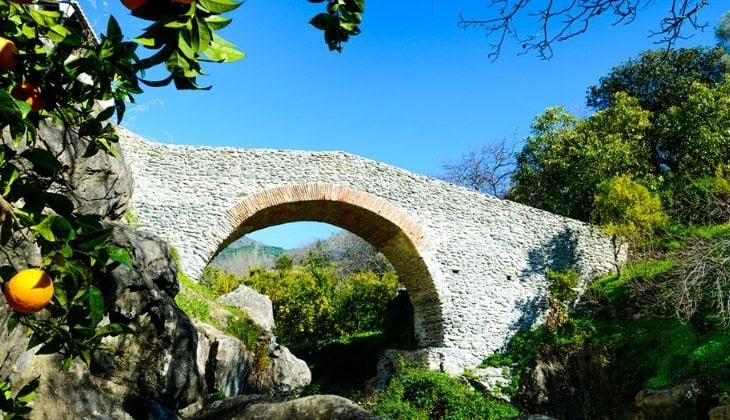 The Arab Bridge of Salares, Axarquía
The Axarquía (Denomination of Origin Sierras de Málaga) is the other major wine-producing area in Malaga. Go here for a number of high-quality wines, like Botani (from Bodegas Jorge Ordóñez) or Jarel (from Bodegas Almijara, in Cómpeta). Both wineries can organize guided tours and wine tastings for any visitors who want them.
Located in Moclinejo, Bodega A. Muñoz Cabrera is one of Malaga's most historic wineries. It houses a permanent exhibition of the different tools and machines the winery has used to make its wine, from the day it first opened to today. Sedella Vinos is a winery distinguished for its artisanal farming techniques—it actually uses draft animals, Roman ploughs and ancient protocols to harvest its grapes. Currently, this winery is coming up with indigenous red wines using romé and Garnacha grapes. Finally, when you visit Axarquía, it is impossible not to mention Bodegas Bentomiz (Sayalonga), which guests love for its one-of-a-kind, modernist and sustainable design. Perfect for wine tourism, it offers tours in different languages and has a fabulous signature restaurant where guests can pair Bodegas Bentomiz wines with a deliciously prepared lunch.
Montes de Málaga: variety and quality of wine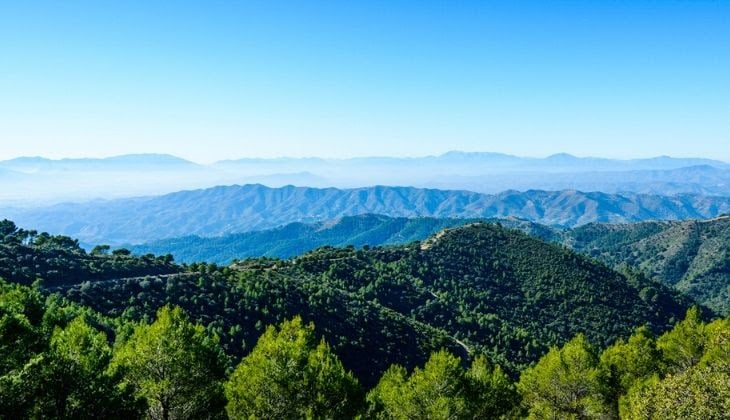 Montes de Málaga Natural Park
Surrounding the city of Malaga, Montes de Málaga offers a complex and shapely mountain range, the coldest temperatures, the highest altitude and the largest amount of rain in the province of Malaga. Because of this, vineyards here are varied and different microclimates add complexity to wines produced in this area. Predominant grape varieties that grow in this part of Malaga are Pedro Ximénez and muscat grapes.
The most well-known winery here is Antigua Casa de Guardia, which was founded in 1840 and still ranks as one of the oldest wineries in Malaga. Another important winery is Bodegas Quitapenas. Both offer plenty of tours, trails, behind-the-scenes tips and wine-related activities for wine lovers of all interests. Another peculiar fact about these two wineries is that both have additional locations in the centre of the city of Malaga. Antigua Casa de Guardia has a traditional tavern on Alameda Principal street, while Bodegas Quita has three wine shops scattered around the city.
North Zone (Vega de Antequera): history and tradition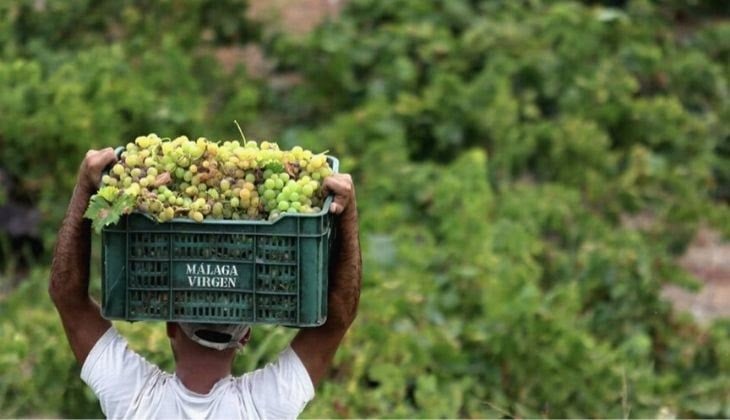 Source: Malaga Virgin Wineries
The northern part of ​​Malaga is known for having a great wine tradition. Go to the town of Fuente de Piedra to visit Bodegas Málaga Virgen, one of the oldest and most famous wineries in Costa del Sol. This winery is most known for its variety of sweet, dry, calm, flavoured and brandy wines, especially Málaga Virgen, Moscatel Salvador and Trajinero. In Mollina, you'll find La Capuchina, a winery that has both a long history and a century-old farmhouse. Here, visitors will find an olive plantation that produces different kinds of olive oil, and both wine and oil tastings are available.
West Coast: rescuing the wine tradition
The West Coast of Costa del Sol is influenced by both the Mediterranean Sea and the Atlantic Ocean and has a climate guided by homogeneous temperatures and a mix of dry, humid, warm and cold winds. You can't talk about this wine region without mentioning Nilva—it's the first winery in the West Coast recognized by D.O Sierras de Málaga and a major player in the area's wine tourism. Located in the municipality of Manilva, Nilva is home to the Viñas de Manilva Interpretation Center (CIVIMA), a wine museum that takes visitors on a tour through the history of winemaking in Manilva. Go here to learn, take in the spectacular Mediterranean landscape and old Peñoncillo vineyard and drink aromatic wines made from Muscat grapes.
Manilva is the perfect place to end our wine tour through Malaga! To learn more about the area, add a stop at the Malaga Wine Museum. And to really make your trip one to remember, book a hotel that's right next to all the wineries. There are plenty of picturesque, rustic country hotels in the area that let you relax and enjoy a different kind of experience in Costa del Sol.