Grab your loved one and stroll along near-perfect beaches, eat at delicious restaurants, see some of the world's most beautiful film locations, get some sun and so much more. When you take your special someone to Costa del Sol, one thing is for sure: your trip will be unforgettable.
Planning a Valentine's Day weekend in Costa del Sol? You've come to the right place! Read below to find out more about where to go and what to do in romantic Málaga—and let Cupid take care of the rest!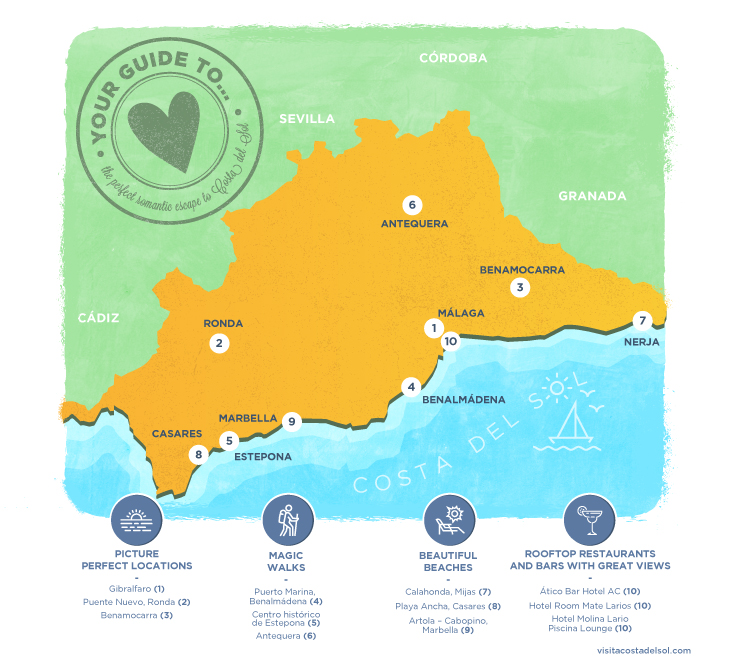 Valentine's Day on the Costa del Sol
Picture Perfect Locations
Málaga is packed with some of the world's most idyllic backdrops, and there are few things as romantic as taking in their beauty with your special someone. In Costa del Sol, you'll see everything from city and rural views to spectacular mountains and, of course, endless views of the magical Mediterranean Sea. Make your weekend extra romantic when you plan stops at three of our favorite Málaga viewpoints. First, catch the sunset behind Gibralfaro, a 19th-century castle on a hill. Then, head to New Round Bridge, which is inarguably the city's most recognizable monument. (It's practically a symbol of Málaga itself! It's so tall that the locals say "you can touch the sky" there.) Finally, just a 40-minute drive from the capital, don't miss the river-valley town of Vélez. Here, you can get a stunning view of the town and its surrounding valley from the village of Benamocarra.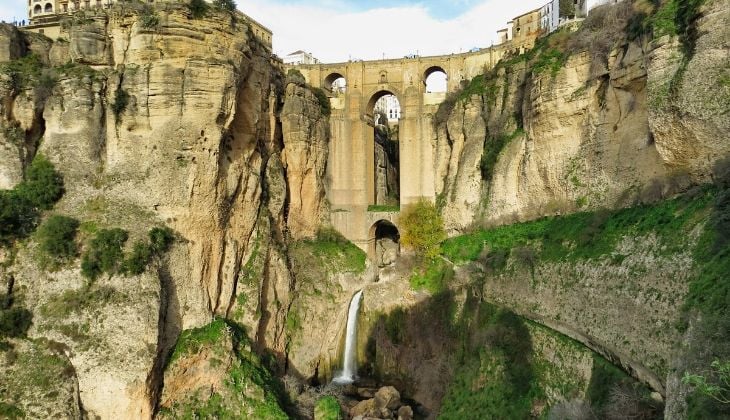 Magical Walks
Costa del Sol is full of popular walking areas that are perfect for couples looking for a romantic stroll. Puerto Marina, in Benalmádena (which is known for its stunning beaches and Tivoli theme park), is considered one of the greatest maritime architectural jewels in Europe. Likewise, the historic center of Estepona is filled with beautiful fountains, white houses and gardens overflowing with colored geraniums. Finally, walk hand-in-hand through Antequera, and you'll both get to immerse yourself in Andalusia's beautiful past.
Beautiful Beaches
If your idea of a romantic vacation involves some time on the beach, Costa del Sol is where you and your special someone need to be. Lucky for visitors, the warm temperatures of Costa del Sol promise more than 320 days of sun every year! With so many beaches in Málaga to choose from, we've narrowed down the list to just our absolute favorites: the lush beaches of Calahonda (in Nerja), the jewel that is Playa Ancha (in Casares) and ​​Artola-Cabopino, a part of Marbella that really immerses visitors in Mother Nature's most precious gems.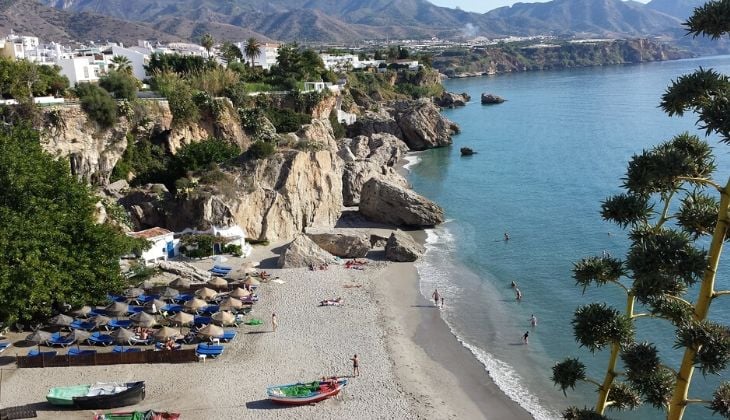 Rooftop Restaurants and Bars with Great Views
When we talk about Valentine's Day in Málaga, we can't forget its charming restaurants and rooftop bars. For a night you won't forget, eat a delicious meal or grab a drink at the Penthouse Bar & Restaurant in the AC Málaga Palacio Hotel, the Larios Terrace in the Room Mate Larios Hotel or the Pool Lounge in the Molina Lario Hotel. With views that beautiful, it will be hard to pick your favorite!
Did you like this Malaga guide? Now that you know where and how to celebrate Valentine's Day in Costa del Sol, it's time to start planning your trip. If you have any questions or need more recommendations, we're here to help!