Perched on the top of Serranía de Ronda is an oasis of peace and tranquillity where you can relax and connect with mother nature: Finca la Donaira. Over one hundred years old, this country property boasts contemporary facilities in the most beautiful surrounds. Millennial holm oaks, animals roaming almost wild and an organic kitchen garden will envelop you during your stay. In this interview, María Centeno, marketing director at Finca La Donaira, will tell you everything you need to know about hosting a luxury event in this spectacular venue.
What is La Donaira and what makes it a unique place to host an event?
At La Donaira we promise a luxurious experience that centres around nature. We are an eco retreat, organic farm and equestrian centre breeding Lusitano horses in Montecorto (Malaga). Not only do we offer accommodation, we are a working farm growing organic produce, merging tradition and innovation to create a modern utopia. Over one hundred years old, the country property has been renovated to inject the natural world into every one of the nine guestrooms. Intimate and comfortable spaces meet the latest generation facilities including spa, a natural spring pool and an endless list of tailor-made experiences ranging from horse riding and wine tasting to meditation with bees, paragliding and wellness. And as if all that weren't enough, we also host music festivals and wedding venues.
Fuente: Finca La Donaira
What sorts of events do you host?
Focusing on finding a better and more sustainable way of living, our events revolve around the organic farm and eco retreat. Beyond this, projects such as La Dehesa Biodinámica seek to introduce our philosophy to different types of people through our agritourism experiences. Wild yet accessible and with extensive fields, oak forests and rugged peaks where birds of prey nest, the 700 hectare estate is a natural stage to host an event. Everything from the land to the bees has been designed for humans and nature to harmoniously coexist. From weddings and concerts to the eco mountain marathon we organise, every event centres around the philosophy La Donaira was founded upon.
What sort of food do you serve at Finca La Donaira?
Simple local flavours from the land. This is the philosophy that drives our kitchen, where Swedish chef Fredrik Andersson (Michelin star for Mistral in Stockholm) and his team highlight the privilege of being alive. Ever since the beginning, we have been working to be self-sufficient and sustainable, exclusively serving guests food from the organic kitchen garden or local producers. We make our own natural wine, extra virgin olive oil, honey, almond milk and eggs (free range chickens) and Andersson uses these ingredients to design concept menus based on the ingredients that were picked at the farm that morning. Ingredients are used authentically to create delicate flavours with layers of technique and meaning.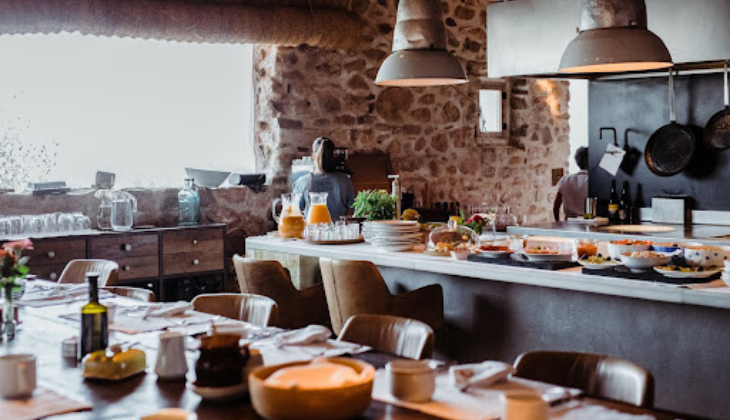 Fuente: Finca La Donaira
What sort of incentive activities does La Donaira offer?
We have created a number of experiences that align with our commitment to the land and our philosophy. For instance, we run natural and biodynamic wine tasting in beautiful settings like the glasshouse and under a century-old holm oak tree with views over Sierra de Grazalema. We also offer food workshops, namely 'Cocina de la granja al tenedor' (Cookery from farm to fork), in which guests connect with nature to experience a process of transformation. The guides at the estate - masters of mindfulness - are the Andalusian donkeys, a breed to whom we owe more than we perhaps imagine that is at risk of extinction. Inspired by the apothecaries of monasteries past, the medicinal garden has over 350 varieties of herbs, serving as a pharmacy. One of only four bee beds in the world is found here, a place where you can enjoy one of the most extraordinary experiences on offer at the estate: meditation with the sound of bees buzzing in the background.
La Donaira is a home away from home. Guests awaken to the sound of birdsong and can then spend long and lazy days dipping into the infinity pool and gazing at the fifty mares and their foals roaming the scenery. There are equestrian activities suited to both beginners and experienced riders on offer. You can discover how to break in horses with a horse whisperer, go on hacks or enjoy grounding, a way of connecting with the horse that uses breathwork. You can visit the farm and the organic kitchen garden, be a farmer for a few days, collecting eggs that you will then eat, do some hiking, trekking or cycling or simply lie down in the shade of a 700-year-old holm oak, soaking up the peaceful atmosphere and enjoy the vistas over the beautiful Andalusian scenery.