While at first glance planning a business event may appear to be an easy task, there are actually a number of factors that you need to take into account to make sure everything goes as you had hoped. Keep reading to discover everything you need to know to make your event run smoothly.
1.The goal of the event
Defining the goal of your business event is key to making it a success. Whether you're planning a product presentation, fundraiser for a good cause, a conference or simply an event that is designed to reinforce your brand image or gain your customers' loyalty, establishing a set of clear, tangible and measurable goals is the best place to start.
2. The target audience
Just as important as defining the goal of your business event is defining the target audience. Think about your business event as a response to a specific problem. The type of attendees (employees, customers, influencers, students, the media, providers, etc.) define the type of experience you will want to offer.
3. The budget
It's a common mistake to think that the bigger the budget for your business event, the more successful it will be. This is not always true: just as important as having a good budget is knowing how to manage it. The amount of budget you have will determine the types of venues and services you can hire. Nevertheless, we cannot emphasise enough that the budget you've set aside for your business event must be in line with the goals you have set out.
4. The venue
Hotels, conference centres, castles, estates, event rooms, restaurants, beach clubs: the range of business event venues in the Costa del Sol is vast. Before starting your research, take time to prepare a list of your requirements, such as the number of rooms you need, the technical services you require as well as any accommodation or restaurants, etc.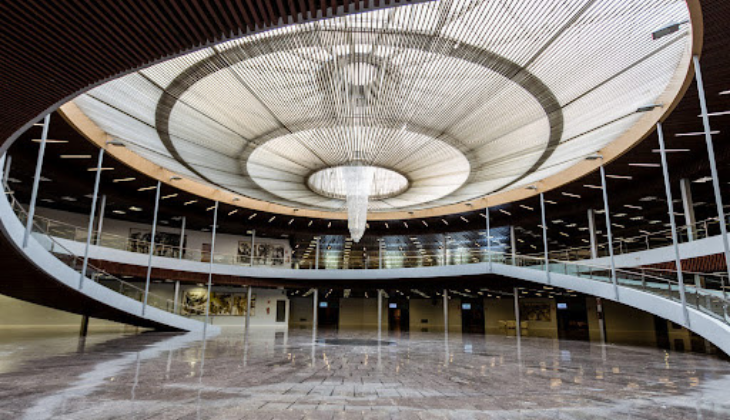 Fuente: Palacio de Congresos y Exposiciones de la Costa del Sol
5. Services
Your attendees' experience of the event will depend, to a great extent, on the service providers you choose. When it comes to reception, catering, entertainment, decoration, technical equipment and security, the best advice is to turn to experts in each specific area and, most importantly, hire companies and professionals that know the destination and type of event you are organising like the back of their hand. The Costa del Sol is home to a wide range of DMCs and service companies that will help you make your event a resounding success.
6. Marketing
The way you market your business event is one of the keys to its success. As soon as you've confirmed the date and venue, it's time to get promoting by sending out a "save the date". Send emails (if you've got a database) and run marketing campaigns on social media, in the press and out-of-home advertising. The amount of budget available to you is also important here as it will determine just how far you can go. But remember: you don't need a huge budget to promote your event well.
7. Planning
Planning is key as every element of your event needs to be planned, validated, created and delivered. Retro planning helps you prioritise your to-do list by looking at your deadlines for each and every element, whether it be production, technology, logistics or anything else.
8.
8.
The team
Don't fall into the trap of taking on too many tasks for yourself. A good event planner knows they need a good team around them. Look for support from within your company or turn to external companies. Depending on the type of event you are organising, you may need help with design, production, logistics and more. Event planners can help you manage your event from start to finish.
9. Unforeseen events
An event wouldn't be an event if something didn't go quite to plan. Even when you plan everything down to the last detail, unforeseen events will happen and you need to be prepared. Delegate all the tasks you can to the rest of the team and on the day of the event, focus on watching how everything is going to detect anything that might go wrong and react quickly.
10. Feedback
Once the event is over, it is important to take some time to think about what went well and what didn't go so well. It's a good idea to send your attendees a survey to draw conclusions that will help you make your next event even more of a success.
We hope that this list will help make your business event a success! Don't forget: the best advice is to turn to a local DMC for support. These companies are experts in the area and will be with you every step of the way.