Art lovers are in luck. The museums are currently hosting a series of first-class exhibitions in Malaga: Kandinsky, the artists of the School of London, the Spanish realists and the designer Philippe Starck are some of the artists whose work can currently be admired in Malaga. These are some of the exhibitions where you can enjoy the best art this summer in the capital of the Costa del Sol.
Kandinsky and his influence on Russian art, in Malaga
If you're coming to the Costa del Sol soon, you'll have the opportunity to see the work of the man considered to be the creator of abstract art: Wassily Kandinsky. Under the title "Kandinsky and Russia", the exhibition brings together a total of 78 works from the Russian Museum of St Petersburg and other public and private collections. The exhibition can be visited at Malaga's Russian Museum until 26 July.
La Escuela de Londres (The School of London) in the Picasso Museum
The new temporary exhibition at Malaga's Picasso Museum brings together the work of the painters who represented the human figure during the second half of the 20th century and are known as the School of London.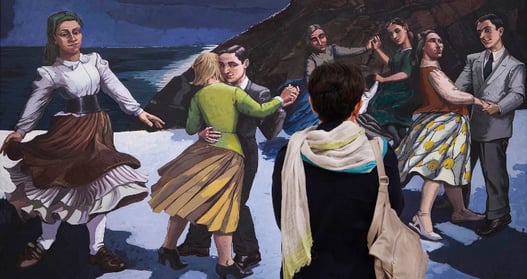 © Museo Picasso Málaga
Under the title "Bacon, Freud y la Escuela de Londres'" (Bacon, Freud and the School of London), the exhibition features paintings by artists such as Francis Bacon, Michael Andrews and Frank Auerbach and is the result of the collaboration between the Picasso Museum and Tate London. The exhibition will run until 17 September.
"La apariencia de lo real" (The appearance of reality) in the Carmen Thyssen Museum
Another interesting artistic opportunity is being offered at Malaga's Carmen Thyssen Museum. Its current temporary exhibition "La apariencia de lo real" travels through the Spanish realist art of the second half of the twentieth century and includes works by Antonio López, Manuel Franquelo, María Moreno and Isabel Quintanilla, among others. The exhibition can be visited in the gallery until 10 September.
Starck. Dibujos secretos (Secret drawings). 4,000 sketches unveiled
The popular objects of the designer Philippe Starck are the stars of the new exhibition at Malaga's Pompidou Centre. The works on display range from the most iconic to the most everyday designs of a creator who shows commitment to ecological awareness. You have until 19 September to visit it.