When travelling, it's not always about planning every little detail to a T. Sometimes wandering the streets and roads on your own with a thirst for discovery is what makes for the most memorable experiences. The province of Malaga, famously known as the Spanish beach and mountain destination for tourists and golfers, is also a great setting for those more adventurous trips, with some of the best road trip routes you can imagine right here. We've thought up the best itineraries so you don't have to. Just take note and prepare your getaway to explore the Costa del Sol on two or four wheels.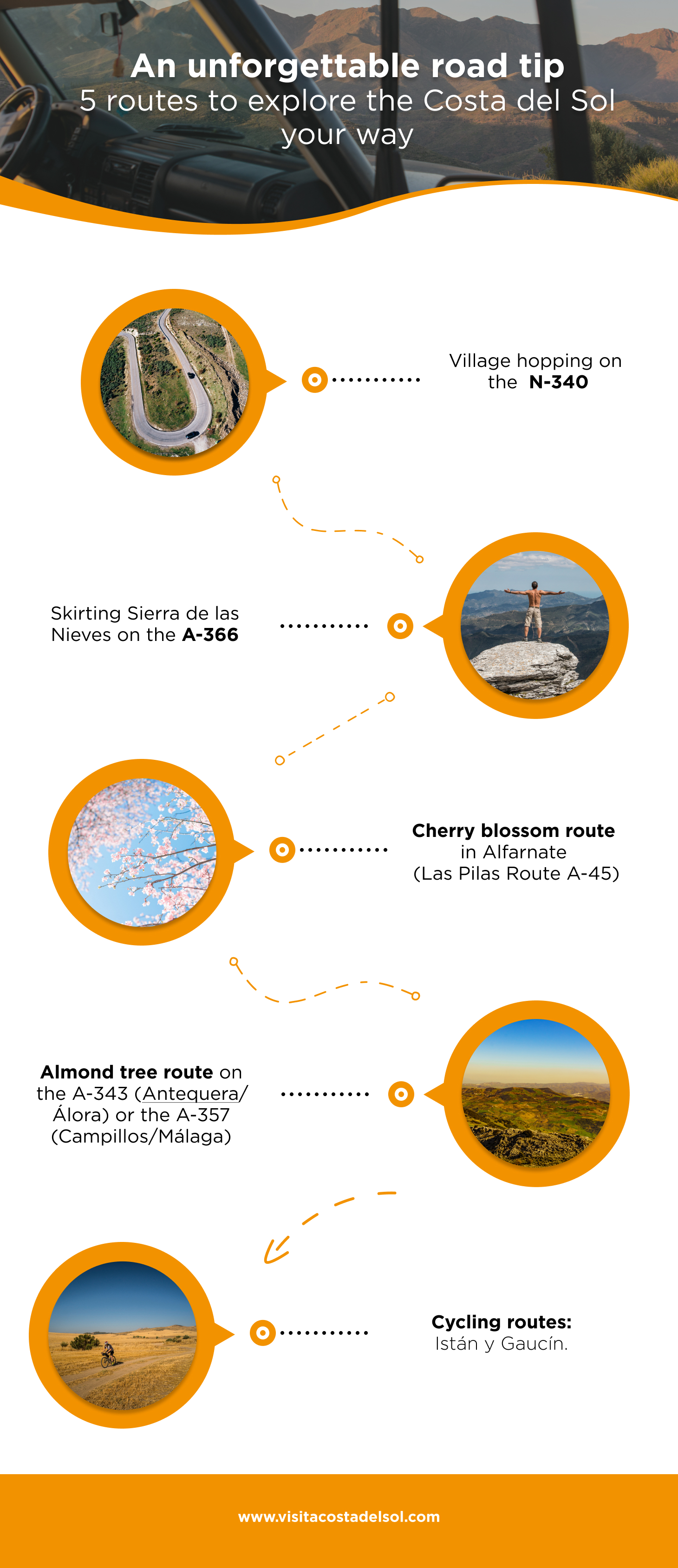 Village hopping on the N-340
We begin our list of road trip ideas to see the Costa del Sol with the best: discovering the region's most charming villages and hamlets on a village hop. From Nerja to Manilva there's an incredible driving route waiting for you that skirts the stunning Mediterranean coast, so stock up on water and turn the engine on. But wait, there's more.
Depending on where you set off from and the number of days you have for your trip, your options widen considerably. There are towns in the Costa del Sol that are real historical, scenic and architectural gems. Read on to know which they are. The road that connects Maro and Nerja not only gives you breath-taking views of the rugged Maro-Cerro Gordo Cliffs, but also immerses you in the world of whitewashed villages and flowerpot displays overflowing with colour. From there, just continue along the N-340, making short pit stops at Torre del Mar, Benagalbón, and Rincón de la Victoria to see some of the most stunning beaches, or if you're missing the big city then stop in Malaga itself for some hustle and bustle.
Another option is to start your road trip further west on the coast; the towns you'll come across between Torremolinos and Manilva will impress you whatever time of the year. If you still haven't visited Estepona's picturesque old town with its explosion of colour, the magnificent gardens in Mijas, or the photo-worthy views in Ojén, then don't waste anymore time and get in the car. A road trip around the Western part of the Coast del Sol won't fail to make an impression.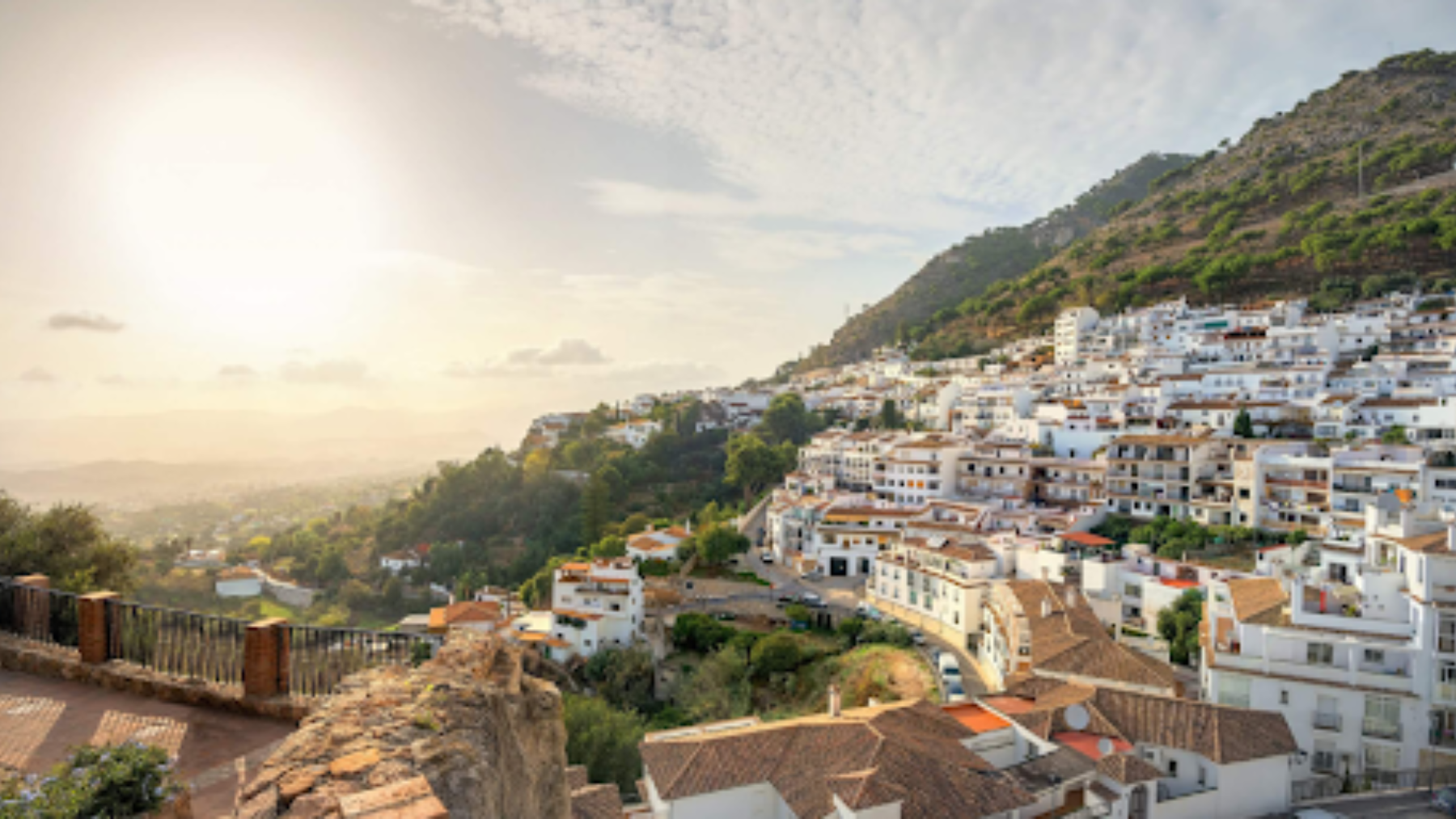 A-366: Sierra de las Nieves route
Leaving the coast for a bit and heading inland, why not take the A-366 which connects Ronda and Coín. In between these two towns, there's a whole world to discover. Pass through Tolox and its 19th century hot springs, Alozaina and its fairytale landscapes, Yunquera, El Burgo, and finally the famous mountaintop town of Ronda that is a must-see.
Drive deep into the Sierra de las Nieves National Park and you can go on walks amongst the fir and oak trees while birds of prey soar above your head in the clear blue sky. If there isn't time for exploring this mountainous paradise, at least get out for a breath of nature's fresh air and a photo to remember.
On wheels amongst blossoming trees - choose between two plans
The Ruta de los Almendros (Almond Tree Route) and the unparalleled beauty of the blossoming cherry trees in Alfarnate are two great reasons for hitting the road in Malaga for a road trip out into the countryside. For those who already know and love the Axarquía region, seeing the cherry orchards in Alfarnate on the Pilas Route is a very special occasion. Clad in soft pink dainty flowers, the cherry orchards provide you with the perfect paradise. If you take the A45 from Malaga city, you'll arrive at the Alfarnate, passing through the Montes de Málaga Natural Park.
And we can't forget the Ruta de los Almendros that runs through Cártama, Pizarra and Álora. You can explore this area in spring by taking the A-342 (between Antequera and Álora) or the A-357 (between Campillos and Malaga); two regional roads ideal for driving with pretty spots to stop along the way. Almogía and its features of white-washed houses is the ideal place to go on the Sancti Petri Trail, which takes you through the almond trees in bloom. Make your way through this stunning scenery in the car, cycling or even on horseback.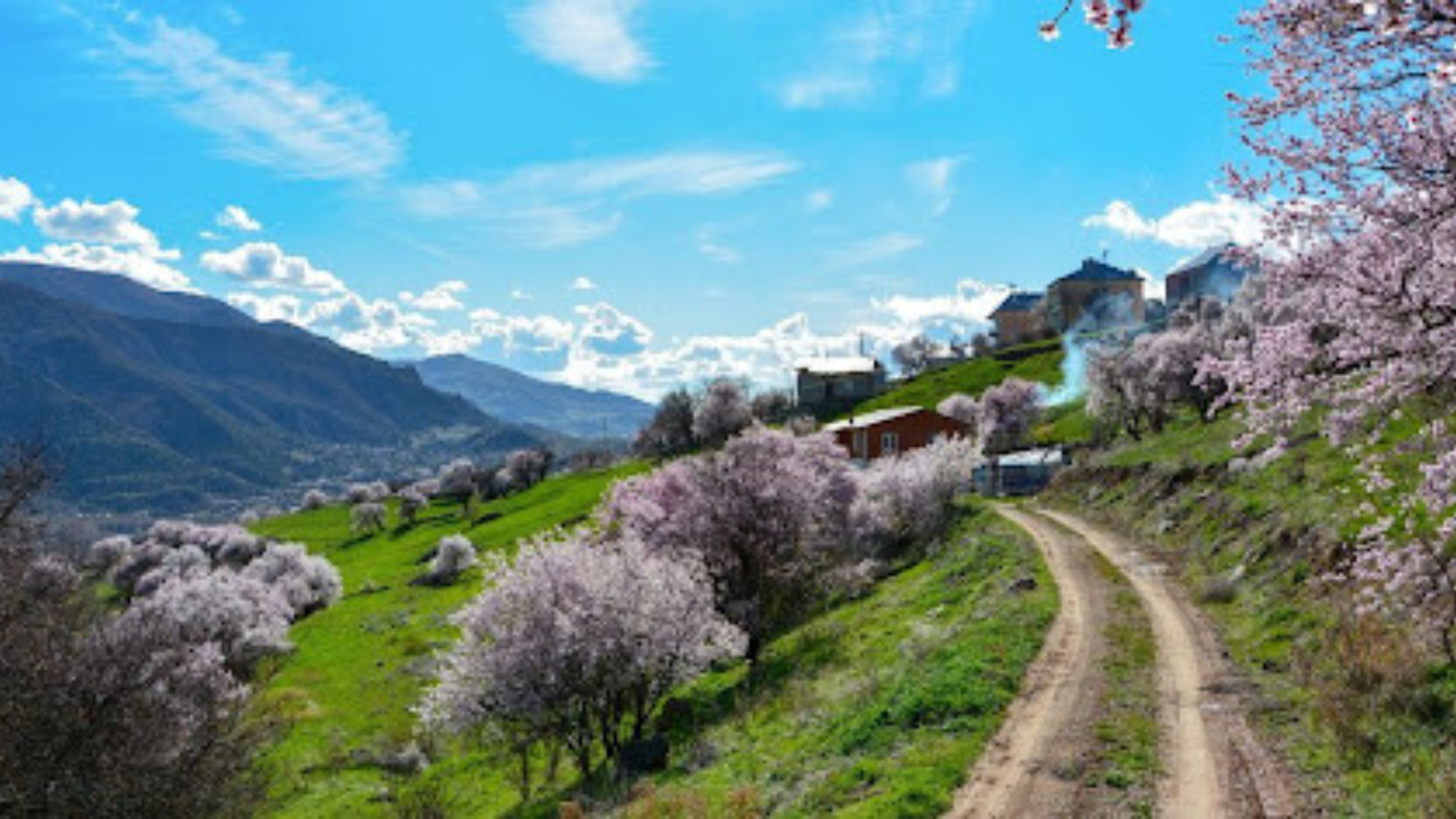 Source: Planetdrive.es
Cycling routes in the province
Are you a cycling fanatic? If so, then there are heaps of cycling route options for you to explore the province on two wheels instead of four. Istán for example will win you over instantly with its white-washed quaintness and views of the Serra de las Nieves, also offering great mountain trails you can take by bike or car. Cyclists who love this town and its surroundings will also love Gaucín. In both places you can easily get lost down the irresistible country tracks, creating your very own route in the Costa del Sol at a pace that suits you.
What's more, the province of Malaga crosses paths with TransAndalus: a mountain bike route that runs through the whole of Andalusia, covering more than 2000 kilometres that spread from the east to the west of the Costa del Sol. It's a route full of ups and downs, with nine different tracks to follow depending on how harcore you're feeling.
Now you know the many different options for discovering the Costa del Sol by car, motorbike, or bicycle, it's time to start preparing your next trip. Book a long weekend off from work, or even a week with friends, and head out onto the road to enjoy one of life's must-do activities. Cross 'road trip' off your bucket list and see the Costa del Sol differently.