If there's one place in the country that epitomises the renowned Marca España (España Global), it's the Costa del Sol. For this very reason, the province of Malaga is easily one of the top destinations in Spain to learn Spanish. Great weather, delicious food, diverse cultural influences and an open and warm outlook on life come together to create an environment that is ideal for making progress in your language skills.
And, given that you are probably thinking along the same lines - you are reading this, after all - in this post we are going to give an overview of exactly why the Costa del Sol is an excellent choice for your language learning. We'll also give you a selection of some of the very many Spanish schools for foreigners in Malaga so you can choose the one that suits you best. Keep reading to discover all the draws of the Costa del Sol when it comes to learning Spanish.
An extraordinary destination where you'll have fun as you learn
The Costa del Sol is a truly unique destination in Spain. With average annual temperatures of 20ºC, shimmering sunlight and many areas of natural beauty, the province of Malaga is nothing short of a paradise destination to throw yourself into Spanish learning.
The Spanish language is revered around the world for being open, natural and rich. All these elements form a part of day-to-day life in the Costa del Sol, where you can combine hours of study with additional activities, such as taking on adventure sports, getting to know new people and discovering the wonders of the Mediterranean and the mountains.
And that's not to mention the rich and extensive culture that underpins the region. Not only is Andalusia the birthplace of flamenco, it also flaunts Muslim influences that have survived from the 8th and 15th centuries to the present day and a wealth of artistic heritage that inspired everything from Mudejar architecture to the works of Picasso.
If you love language and architecture, you'll find the province is something of a living museum. From north to south and from east to west, you can explore different municipalities, villages and historic sites which will immerse you in age-old traditions and the civilisations that have formed present-day Spain. Roman roads, Arab baths, megalithic dolmens and multiple other constructions tell the story of the province, providing ample motivation for language learning.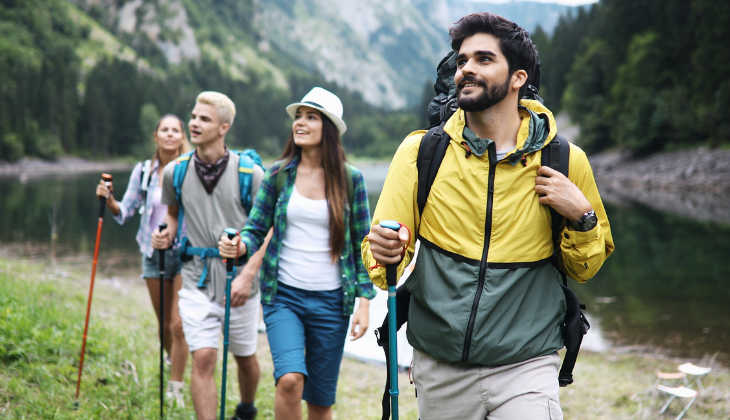 Social life that will get you chatting
Another factor that makes the province of Malaga a great place to learn Spanish is the vibrant and bustling social life. Spaniards, and malagueños in particular, go beyond being tolerant of visitors, opening up their hearts and arms, creating lasting relationships that really favour language learning.
Here you will have the opportunity to master Spanish inside and outside the classroom, immersing yourself in real-life situations, such as the incredible nightlife. Cool and happening bars become centres of language exchange, cosmopolitan places to meet new people, adding a whole new and fun perspective to learning Spanish.
Where gastronomy and language are one and the same
A unique way to experience the culture, and by extension the language, of a country is to immerse yourself in its gastronomy. Discovering the local gastronomy of the Costa del Sol is an increasingly popular activity, and it's no surprise given that it opens up a whole world of tastes and experiences. From the Mediterranean cuisine of the coast - defined by fish dishes such as espetos de sardinas and pescaíto frito - to the traditional dishes served in the inland - hearty stews and soups made with game - the gastronomy of Malaga and the Costa del Sol is rich in terms of variety and flavours. There are a myriad of restaurants, beachside chiringuitos, tapas bars, wineries and Michelin-starred eateries where you can treat your palate to the very best of the Costa del Sol.
Academia Málaga Plus
Academia Málaga Plus offers foreign students the opportunity to study Spanish in a relaxed and youthful environment just steps from Pedregalejo beach. A multicultural and fun way to learn the language.
Acrotera Idiomas Language School
If you like to be close to the bustle of the cities yet stay in a peaceful area, Acrotera Idiomas is for you. Located in Rincón de la Victoria, just 18km from Malaga city, this centre offers Spanish lessons, making it the perfect place to work on your language skills.
Centro Internacional de la Lengua Española (CILE)
Centro Internacional de la Lengua Española is one of the best Spanish schools if you are staying in the historic centre of Malaga. Here you can study Spanish in a beautiful Modernist building that is steeped in history. A place to be inspired and improve your language skills day after day.
Academia AIFP
AIFP is one of the best established language academies in the capital of the Costa del Sol. Of all the language schools in Malaga, AIFP stands out for two main reasons: its certified courses taught by native speakers and its offer to help you find a place to stay. It is therefore a great option if you don't have much time to plan your stay in Malaga.
Academia Entrelenguas
If you've decided to stay in Ronda, you're going to love its architecture, mountains and long history of brigandage. Academia Entrelenguas is one of a number of Spanish schools in this magical town. The team comprises native speaking teachers and the school also runs cultural events that are the perfect complement to your Spanish learning. Online classes are also available.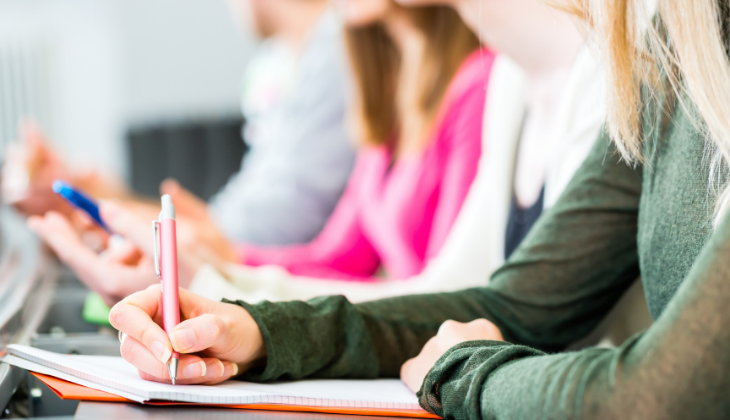 Centro Internacional de Estudios de Español en Ronda
If you are looking for a unique and immersive language learning experience, Centro Internacional de Estudios de Español de Ronda is for you. Here you can obtain ECTS credits that are recognised by Universidad de Málaga, while at the same time learning Spanish through fun activities, such as Andalusian cooking classes and theatre lessons.
Debla Cursos de Español
Housed in a quintessentially Andalusian building, Debla, founded in 1979, offers not only Spanish classes but also flamenco guitar lessons. Located just a stone's throw from the beach in Malaga and with a multicultural student body, the school is the ideal choice for young people.
Centro de Idiomas Quorum
If you have chosen to learn Spanish in Nerja, Centro de Idiomas Quorum is an excellent choice. Accredited by Instituto Cervantes, it offers small class sizes (a maximum of 8 students) to favour learning and interaction of all students. Its catalogue of classes include intensive courses and exchange programmes.
In addition to this selection of learning centres, there are many other language schools that have a great reputation for language teaching. Some examples include Instituto Internacional Alhambra (Malaga and Pedregalejo), which has decades' experience in offering tailor-made classes, Instituto Malaca, which is said to be the best Spanish school in the world, and Escuela Cervantes Internacional, which enhances language teaching with the latest technologies.
As you can there, there is no lack of options. So what are you waiting for? Come to the Costa del Sol to improve your Spanish at the highest quality language schools while enjoying everything else the destination has to offer.