A bottle of champagne, candles, relaxing music and the bubbles of your very own jacuzzi… What could be a more perfect backdrop for a romantic evening? If you want to treat your loved one to an incredible getaway, keep reading to discover some romantic hotels with jacuzzi on the Costa del Sol and enjoy beautiful moments together.
Gran Hotel Miramar – Malaga
Sitting opposite the famous La Malagueta beach (Malaga) is one of the best luxury locations on the Costa del Sol: the Grand Hotel Miramar. Boasting the highest hotel rating (five star luxury), Grand Hotel Miramar is housed in what used to be a palace belonging to princes and which subsequently became Hotel Príncipe de Asturias in 1926. Today its 190 guestrooms will treat guests to the luxury of details and extraordinary views over the Mediterranean. Here not only can you revel in the extravagance of one of the oldest hotels on the Costa del Sol, but you can enjoy relaxing in your very own in-room jacuzzi in one of the Crown Suites. Located in the palace towers, these suites boast 60 generous metres squared and a classic yet contemporary décor, private terrace and - of course - spectacular jacuzzi en plein air where you can admire the surrounding historic buildings, hotel gardens and the stars.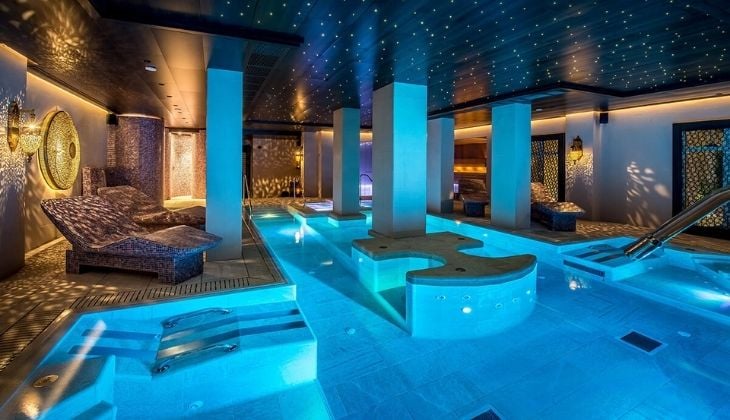 Source: Gran Hotel Miramar
Higuerón Hotel Curio Collection By Hilton - Fuengirola
The list of hotels with jacuzzi on the Costa del Sol would not be complete without mentioning Higuerón Hotel Curio Collection By Hilton, which has been fully renovated and recently achieved its fifth star. Located in Fuengirola, the hotel has been designed with hedonism in mind, creating a space filled with art, culture and gastronomy that distills the essence of the Costa del Sol. The wellness centre, Nagomi Spa, is one of the best in the province, offering a collection of experiences including the hydrothermal circuit and relaxing massages tailored to your specific needs on the day. The pool with hydromassage, jacuzzi, cascades, sauna, Turkish bath, heated pool, beauty salon and solarium will immerse you in a haven of relaxation, leaving your mind and body totally regenerated.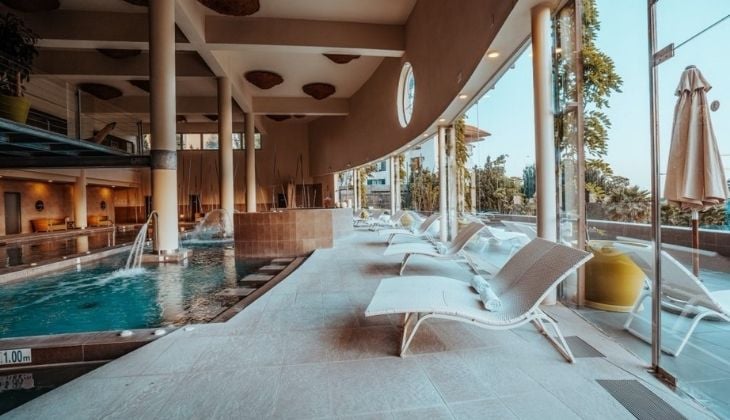 Source: Higuerón Hotel Curio Collection
Hotel Convento La Magdalena – Antequera
Located in the municipality of Antequera, Hotel Convento La Magdalena is housed in what used to be San Pedro Alcántara convent built between 1691 and 1708. The building has been used for various purposes over the years until reaching its current-day incarnation: a luxury five star hotel with extraordinary rural rooms, magnificent views and a quintessentially Andalusian setting. Hotel Convento La Magdalena offers 21 guestrooms with its Suites and Suite Real boasting in-room jacuzzis. This is luxury living at its very best; every detail has been designed for the most demanding of guests who expect the very highest level of comfort during their stay. Defined by their generous spaces, full range of services and attention to luxury, the suites can sleep two to four people in their decadent décor.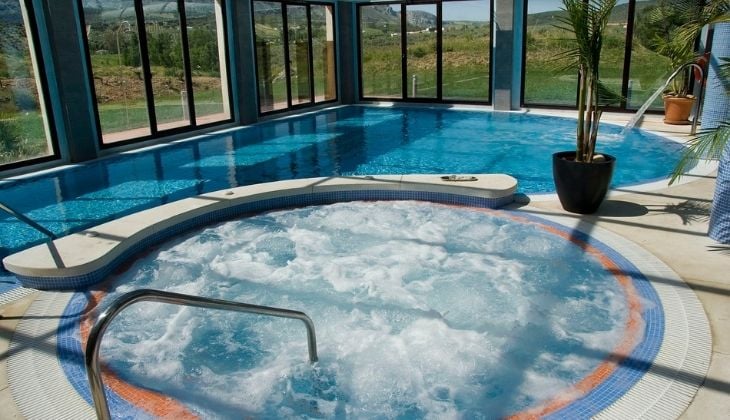 Source: Hotel Convento La Magdalena
Hotel Barceló – Malaga
Nestled in the centre of Malaga city, just 10 minutes from the historic centre, four star Hotel Barceló Málaga is a fantastic option for your romantic stay in the Costa del Sol. Its 221 modern and comfortable guestrooms offer everything you could possibly want or need to enjoy a pleasant and relaxing stay. This is even more true in the Junior and Junior Deluxe Suites: over 30 metres squared enveloping you in the greatest comfort, from designer furniture to hydromassage bathtubs. Wardrobes, desks and screens are used here to delineate the different zones in the suite, each of which have a different atmosphere, though as a whole they couldn't be more modern or welcoming.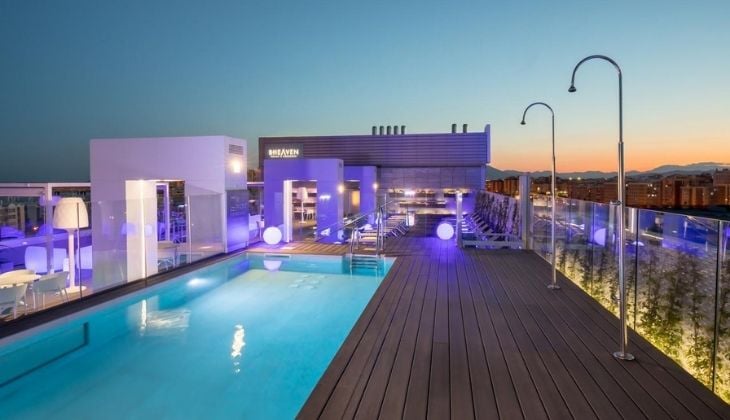 Source: Hotel Barcelò, Málaga
MB Boutique Hotel Adults Only – Nerja
MB Boutique Hotel is a small and luxury hotel sitting in central Nerja, just 250 metres from the beach and a 10 minute walk from the famous Balcón de Europa. An adults-only space, it has been designed with the sole purpose of coaxing you into a state of total relaxation. Something its rooftop chill-out area with its two jacuzzis and Balinese beds certainly doesn't fail to do. The highest room grade, Double Superior with Jacuzzi and Terrace, is the ideal option for a romantic weekend you never want to end. 33 metres squared filled with a terrace bedecked with loungers, a king size bed, touch screen operated water and lighting and, as its name suggests, an incredible jacuzzi inside the room.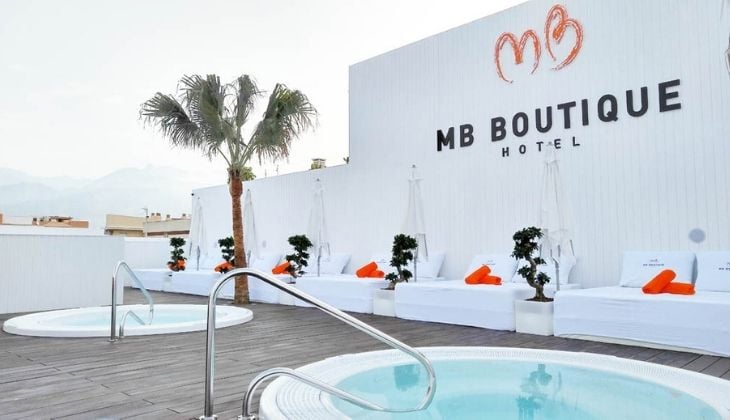 Source: MB Boutique Hotel
Just reading about the hotels makes you feel relaxed, doesn't it? Don't forget that these aren't the only hotels with jacuzzi in Malaga province. Check out our webpage to discover many more, as well as original ideas for celebrating your anniversary or planning a romantic getaway on the Costa del Sol.