A wedding or anniversary is worth celebrating, especially when you're in Costa del Sol! If you love making plans for special days like these, and want to turn your special day into an unforgettable memory, read our tips below. There are so many ways to surprise your special someone in Costa del Sol!
Looking for sunsets
Few plans are as romantic (and cost-effective) as simply seeing the sunset together. You can find beautiful sunsets all over Costa del Sol! Don't miss the sunset view from the beach of Baños del Carmen (Malaga), and if you want a panoramic vista of Malaga capital and its coastline, climb up to the viewpoint from Gibralfaro castle. Of course, there's no better place to see the sunset here than from Tajo de Ronda, which offers a complete view of the city centre and its breathtaking landscape.
Malaga rooftops
Moving on, how about watching the sunset from a beautiful rooftop terrace overlooking Malaga capital? Here, there are plenty of rooftops where you can grab a drink, like the Molina Lario hotel terrace (which offers a unique view of the Cathedral of Malaga, Malagueta Beach and Muelle Uno) and the AC Malaga Palacio hotel (one of the most famous terraces in Malaga, with unbelievable views of the city from the 15th floor). Finally, for a real treat, head to the rooftop terrace at Room Mate Valeria, where you can see both the cityscape of Malaga capital and the Port of Malaga.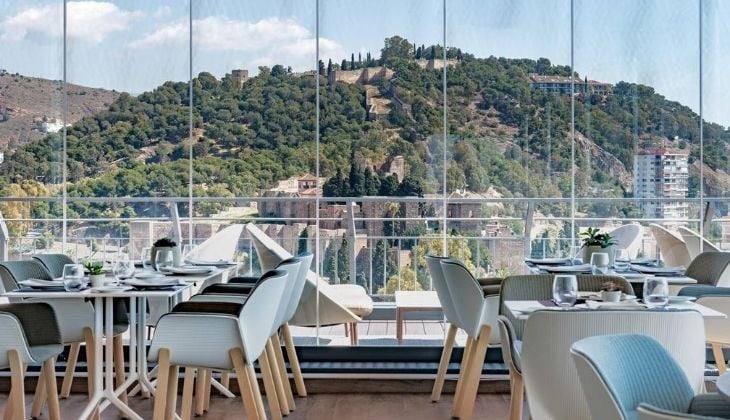 Source: AC Hotels official website
Eat together
This might sound cliché, but there are few things more romantic than a couples dinner by candlelight! Surprise your special someone with a picnic by the sea or in a beautiful park, or book a table at one of the most exclusive restaurants in Marbella, and you're practically guaranteed a magical evening.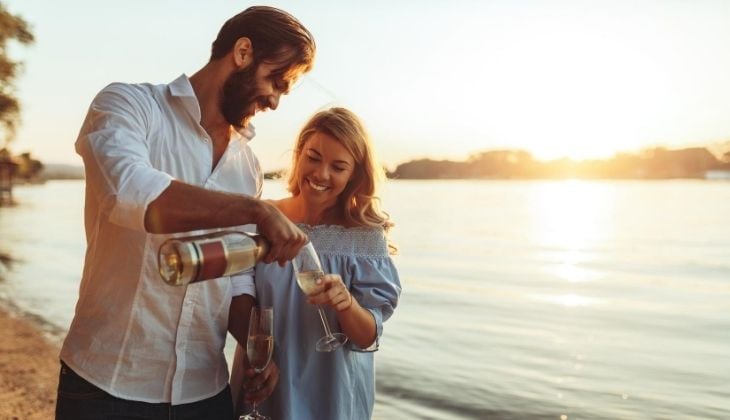 Disconnect from your routine and connect as a couple
Relax together! Escape the hustle and bustle of daily life and connect with what really matters: one another. A great way to reconnect as a couple is to spend an afternoon relaxing together in Arab baths—and taking advantage of massages, aromatherapy, thermal pools and more while you're there, too. In Malaga, you can head to the popular Hammam Al Andalus, which is known for its local purity and beautification rituals. The city of Ronda also has its own Arab baths, which were built between the 13th and 15th centuries and are still considered the best-preserved Arab baths from that era in the Iberian Peninsula today. Finally, Costa del Sol is home to a large variety of spas and spa hotels, all of which serve as great wellness destinations for couples.
Make a toast!
What better way to celebrate your anniversary than by toasting to your love in a winery? If you love wine, you'll love the wine tourism of Costa del Sol. Visit some of the best wineries in Malaga, learn about millenary wine culture in Costa del Sol and enjoy wine pairing menus, guided tastings and more. You can toast to your love in 40+ wineries in this part of Spain!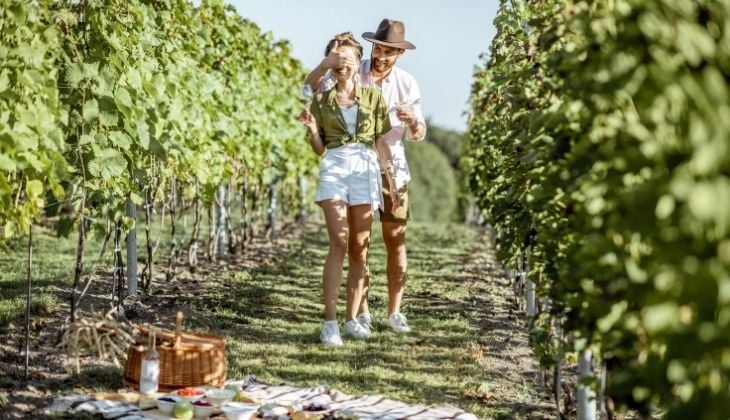 Say "I do" in Costa del Sol
Romanticism is breathed into every corner of the province of Malaga. Wander through the streets of its beautiful towns and cities and you and your special someone will find plenty of ways to celebrate your love. It's the perfect backdrop for a surprise engagement and an even better setting for a destination wedding.
Can you imagine saying "I do" in a beautiful place like Costa del Sol? Let us start planning it with you now.