The jábega is a native boat from the province of Malaga, which has become a symbol of the region and a part of Costa del Sol's nautical identity. On 10 December, Diputación de Málaga, via Senda Azul, organised a special event, "bautismo de remo en barca de jábega", in order to showcase this beautiful vessel, giving locals and tourists a chance to learn more.
Bautismo de remo

in a jábega
A jábega, a word for a net or seine, was originally used for fishing, however these days it's more often used in sport and racing. The December event, organised by Senda Azul and the local rowing clubs, however, gave locals and tourists the chance to learn the fascinating history of this boat and its cultural significance. The name itself, bautismo de remo, a rowing baptism in English, pays homage to this boat's almost religious importance. During the event, people could also get on board one of these elegant boats and test their rowing skills.
More than 200 people in six different areas of the Malaga, Rincón de la Victoria and Torremolinos municipalities got involved in the event and had a go at rowing a jábega with friends and family. The rowing clubs that took part were La Unión Deportiva, La Cala del Moral-Remo Rincón de La Victoria, Club de Remo La Cala del Moral, La Asociación de Remo y Pala de Pedregalejo, Club Deportivo de Remo Malagueño de Jábega, Club de Remo y Pala Tradicional La Carihuela and Club de Remo Torremolinos.
A boat with a 3000 year-old history
The jábega, having survived centuries of change and progress, carries 3000 years of history along with it and has become an emblem of the province of Malaga. These rowing boats - designed for fishing - are normally ten metres in length, and two metres wide. Their distinct features and design are a testimony to their rich history and to those who lived and worked the sea in years past: the eyes painted on the bow of the boat and the oar used as an udder to steer will transport you back to Phoenician times and the foundations of Malaga city, which was known as 'Malaka'. The eyes were painted on the boats to scare away sea monsters and pirates. However, the word "jábega" actually comes from Arabic, deriving from "jabeque", a boat very similar to a jábega but smaller.
In the past, the fishermen on the Malaga beaches, or jabegotes as they were known, used to go fishing before sunrise. They would row out to sea and spread the net over the waters, and then drag the thick ropes back to shore - also known as the "copo" - collecting whatever living creatures that were caught in the net. This action would be repeated over and over again for hours and hours.
As mentioned, nowadays the jábega is seen more in sport events. In fact, there is even a jábega league in the warmer months of the year, where teams compete in rowing contests all over Costa del Sol. Rowing schools in the province of Malaga are thriving thanks to the jábega tradition that is still very much alive. It's not only the sport and nautical aspect of the boat that is taught in these schools, but also its heritage and position in history as a symbol of the province.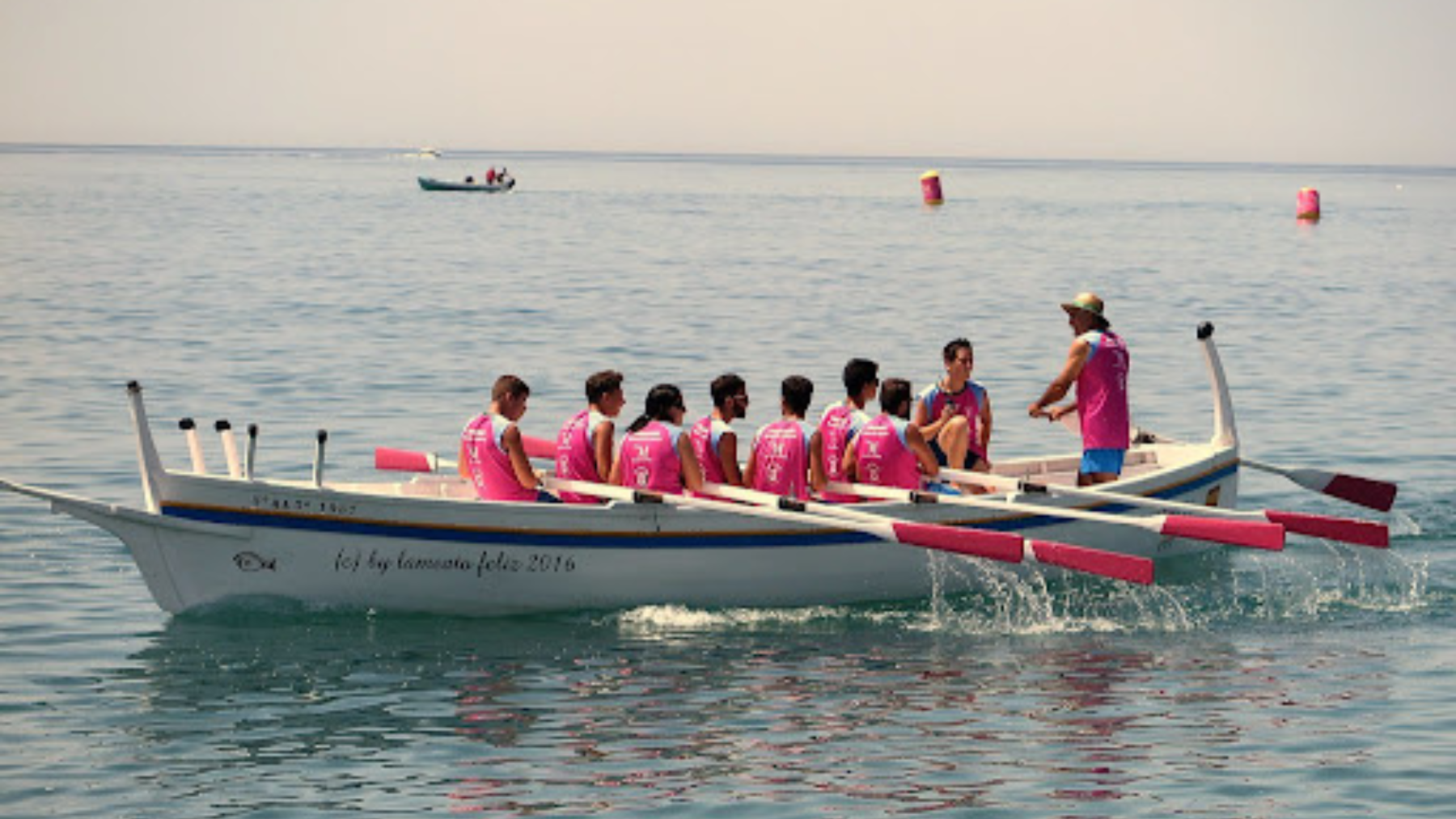 If you are a lover of all things marine, the Costa del Sol is waiting for your arrival. From Manilva to Nerja, the province of Malaga boasts a total of 161 kilometres of coastline. As the Mediterranean climate is mild and mostly sunny, you can do water sports all year round here. The 12 marinas in the province offer all sorts of activities that you can do with the nautical companies that operate here, from boat tours and surfing to scuba diving. In the province of Malaga you'll find whatever you're looking for.