When we travel, we are often keen to try experiences that will make unforgettable memories. Activities, that when you look back, will make you go "wow, I did that!". The most exciting adventures. Whether you're planning a special surprise for someone or you simply want to try something new, we've got an original idea for you in the Costa del Sol. Yes, as you might have guessed, we're talking about hot air balloon rides in Malaga. How do you fancy floating up into the skies to enjoy a bird's-eye vista of the incredible scenery?
Hot air balloon rides in Antequera
Malaga is home to some of the most beautiful towns and villages in Spain. Two cases in point are Antequera and Ronda, destinations that breathe Andalusian charm and mark the passing of time through their monuments. What will the profile of Peña de los Enamorados look like face-to-face? And Torcal de Antequera? Drift over Antequera in a hot air balloon and you'll discover the wealth of heritage in this historic city situated in the heart of Andalusia. With over 40 monuments, 25 of which are churches and convents, the town's splendour will be visible from the air. You'll also get aerial views of places like Laguna de Fuente de Piedra, which is the biggest lake in Andalusia and a spot where thousands of migrating birds like pink flamingos come together every year.
Hot air balloon rides in Ronda
Can you imagine gliding over the beautiful town of Ronda, with the Tajo snaking through the landscape? Taking a hot air balloon ride over Ronda is to stop and contemplate the destination's scenery and historic buildings, seeing the flat meseta on which it sits in a whole new light. You will enjoy views over the historic centre of the capital of Serranía, spotting hanging houses, the monumental bullring, the emblematic bridge – Puente Nuevo – that crosses the Tajo and much, much more. If the thought of exploring all these places on foot seems like a joy, just imagine what the experience will be like from the air.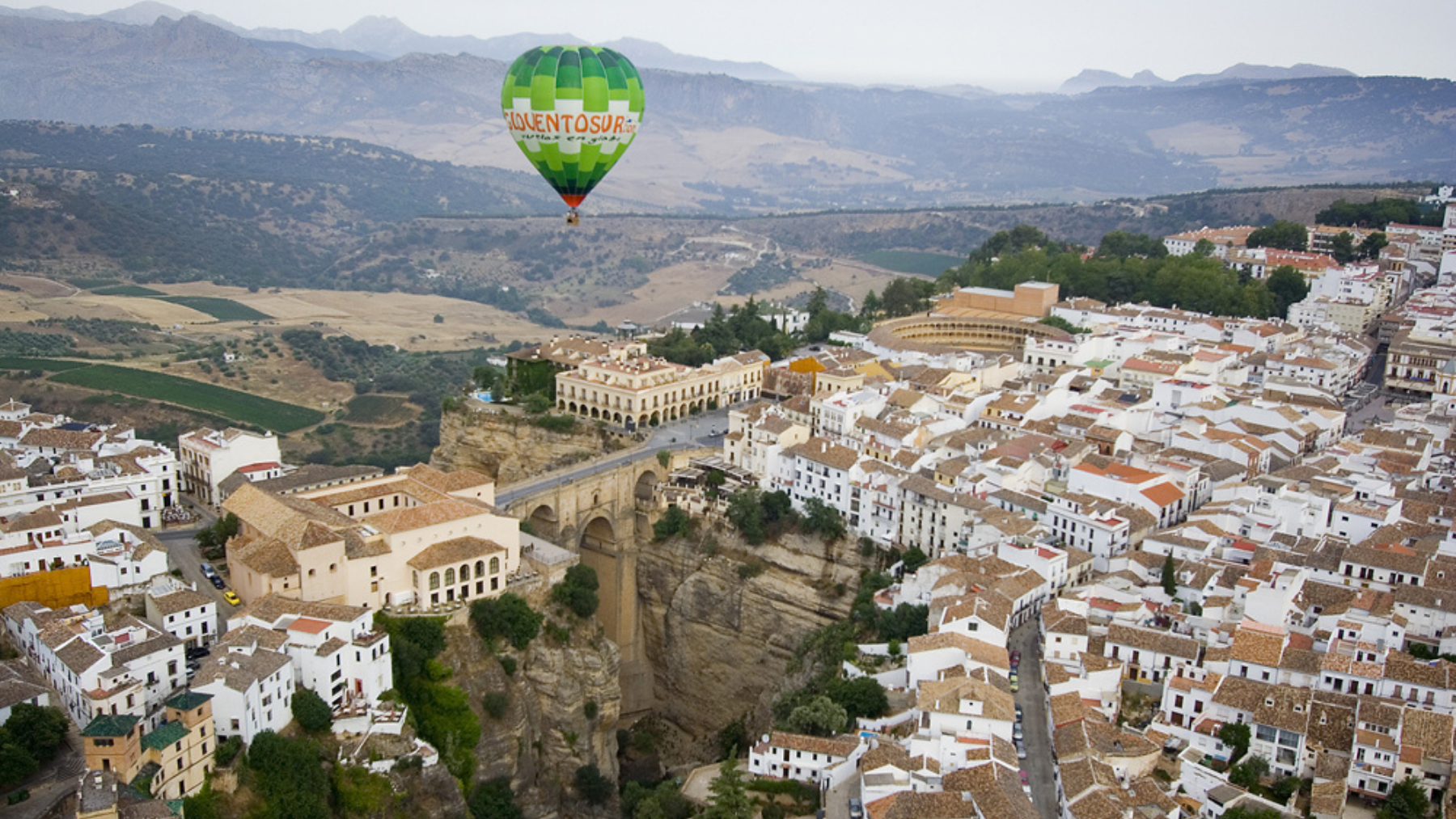 Sunrise hot air balloon ride in Malaga
There are a number of companies specialising in hot air balloon rides in Malaga. A couple of examples are Globotur and Glovento. With these professionals by your side, you will embark on one of the most exciting and unforgettable active tourism activities out there. The excitement of the flight contrasts with the silence and tranquillity that you'll experience in the skies. The hot air balloons tend to set off early in the morning so you can enjoy the most magical moment of the day, sunset, from 300m up in the sky. At the end of the excursion, you'll enjoy a traditional breakfast complete with a glass of something bubbly and be given a certificate.
The province of Malaga from the air
If the idea of exploring the skies appeals and you're keen to live an exclusive and exciting experience, we'd recommend buckling into a helicopter to enjoy the scenery of the Costa del Sol. Many companies offer this service throughout the province. You can even charter a flight to get from one part of the province to another quickly and with incredible views. An experience you certainly won't forget. And if that's not enough to satisfy your craving, you can also go paragliding or gliding. Want to build up your tolerance for adrenaline-fuelled activities like these? Benalmádena cable car is a great option and affords beautiful views over the Costa del Sol.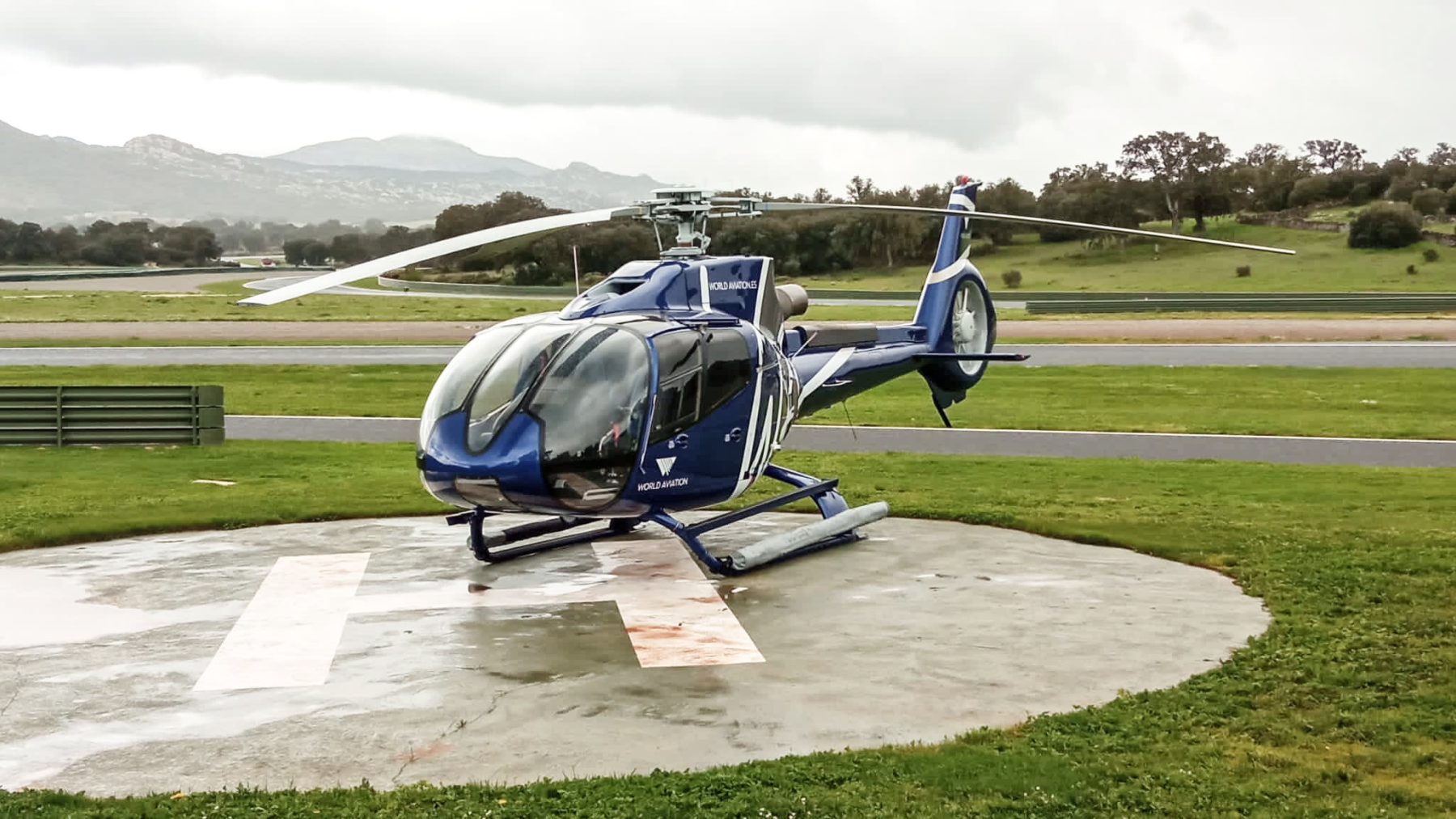 Fuente: World Aviation
Hot air balloon rides in Malaga, an unforgettable experience
Keen to live one-in-a-lifetime experiences in the Costa del Sol now you've read this post? We're not surprised. A hot air balloon ride will take you up into the air to experience the silence and tranquillity of the skies as the wind gently pushes you along. This is an experience you'll never forget. Embark on a unique adventure and enjoy bird's-eye views over some of the most beautiful parts of southern Spain. Are you ready for your next getaway to the Costa del Sol?