There's been plenty of talk recently about sustainable tourism. There's no doubt about it: this is a trend that is here to stay. And on this occasion, not only because it's in fashion, but also because of what it means for the planet, which is in need of mindful actions that incite change. So what exactly is sustainable tourism? Generally speaking, sustainable tourism seeks to have the lowest impact possible on the environment while doing its bit to look after the planet. Examples of sustainable tourism in Spain include new ways of conceiving holidays with friends and family, as well as business trips and events organised by companies.
Rather than a closed category, sustainable tourism is an idea which gives space to various types of tourist experience. In this post, we're going to take a look at a number of examples that highlight the diverse range of experiences that fall under sustainable tourism so that you can make your next MICE event an eco one.
What is sustainable tourism: examples
1. Activities that boost the local economy and promote culture
On the one hand, this involves choosing local products and services to support the producers and professionals operating in the area and, on the other hand, taking an interest in the destination's cultural legacy, starting from a position of respect and an understanding of the importance of nature and people. Sustainable tourism in Malaga pays special attention to this as one of the leading destinations in the world that welcomes large numbers of travellers every year.
2. Sustainable accommodation
Spain, and more specifically the Costa del Sol, offers a selection of eco and eco-artisanal boutique hotels as well as traditional-style country properties. The philosophy here revolves around maintaining a deep relationship with mother earth, making them a great choice for individuals and companies wanting to make their next trip as sustainable as possible.
Source: Cortijo Rosas Cantares
3. Ecotourism
Activities like cycle rides, hikes and responsible excursions into the great outdoors to spot the local plant and wildlife as well as wine tourism and gastronomic experiences featuring locally sourced and seasonal produce and products are just some examples of sustainable tourism that are becoming increasingly popular among visitors in the province of Malaga.
4.

Respect for the natural world
Sustainable tourism means respecting the natural world in every way. Simple actions like not littering, reducing your consumption of single-use plastics when travelling, cutting back on unnecessary transfers and choosing public transport over cars all help. What's important is to try to have the lowest possible impact on our ecosystems. And also - where possible - help conserve them. Which brings us onto our next point.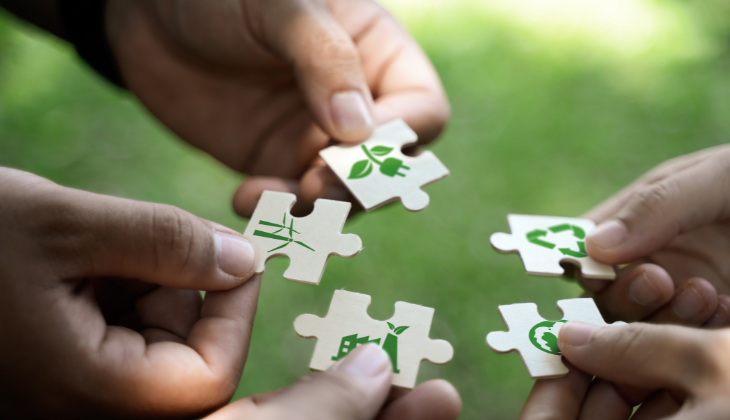 5. Taking part in local sustainable projects
By this we mean joining groups, organisations and charities that work to protect and look after the environment. When planning your trip, you or your company could think about taking part in litter pick-ups on the beach or in the woodland or doing volunteer work to help look after animals at risk of extinction.
As you can see, sustainable tourism involves a diverse array of experiences and activities that will meet the needs of your family or company. A boundless world of opportunities is opening up, bringing sustainable travel within the reach of every visitor. If you're interested in all things eco and want to discover how sustainable events in the Costa del Sol are working to build a better planet, visit our sustainability page and start coming up with a personalised plan with the assistance of our services. Turismo Costa del Sol has reached net zero by reducing CO2 emissions and offsetting those that can't be avoided. What's more, the Costa del Sol is the first destination in Spain that enables visitors to calculate the carbon footprint of their trip.