Have you been thinking just how great it would be to work from anywhere in the world? To sip on a delicious café con leche in a coffee shop that only the locals know while you connect remotely with your clients and manager? Coliving in Malaga might be just what you're looking for. This new, flexible and inspiring rental model enables you to enjoy nomadic living while soaking up resident benefits. Keep reading to find out more.
A natural progression of coworking
While coliving isn't coworking, the former is a natural progression of the latter. If you're familiar with the advantages of coworking - the phenomenon of sharing a workspace with other professionals, most of whom are self-employed - you won't find it hard to see the benefits of coliving.
The Costa del Sol is an increasingly popular coworking destination as it combines everything young professionals are looking for: sun, sea and sand, beautiful landscapes, the latest technologies and plenty of appealing ways to spend your time out of the office.
Coliving takes all this a step further. Beyond sharing a workspace with other young professionals, it involves sharing a living space so you can meet and spend time with like-minded people. Most coliving properties tend to be in the city and aren't far from natural areas. Like coworking, coliving is growing year on year in Malaga city.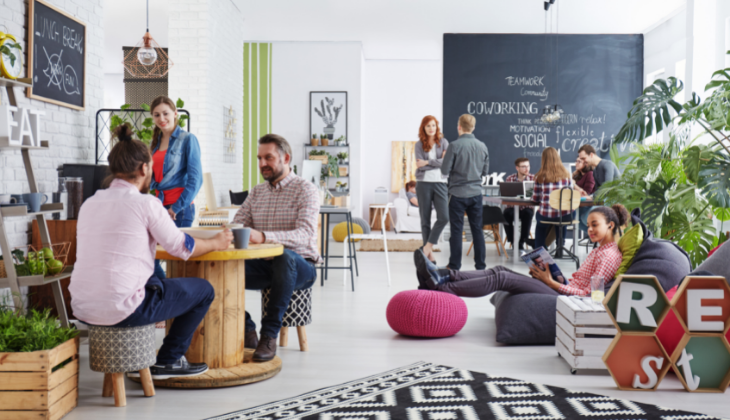 A cosmopolitan city in the Costa del Sol
One of Malaga's biggest draws is its cosmopolitan atmosphere which is complemented with the rustic inland where age-old traditions are still very much alive. This unique fusion attracts both visitors and an increasing number of digital nomads. If you're able to work remotely, the Costa del Sol is an ideal place to live thanks to the myriad of ways you can enjoy your free time and the international community that has set up home here. Coliving in Malaga is not only a nomadic living experience, it's an opportunity to meet people from all over the world, discover new cultures and share special moments together. And of course, make the most of the province's excellent connections and infrastructure so your work can go from strength to strength.
Fun outside the office
When you're not remote working, you'll want to enjoy your free time. And Malaga offers plenty of little and not so little joys that will really enhance your lifestyle. The city offers an incredible range of leisure activities, cultural sites and events as well as great nightlife. If you spend a longer period in the Costa del Sol, you'll be able to enjoy unforgettable events like Holy Week and carnival and see sights such as the many museums. And the best thing is that you'll have people to share the experiences with thanks to coliving.
Mountains and beaches at arm's reach
The Costa del Sol, however, is more than its towns and cities. Boasting both the coast and the mountains - that are just a couple of kilometres apart - the destination's landscapes are irresistible and you'll find yourself wanting to explore all the incredible scenery and try out all sorts of different outdoor pursuits.
From abseiling and hiking to diving, golf and much, much more, you're sure to find a brand new passion in the province of Malaga. The area's biggest destinations, like Nerja, Casares, Fuengirola and Marbella, are just a stone's throw from impressive mountainscapes, namely Sierra de las Nieves, Montes de Málaga and Sierras de Tejeda, Almijara y Alhama, to name but a few.
All these draws paired with the area's leading position within the technology sector make the Costa del Sol the perfect coliving destination. So if you fancy trying out the digital nomad lifestyle, start packing up your computer and backpack and get ready to live the many wonders of this little slice of paradise.