As our increasingly digitised world continues to grapple with the aftermath of the COVID-19 pandemic, working from home has become a long-term strategy for many businesses. This new situation means that many employees, particularly those working in the ICT sector, are finding themselves in the unprecedented position of being able to choose where they want to live and work, free from the geographical restrictions of their employers' offices.
With its great weather and incredible lifestyle, the Costa del Sol has made a name for itself as one of the best places to go on holiday in Europe. Today, holiday-goers are presented with the very real possibility to turn their favourite destination into their new home. As you will see in this post, the province of Malaga offers an extensive set of benefits for anyone looking for an amazing place to work from home. Keep reading to discover everything you need to know.
Coworking and coliving in Malaga
Working from home doesn't necessarily mean working in your home. The province of Malaga offers a wide variety of coworking spaces: shared offices that have a great work environment and the added bonus of separating your personal life from your work life. Increasing your concentration and productivity while forging professional relationships are just some of the advantages of choosing to work in a coworking space. At the same time, the concept of coliving is taking off. As its name suggests, coliving involves sharing a living space with a (usually international) community comprising young entrepreneurs, digital nomads and creatives. Combining the professional and the personal, this is the ultimate way to boost your professional development.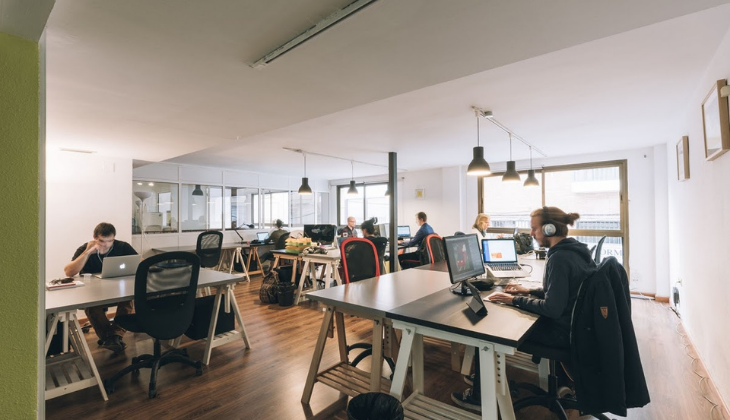 Fuente: The Living Room Coworking
Málaga WorkBay
Málaga WorkBay is a result of the rapid rise in working from home. The organisation was founded to help people wanting to make a change to their lifestyles, enabling them to enjoy working from home in the wonderful Costa del Sol. The company's priority is to make the transition of setting up a new home in the province of Malaga as easy as possible by offering a range of work spaces, information about the destination, accommodation and any other assistance you may need.
Work-life balance in Malaga province
With average annual temperatures of 20°C and over 320 days of sun a year, the Costa del Sol enjoys some of the best weather in Europe. The great weather is just one of the reasons why visitors from all over the world travel here or choose to make the destination their new home.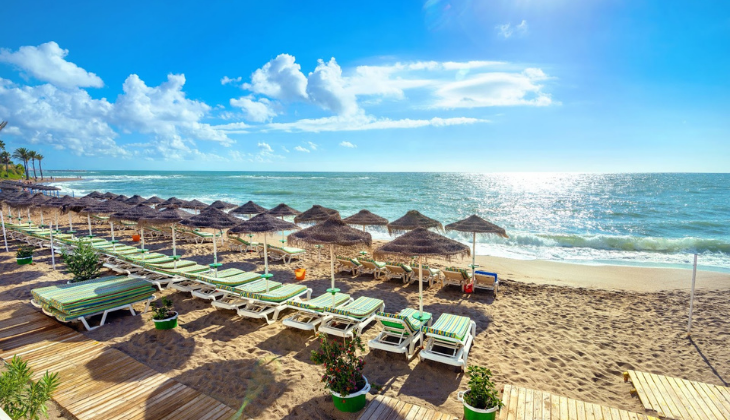 The weather also has an impact on the lifestyle in the Costa del Sol. Locals absolutely love spending time outside. Restaurants, bars, chiringuitos, plazas, parks and beaches are the epicentres of social life in the Costa del Sol. And then there is the food. You will find yourself amazed by the flavours of delicious local and traditional dishes with restaurants, beachside chiringuitos, tapas bars, wineries and Michelin starred eateries delighting your palate with the fine flavours of the Costa del Sol.
If you love culture, you won't be short on places to visit. The artistic, historic and architectural heritage comprises a total of 784 Sites of Cultural Interest that is complemented with a jam-packed schedule of cultural events. And then there are the museums, about 40 of which are in the capital, with highlights including Museo Picasso, Thyssen and Centre Pompidou, among many others. History is palpable in the monuments and archaeological sites, coming together to make the Costa del Sol a truly extraordinary destination.
If, on the other hand, you're looking for fun and entertainment, you will find it in the Costa del Sol. Nightlife, themed activities and much more guarantee you will have an amazing time. The province of Malaga is defined by the beach and nature, cosmopolitan towns, beautiful inland landscapes and picture-postcard villages overlooking the sea. This is the perfect place to escape from the stresses of the everyday, discover new places and live unforgettable experiences.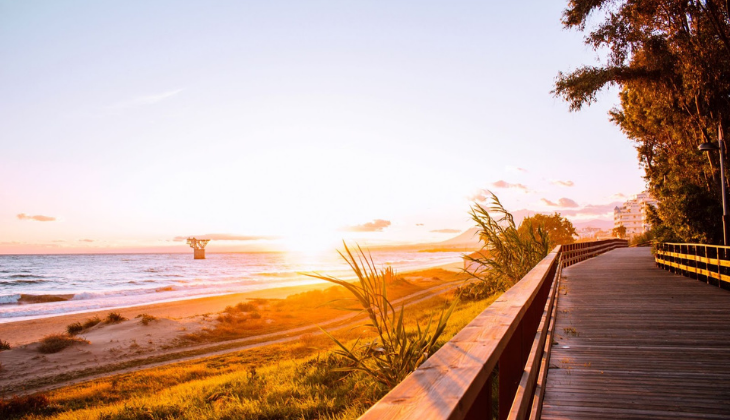 Getting around Malaga province
A modern network of motorways and roads makes it easy to get to the Costa del Sol and any destination in the province. There is an extensive public transport network and a large fleet of hire vehicles, which will take you to where you need to go. In terms of rail, Malaga has a high speed train connection to cities including Madrid, Barcelona and Seville, as well as a number of other destinations. The province also has a local train network (known as cercanías) that will take you to many different towns and villages. María Zambrano train station has capacity for up to 24 million passengers a year.
The benefits of working in the Costa del Sol
The Costa del Sol in general and the city of Malaga in particular have, in recent years, created the perfect environment for business. An increasing number of entrepreneurs are choosing to settle here, and it's not hard to see why. Multinationals such as Google have chosen Malaga as the location for new offices. Andalusia Technology Park, meanwhile, is a logistics centre currently housing 65 international R&D companies. It has been calculated that there are currently over 10,000 tech jobs based here.

The amazing weather, beautiful landscapes, delicious cuisine, fascinating culture and - of course - the lifestyle are just some of the reasons why people from all over the world are choosing to start a new life in the province of Malaga. Discover plenty of other reasons why you will love working from home in Malaga and enjoy being permanently on holiday in the Costa del Sol.