Working from home doesn't necessarily mean bringing the office into your home. Malaga city has many coworking spaces, shared offices where you can enjoy the best working environment with the added plus of separating your personal space from your work. Boosting concentration and productivity, building professional relationships and forging new business opportunities are just some of the benefits of working in a coworking space. In this post, we're going to take a look at some of the best in Malaga. You never know, you might just find a space where you can enjoy a whole new side of work.
Coworking spaces in Malaga
La Aduana Cowork
La Aduana offers a unique coworking space where you can really accelerate your business. The space is ideally located in the heart of the city, just opposite Palacio de la Aduana. With private offices, meeting rooms, a kitchen, terrace and shared work desks, this centrally located coworking space is the gateway for professionals looking for a collaborative and creative place to work.
El Centro Coworking
Opening its doors in 2013, El Centro Coworking was one of the first coworking spaces in Malaga city. Over the years, the space has constantly sought to improve its services such that coworkers can enjoy the time they spend in the office. The light and bright space has fixed and flexible work desks, a relaxation area and meeting room, as well as shelves and lockers coworkers can use. All wrapped up in a chilled atmosphere where you will immediately feel at home.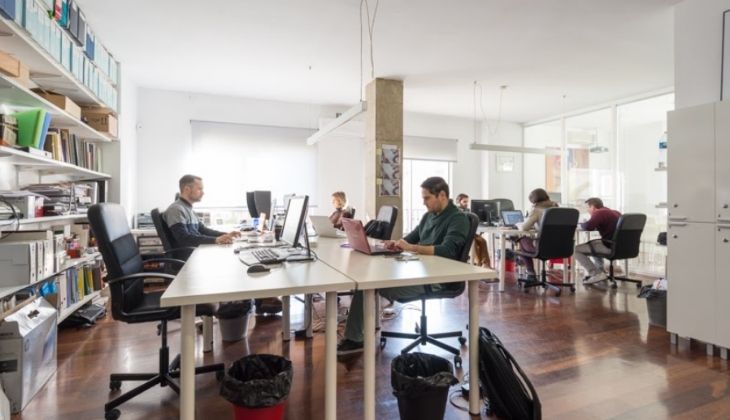 Source: El Centro Coworking
Larios First Workspaces
How about building your business in one of the most modern and prestigious centres in the city? Larios First Workspaces is part of a big coworking chain and the only space in Andalusia to boast Breeam certification. The building has been entirely refurbished to meet the needs of its coworkers. Situated in Calle Larios, the busiest street in Malaga and one of the most luxurious in Spain, Larios First offers a comfortable workspace in a vibrant area with everything you need on the doorstep.
Innovation Campus - Malaga Centro
Innovation Campus has three coworking spaces in Malaga city. The first is Malaga Centro, an incredible coworking office in, as its name suggests, central Malaga. Situated on the ground floor, this bright and stylish space offers huge windows, wooden desks and a cool industrial design. The excellent location, just steps from the train station, route to the airport and the historic centre, make it the perfect place for international companies looking for an exclusive place to set up in Malaga. The second location is Malaga Terrace, a beautiful 200m2 penthouse where you can work and enjoy the sunshine the Costa del Sol is famed for. Beyond the coworking space and private offices, there is also a work area on the rooftop complete with a bar and loungers. The office is a stone's throw from La Malagueta, Malaga's most popular beach. Last but by no means least there's Malaga Villa where you can work in a relaxing setting swept up in nature and with sea views. Situated in the exclusive Limonar district, the coworking space is housed in a beautiful hotel which also offers bar service and access to the pool and gardens.
Source: Innovation Campus
The Living Room Coworking
Since 2015, The Living Room Coworking has been situated in Malaga's artistic district, Soho. The Living Room has an extraordinary community of international freelancers, entrepreneurs and digital nomads. In addition to the flexible work desks and private offices, this Malaga-based coworking space has a kitchen and relaxation area as well as a rooftop terrace where you can work as you soak up the rays or enjoy a beer with the other coworkers.
In an increasingly digitised world, and particularly since the COVID-19 pandemic, working from home has become the long-term norm for many companies. In this new context, many employees - particularly those working in the ICT sector - have found themselves in the unprecedented situation of having the choice of where they want to work. If you are lucky enough to live in the Costa del Sol, we'd recommend working from a coworking space in Malaga. You'll have a better social life and bring welcome distance between your personal and work lives.