Inland province of Malaga is an excellent place to enjoy adventure sports such as canyoning. The karst nature of the land has resulted in the most impressive topographies, particularly in Serranía de Ronda where you will be taken aback by an abundance of mountains, inclines and rivers running through sheer gorges. Absolutely spectacular scenery for canyoning. Keep reading to discover the five best places to go canyoning in the province of Malaga.
Cañón de las Buitreras - Cortes de la Frontera
Situated in Serranía de Ronda, in the municipality of Cortes de la Frontera, Cañón de las Buitreras is one of the most spectacular canyons in Andalusia. The gorge is named after the griffon vultures that live in the rocks. Beyond these elegant creatures, you might also be lucky enough to see Bonelli's eagles, kestrels, stock doves, swifts and various bat species. Cañón de las Buitreras is defined by its natural beauty and the diverse wildlife that calls it home, as well as the sheer inclines of its rock faces, which make it one of the best spots to go canyoning in the Costa del Sol.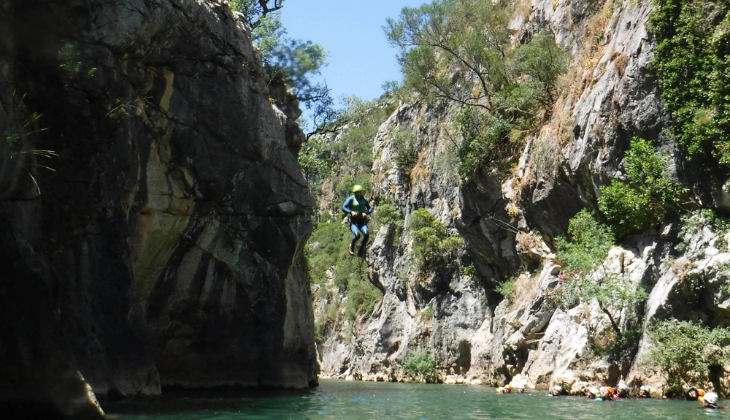 Fuente: Sport Mountain
Tajo de Ronda
If there is an iconic spot to go canyoning it's Tajo de Ronda. Listed a Natural Monument of Andalusia in 2019, the area comprises two different spaces. The first is a narrow gorge that is 500m long and 100m deep that reaches the river Guadalevín. While the second is a sheer scarp that opens up to La Caldera, a circular-shaped dip in the landscape. Though the area is not very long, it does offer a 35m abseiling section. Canyoning in Ronda is an experience like no other: you'll feel like you're in a fairy tale.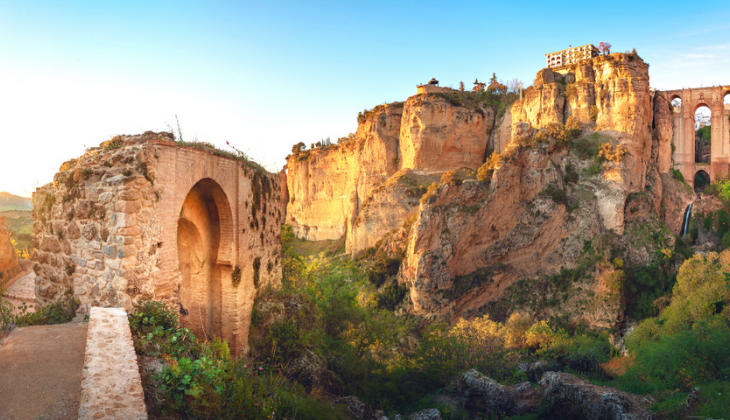 Barranco de Zarzalones – Yunquera
Sierra de las Nieves, and Yunquera specifically, is home to one of the most unique natural landscapes in inland Malaga. Dominated by the presence of limestone, Zarzalones is a beautiful gorge that is ideal for canyoning newbies. There is a river running through the canyon as well as all sorts of natural obstacles for you to overcome, such as slides, jumps, heights to abseil down and narrow sections to squeeze through.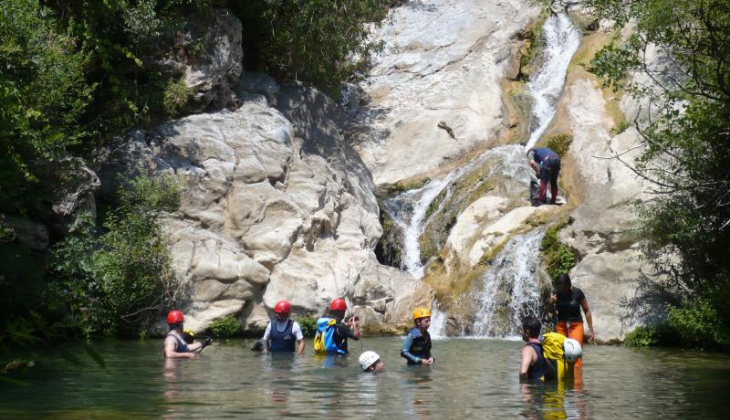 Fuente: Diputación de Málaga
La Sima del Diablo - Júzcar
In the midst of Serranía de Ronda, around Júzcar (which is known as the 'blue village'), you will find the perfect place to embark on an adventure in the great outdoors: Sima del Diablo. Named after the devil, this gorge offers a 1,500m course where you can jump into the waters, abseil down steep sections and slide down the rocks. It is an ideal choice if you're new to canyoning.
Fuente: Diputación de Málaga
Arroyo Majales - Júzcar
Also located in the municipality of Júzcar is Arroyo Majales, which you can reach going back up Sima del Diablo to La Zúa river. 2km long and with 160m of elevation, Arroyo is a great place to go canyoning with friends. It offers spectacular views all year round and incredible waterfalls during periods of rain.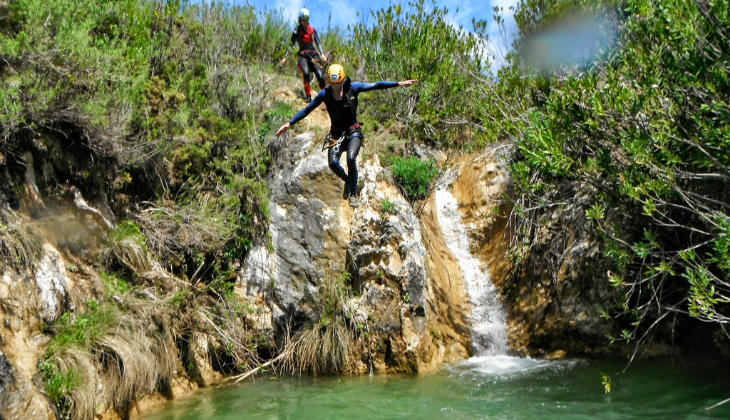 Planning an adventure with your friends in the Costa del Sol? Vibrant towns and cities, picturesque inland villages, stunning landscapes that lend themselves to outdoor activities, relaxing beaches where you can while away the hours and warm sunshine all year round: the province of Malaga is the perfect destination for a getaway. You coming?