With its great weather all year long and plethora of golf courses, Costa del Sol has produced some major golf talents. In women's golf, many players from Malaga rank at the top of national and international golf tournaments—like Azahara Muñoz, Ana Peláez, Noemí Jiménez and Ana Belén Sánchez. All four women are well-known in Spain for their skills on the golf course, and all four are from the province of Malaga. Find out more about each of them below.

Azahara Muñoz
Born in San Pedro de Alcántara, Azahara Muñoz (1987) has played in both the U.S. LPGA Tour and the Ladies European Tour. As young as she is, her career is unstoppable. Muñoz won her first tournament as a professional at the 2009 Madrid Ladies Masters, as part of the European Tour. After that, she went on to win other tournaments: she was a two-time champion at the Women's French Open, which was part of the Ladies European Tour, and a two-time champion on the American Women's Circuit. In March 2013, she was awarded a Premio Lady Golf for the "Mejor Jugadora Profesional Española" (Best Professional Player in Spain"). She has played in the Solheim Cup three times (the most recent being in 2015), and won the cup twice, in both Ireland (2011) and Colorado (2013). Muñoz competed in the Summer Olympics in Rio de Janeiro in 2016, and has achieved things that no other Spanish ever has before.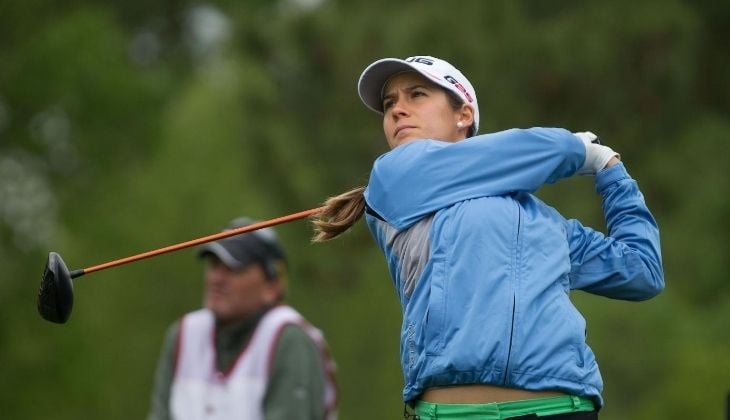 Source: Wikipedia free use
Noemí Jiménez
Also from San Pedro Alcántara, Noemí Jiménez (1993) has often been called "la gran promesa del golf español" (or "the great promise of Spanish golf"). During her amateur stage, she played on the Spanish National Golf Team and ranked third worldwide. Jiménez joined the professional golf world in 2015, after qualifying for the Ladies European Tour. In 2016, during her first season on the Ladies European Tour, she ranked 72nd.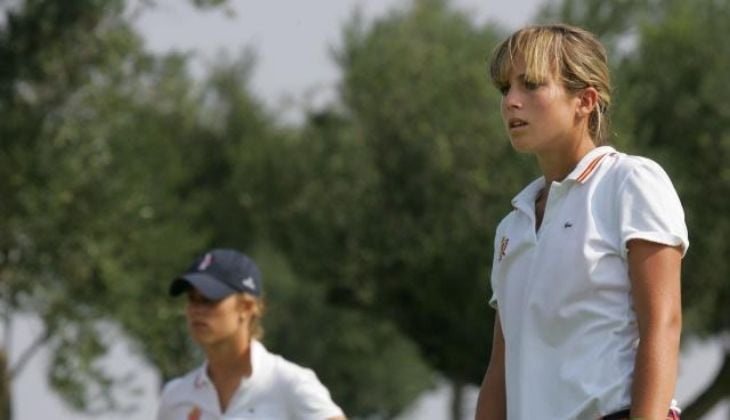 Source: Royal Spanish Golf Federation
Ana Peláez
Even younger than Azahara and Noemí is Ana Peláez, who, at just 22 years old, is credited with having a promising future in golf and being one of the most popular female golfers in Malaga today. Despite her young age, she is a senior player on the University of South Carolina golf team, which competes at the NCAA Division 1 level. Peláez kicked-off her 2020 season by winning the first female amateur tournament of the year, on her "home turf"—at the Atalaya Golf & Country Club.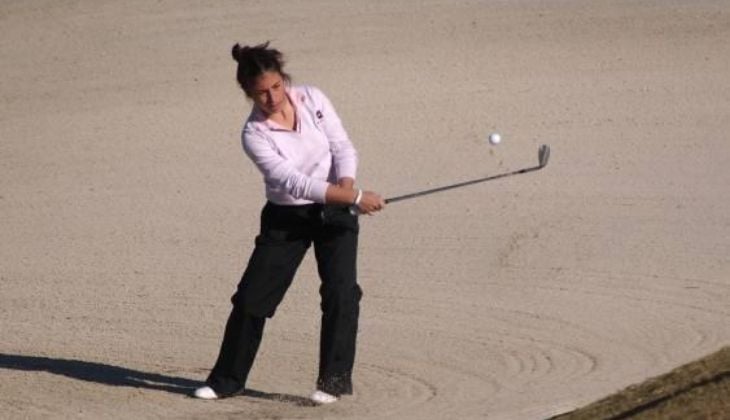 Source: Royal Spanish Golf Federation
Ana Belén Sánchez
Another prominent golfer from Malaga is Ana Belén Sánchez (1976), who first started golfing at the age of eight. She represented Spain by competing in the 1996 Trofeo Espirito Santo and became a professional golfer the following year. A player on the European Women's Circuit for 12 years, Ana Belén was a two-time champion of the Ladies European Tour and the first woman from Malaga to play in the Solheim Cup. Different from the three women mentioned above, when Ana Belén began her golf career, it was still considered "a man's sport." She played in a lot of men's golf clubs and quickly strengthened her skills on the course. Today, Ana Belén Sánchez continues to dedicate herself to golf as Director of the prestigious Miguel Ángel Jiménez Golf Academy.
Thanks to golfers like Azahara Muñoz, Noemí Jiménez, Ana Peláez and Ana Belén Sánchez, Costa del Sol remains a top golf destination today. Golf lovers from all over the world come to "Costa del Golf" year after year to play their favourite sport on stunning golf courses with Mediterranean Sea views. Add that to the area's luxury resorts, excellent golf schools, pristine beaches, delicious restaurants and bars and more, and you'll find that Costa del Golf has plenty for golfers to enjoy.