We've talked about Malaga's beautiful surroundings and excellent food and drink scene, but have we told you just how warm it is all year round? In Costa del Sol, there are 320+ days of sunshine and an average temperature of 18ºC all year long, making this region of Spain a true paradise for winter travellers seeking some warm summer rays. And with those ideal temperatures, winter in Malaga is the perfect time to enjoy the region's delicious cuisine in a stunning outdoor setting—like at one of the many beach bars Costa del Sol is known for. Just picture it: fried local fish, sardines and fresh-caught seafood, all served with a backdrop of sunny beaches and the Mediterranean Sea. Is there anything more perfect?
Read about some of our favourite terrace restaurants and beach bars in Malaga below:
1.
El Balneario - Los Baños del Carmen
When it comes to Malaga's stunning viewpoints, few restaurants compare to El Balneario. Sitting on the historic beach of Los Baños del Carmen (and surrounded by the Mediterranean Sea), this restaurant is located in a 1918-built building that, 100+ years ago, was at the heart of Malaga's social scene. Today, this venue is still known for having one of the best dining terraces in Malaga. Go for the view, and stay for the food! Its menu of exquisite seafood, different kinds of fried and spicy fish, rice and grilled meats is not to be missed.
2. Restaurante El Pescador (Estepona)
At this traditional restaurant, you'll find delicious cuisine made with only the highest-quality ingredients on the market. Located right on the coast of Estepona, it has a terrace overlooking the Alboran Sea. When the weather is nice, take advantage of all it has to offer: like different kinds of fried, baked or grilled fish (it's what the restaurant is famous for!), as well as tasty stews, meats, seafood plates and more. With its perfect combination of good food and a good ambiance, El Pescador Restaurant is worth a visit.
3. Restaurante Casa Antonio (Torremolinos)
Founded in 1958 and located on the beach of Bajondillo (Torremolinos), Casa Antonio Restaurant has become a great spot to find classic Malaga cuisine. Go here for delicious paellas and other rice dishes, fresh fish and cocktails, all on another one of the province's beautiful beaches.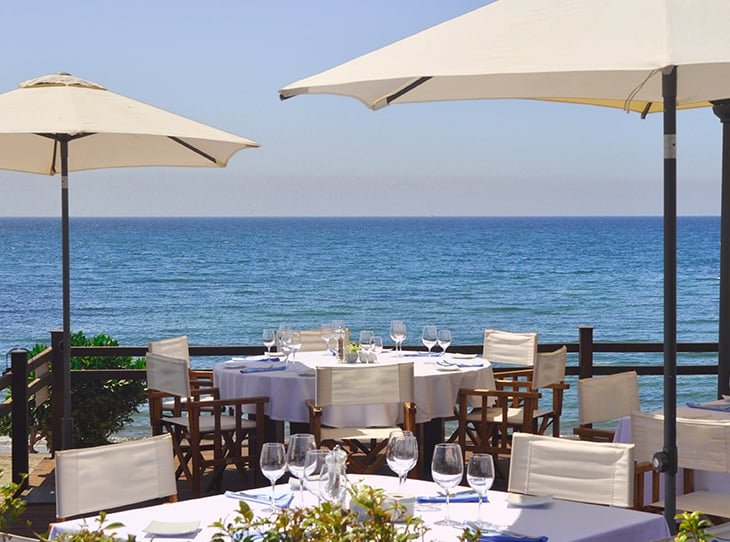 4. Chiringuito El Cachalote ( La Malagueta )
In the middle of the Malagueta beach, there's El Cachalote, one of the most famous beach bars in Malaga. Here, there is never a lack of sardines, squid, horse mackerel, sea bream, anchovies, cuttlefish and other Spanish delicacies, and they come cooked in a variety of styles—from fried full plates to creative tapas. As every seafood lover knows, fish is always tastier when it's served on the beach.
5. Chiringuito La Pesquera (Marbella)
In the middle of 'Milla de Oro' marbellí, you'll find La Pesquera, one of the most popular beach bars in Costa del Sol. Perfect for seafood lovers, go here to try a variety of fried and salted fish on a charming coastal terrace. Pro tip: For the best view, grab a table during sunset. You can thank us later.
We hope you love our selection of top winter beach bars and outdoor restaurants in Malaga! You can find out more about Malaga beach bars when you visit our blog. Thinking of travelling to Malaga this winter? Don't forget to make a stop in charming Torrox, where (like all of Costa del Sol!) the weather is perfect for outdoor activities all year round.