One weekend, 60 kilometres and five picturesque towns in Costa del Sol—what could be better than that? From Casares to Ronda, this road trip through the white villages of Malaga is sure to be just what you and your partner need to truly disconnect from the craziness of daily life. So, who's with us?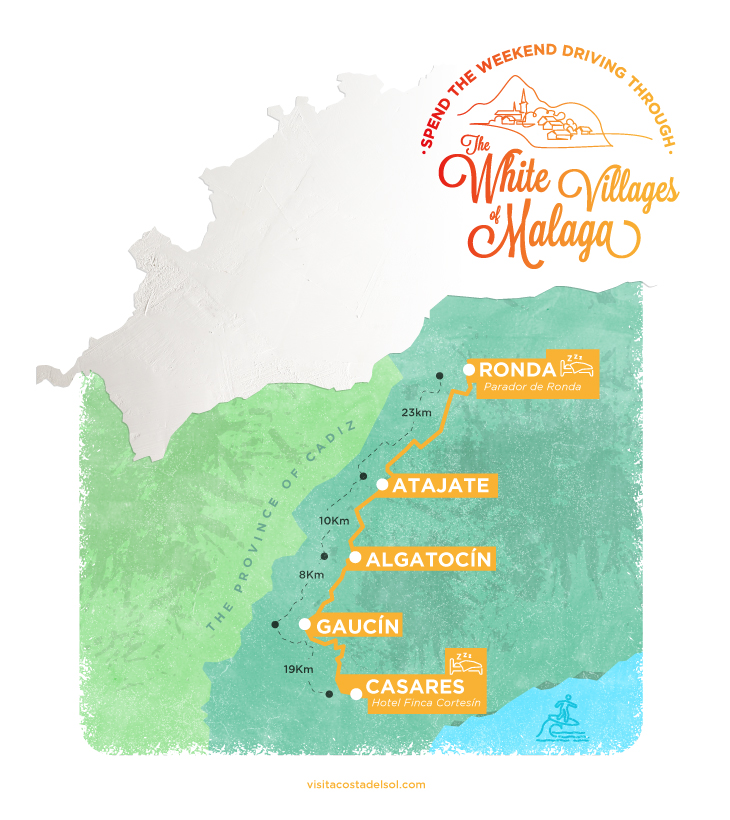 Casares
Our adventure begins Friday afternoon in Casares, 111 kilometres from the capital of Costa del Sol. Casares is thought to be one of Malaga's most beautiful white inland villages. Go on a sunny day and you'll see just how green the vegetation there is—its vast green spaces are the perfect backdrop for Casares' traditional white houses and staggered red roofs. The town runs along the slope of the Sierra Crestellina, which ends with the remains of an old Arab fortress and church. The old town, which was started by a community of Muslims, is now a Historic-Artistic Site. We'll end our day there by spending a night in the luxurious Finca Cortesin Hotel, a place known for its elegant, Andalusian-style design, delicious food and high level of service.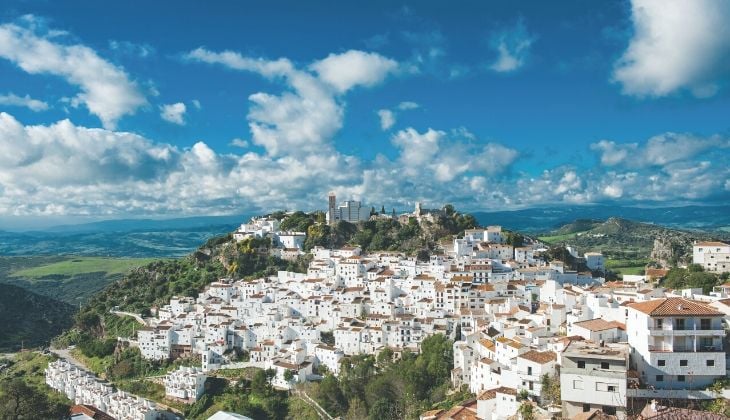 Gaucín
On Saturday morning, we'll get up, eat breakfast and continue our journey through the white villages of Malaga. Our next destination is just 25 minutes away! Gaucín is a hillside town near Sierra del Hacho with a must-see view of Genal Valley and the Ronda mountains. All over this Roman town, you'll find homes encased in different fortresses. Don't miss The Eagle Castle—a castle first built by Romans and later renovated by Arabs—which is easily recognizable by, and admired for, its three-walled enclosures. When we're hungry, we'll eat at Casa Antonia; it's a traditional Malaga restaurant with some of the area's most sought-after dishes.
Algatocín
After lunch, it's time to drive to Algatocín. Don't worry, it's only 8 kilometres away! The town sits on the hillside of El Fraile, overlooking the Genal Valley. Here, charming streets wind their way up and down the hill, taking visitors past a mix of Arab and Moorish-style architecture. Look for the homes and buildings with coats of arms and porticoed façades; those are original structures that date back to the 18th century. Before you leave, walk to the top of the town and take in the view from the Calvario. The mountains are just jaw-dropping from up there.
Atajate
Our journey through Malaga's white villages continues in Atajate, which is just 10 kilometres away. The village itself is at the foot of the Cerro del Cuervo hill, nearly 2,500 feet above sea level, between the Genal and Guadiaro Valley. When you go, don't miss the Church of San Roque and the Tower of the Holy Cross.
Ronda
We're almost done! There are only 23 kilometres between Atajate and our final destination, Ronda. The city of Ronda is one of Malaga's most beautiful villages because of its surroundings. (It sits on a rock plateau that is naturally divided by the Tagus, a gorge measuring 100 meters deep that runs along the Guadalevín River.) The southern half of the plateau is home to the Old Town, while the northern half is home to modern Ronda. That night, we will celebrate our journey with tapas in Ronda and a hotel stay at the wonderful Parador de Ronda, which has direct views of famous Tagus.
Of course, you can't head home without spending some time exploring Ronda. So, on Sunday morning, we'll get up and see the 18th-century New Bridge, the 1616-built Old Bridge, Mondragón Palace (which is also Ronda Museum headquarters), Marqués de Salvatierra Palace and maybe even the Santo Domingo Convent. For a relaxing treat, we'll end our day with a recharging dip in the village's famous Arabic Baths.
We may not see everything—Ronda is huge! But that's okay. You'll just have to come back another time and see a little more.