Sustainable development and Valle del Guadalhorce are words that go hand-in-hand in the Costa del Sol. The region is locally known as "Malga's cooking pot" due to the wide variety of produce grown here throughout the year. If you're interested in the natural world and gastronomy, this is the destination for you. Here you can discover the agricultural sector's best-kept secrets in the midst of natural beauty. So what are you waiting for? Come to Valle del Guadalhorce to do a spot of tourism.
Valle del Guadalhorce, an area of exceptional beauty
The mouth of the river Guadalhorce is not only home to migratory birds and plantlife, it's also a natural area of some importance. Situated just a couple of kilometres from Malaga city, this verdant oasis enables a number of animal species to conclude their reproductive cycle. As you enter Valle del Guadalhorce, the terrain changes. No longer will you see expanses of olive groves - which populate most of inland province of Malaga - but agricultural land, in particular groves of citrus trees. Indeed, 57% of the lemons produced in Andalusia originate from the province of Malaga.
Visiting the citrus groves, tasting different varieties of lemons, oranges and mandarins, and discovering the secrets of local agriculture are just some of the experiences you can enjoy in the region. And that's not all. You can also soak up the spectacular scenery and try the local gastronomy in traditional restaurants.
If you are keen to explore the landscape, you will be pleased to know there are signposted trails in and around the Viejo river and Laguna Grande where you can marvel at the scenery, defined by countless lakes surrounded by the two arms of the river. The area is a key stop-off for migratory birds that come here to rest. Birders will want to get out their binoculars to spot species such as osprey, booted eagles, kingfisher, pink flamingos, spoonbills, black storks, Audouin's gull, Caspian tern and many more. The vegetation populating Valle del Guadalhorce is varied. Close to the sandy beaches, you will find searocket and prickly saltwort while in other areas you will see nut grass and woodland flanking the river.
El Guadalhorce's agricultural land
El Guadalhorce's agricultural land lives in harmony with the people who look after it. The area is what is known as an agroecosystem, a zone combining a wide range of social purposes and activities. Examples of these include gastronomy, agritourism, birdwatching, hiking, kayaking, cycling, climbing, and more.
With its varied plant and wildlife paired with traditional agricultural practices, the scenery here paints a very pretty picture. It is home to the different plants and animals populating the area while also serving as the kitchen garden for very many local varieties of fruits and vegetables. This represents an important resource in terms of horticultural genetics as well as providing a sight for the eyes.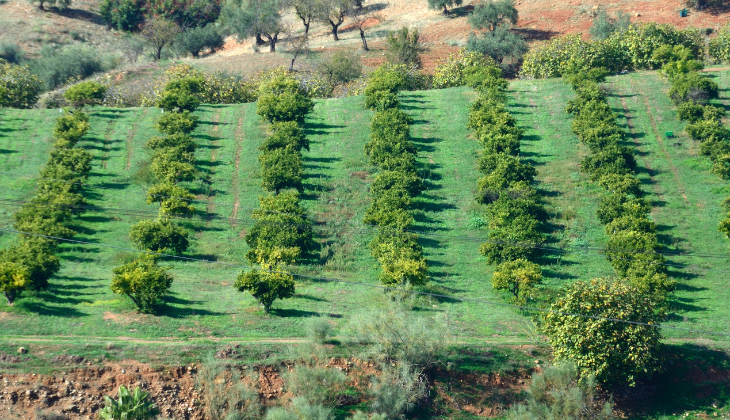 What's more, the traditional agricultural land here uses sustainable production models, which constitute an important tool for the conservation of the biodiversity of the local ecosystems. Traditional farming produces lower greenhouse gas emissions, avoids the use of pesticides (which pollute the soil), favours the conservation of biodiversity and, as such, results in products that are good for our health. The agricultural land in Valle del Guadalhorce therefore acts as a natural sink that mitigates the effects of climate change.
Spending a couple of days unwinding in the midst of nature, staying in a beautiful country property, learning about local sustainable agriculture and sampling the traditional dishes made from locally grown produce are just some of the experiences that await in Valle del Guadalhorce. If you're looking for a destination for a weekend getaway or bank holiday weekend, this is it.