Torremolinos Conference Centre, also known as Palacio de Congresos y Exposiciones Costa del Sol, is a multi-purpose centre that was opened in October 1970. Boasting a modern and avant-garde design, the centre is ideal for hosting all sorts of events, such as conferences, trade fairs, concerts and more. It is one of the epicentres of professional activity in the Costa del Sol. In this post we're going to take a look around Torremolinos Conference Centre. So if you're planning a large-scale event in the province of Malaga, keep reading.
The centre has 14 different spaces with capacity ranging from 25 to 1,000 people. Specifically, there are three auditoriums, seven committee rooms, two receptions, a boardroom, a room dedicated exclusively to the authorities and a VIP meeting room.
Torremolinos Conference Centre: unique architecture
Torremolinos Conference Centre was designed in the year 1967 by the architects Rafael de la Hoz and Gerardo Olivares James for a commission issued by Cooperativa de Promotores de la Costa del Sol. The centre, which was listed a State Heritage Site in 1971, has an organicistic design whose purpose is to "boost the wellness of people". The opening of Torremolinos Conference Centre was an important landmark in the Costa del Sol and Andalusia as it marked the destination's transition to leader in the conference tourism sector.
Source: Palacio de Congresos de Torremolinos

Torremolinos Conference Centre sits in 70,000m2 grounds, 18,000m of which are gardens: the ideal space to hold an

outdoor event

. The centre's unique circular form holds the various auditoriums, committee rooms, secretaries and connected spaces. The central hall, meanwhile, is home to the most iconic piece in Spain's conference architecture: an impressive translucent dome with a radial design pierced by a one-of-a-kind glass chandelier that looks like the drops of a waterfall.

Hold your event or congress in Torremolinos
Are you planning a trade fair, conference or similar event? If you're looking for a destination that boasts superb infrastructure, excellent connections and beautiful weather, Torremolinos is a great choice. The town is one of the economic centres of the province thanks, in part, to the tourist industry and the endless events hosted at Torremolinos Conference Centre.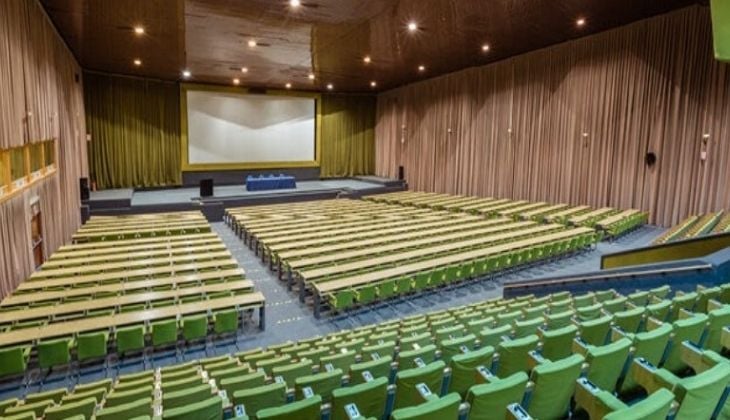 Source: Palacio de Congresos de Torremolinos
What's more, the town is inhabited by both locals and foreign visitors, many of whom end up settling here, attracted by the excellent services and irresistible lifestyle that revolves around the sea and outdoor living. Torremolinos is just a 10-minute drive from Malaga and the Costa del Sol airport, and there are regular buses and a local train line (known as Cercanías). Beautiful weather all year round, superb infrastructure and its vicinity to towns and cities like Marbella and Malaga make Torremolinos the perfect destination to hold your conference or event. Discover everything the destination has to offer the MICE sector.