Would you like to learn to play golf from scratch? Have you already played the game, but are looking to improve your technique? Whatever your case, if you've come this far, you're probably considering the possibility of signing up for an introductory golf course. Costa del Sol is an ideal place to do so! In addition to its more than 70 golf courses, there is a wide variety of schools where you can learn from the best teachers. Discover some of the best golf academies on the Costa del Sol where you can take your first golf lessons. Keep reading!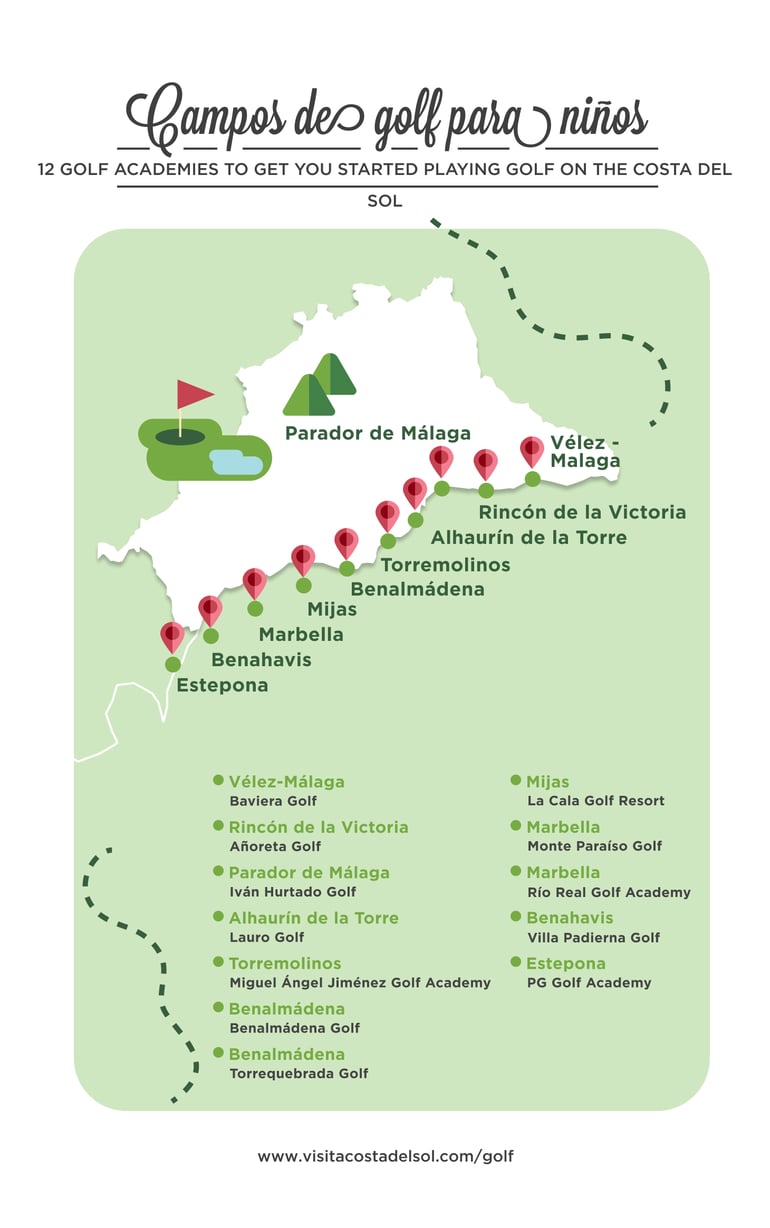 Baviera Golf (Vélez-Málaga)
Baviera Golf is an academy that has bet a lot on junior golf in recent years. The practice area has been remodelled and the academy has been equipped with the latest technological tools. In addition, this school has been focusing on teaching golf to groups and associations of people with disabilities for years.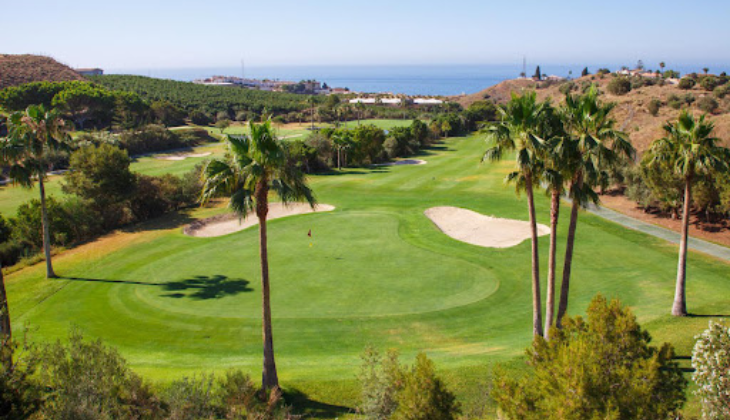 Añoreta Golf (Rincón de la Victoria)
The Añoreta Golf Academy is a classic on the Costa del Sol. It has been preparing very good golfers for years and offers golf lessons to all types of players with a driving range and short game area. If you are an advanced player, ask for a strategy lesson on the 18-hole course with one of their teachers.
IH GOLF ACADEMY in Parador de Málaga
The legendary Parador de Málaga golf course is the oldest on the Costa del Sol. As age usually goes hand in hand with know-how, one of the most sought-after services on the course is provided by the Iván Hurtado high-performance golf academy. At this prestigious school, you can book introductory golf lessons, technical lessons, adult golf lessons, junior lessons, group lessons and much more.
Lauro Golf (Alhaurín de la Torre)
Lauro Golf Academy offers golf lessons for all types of players, but where it stands out the most is in its children's school. This breeding ground of great champions is a great way to learn golf, so it can be one of the best options to take your first golf lessons.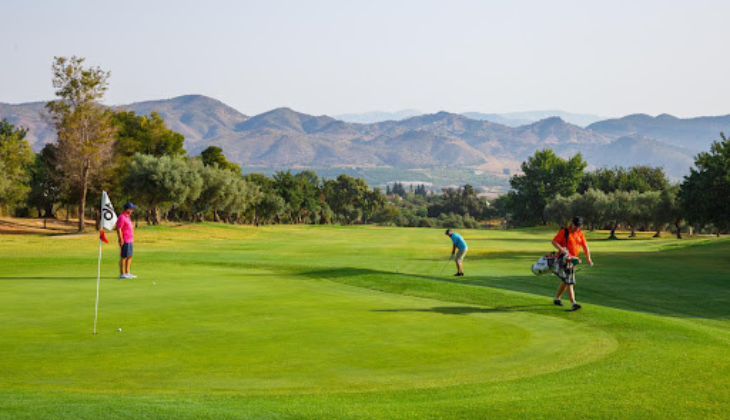 Miguel Ángel Jiménez Golf Academy (Torremolinos)
One of the unbeatable academies for learning to play golf in Malaga is that of Miguel Angel Jimenez. Located in Torremolinos, you can enjoy excellent golf lessons in a spectacular setting made up of a practice range, short game areas and a 9-hole par 3 course designed by the Malaga champion. It is undoubtedly one of the short courses with the best greens on the Costa del Sol and even includes a replica of the 12th hole of Augusta National.
Benalmádena Golf (Benalmádena)
The Benalmádena Golf sports complex offers golf enthusiasts a golden opportunity to immerse themselves in golf. It offers a golf school for adults and children and has a 2-storey tee-line; here, you can take golf lessons and learn the technique in a privileged environment with beautiful sea views, full of palm trees and lakes. And if all this wasn't enough, it was named the best Pitch & Putt on the Costa del Golf in 2019.
Torrequebrada Golf (Benalmádena)
Torrequebrada Golf, the legendary course designed by José Gancedo, has a practice course where Miguel Ángel Jiménez trained as a player under the guidance of his brothers. With recent improvements to the facilities, you will find the FIGUEROA GOLF ACADEMY there, run by brothers Marco and Jorge Figueroa, which offers tailor-made lessons for any type of player.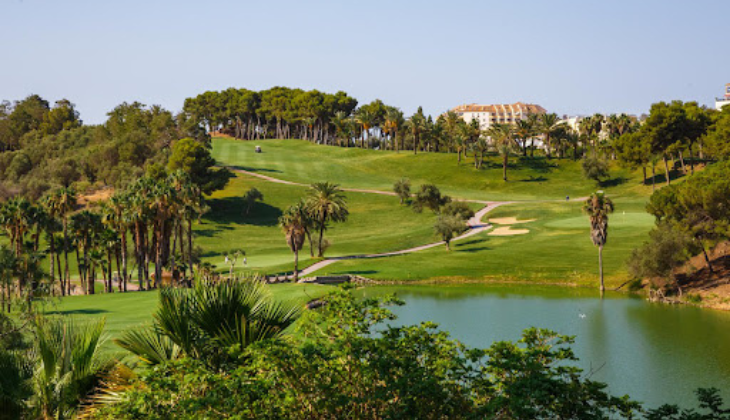 La Cala Golf Resort (Mijas)
At La Cala Golf, a group of professionals give golf lessons offering everything that any lover of this sport could need: driving range, putting and bunkers; this is possibly one of the best golf schools in Malaga. It has a fitting centre and other technologies for improving your swing, which will make any player improve in record time.
Monte Paraíso Golf (Marbella)
Another of the classic academies can be found in Marbella; Monte Paraíso Golf is a custom-designed complex with beautiful sea views, wide spaces and a soft and wavy terrain throughout the entire course. It may be one of the calmest courses for beginners, but if you are an experienced player looking for a specific technique lesson, it's also a great choice.
Rio Real Golf Academy (Marbella)
The 18-hole golf course closest to the centre of Marbella boasts a top-level golf academy. Led by national coach Sergio de Céspedes, Río Real Golf Academy offers classes to students of all ages. Whether you're staying at their boutique hotel or passing through Marbella, Rio Real's academy can be a perfect option for improving your game.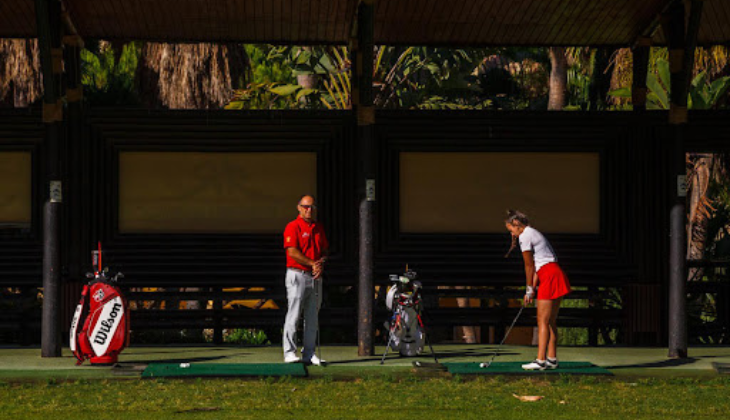 Villa Padierna Golf (Benahavis)
The Villa Padierna Golf Academy is located in the mountains of Benahavis, led by US Open winner and New Zealander Michael Campbell. The latest technology and tailor-made golf lessons, fantastic facilities and a small museum of the times when Campbell rubbed shoulders with Tiger Woods himself await you at this course.
PG Golf Academy (Estepona)
Peter Gustaffson's golf school is located on the Atalaya golf course; its approach area is one of the largest for practising bunker and pitch shots. With a good putting green and a spectacular tee line, it is the perfect place to take lessons from a former European Tour player.
As this list shows, if there's one thing Malaga is not short of, it's academies where you can begin your introduction to golf. And in addition to this selection, you'll find other top-level schools in the province where you can learn all about golf (something you can also do by downloading the Golf Guide). It couldn't be any other way, as this is Europe's best destination for golfers!