Sierra de las Nieves is a natural paradise made up of nine charming villages. Located in the interior of Malaga, this destination is home to fascinating landscapes, villas with Andalusian flavour and a food and wine tradition that's closely linked to the area's unique festivals and celebrations. If you're passionate about nature and craving a relaxing getaway, Sierra de las Nieves Natural Park is just where you want to go.

An impressive ecological museum
While this park is still waiting to be officially named a national park, it has already been declared a Biosphere Reserve for its true, ecological museum of natural monuments. Here, you'll find the famous Pinsapo de las Escaleretas, in Parauta, Torrecilla peak (it's perfect for climbing!) or the impressive G.E.S.M chasm (one of the most important karst areas in all of Europe).

The Sierra de las Nieves mountain range is home to idyllic enclaves, many of which double as stunning viewpoints: like the Verde River area and natural landscapes like Juanar, Fuensanta and Sauces. Being here feels like you're in the backdrop of a movie, one where you can go hiking, biking, climbing, caving and even horseback riding as you discover the most impressive parts of the park.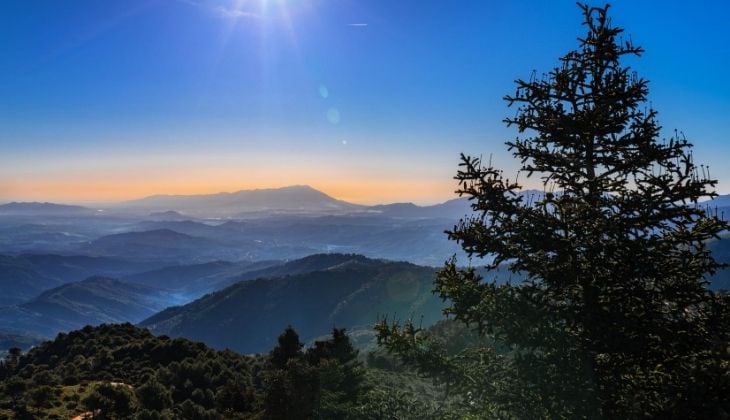 Towns to see and eat in
If you're heading to the Sierra de las Nieves from the south, you'll stumble upon Ojén and Istán, where many residents stem from Arab nations. Ojén is famous for its brandy, has two museums dedicated to wine and oil and is home to a church built on an old mosque. Istán is known as the "Spring of Costa del Sol" and still preserves the layout of its Moorish ditches.
As you head farther inland, to the foot of the Veleta Hill, you'll find Monda. This destination is known for housing the Al-Mundat Fortress and Church of Santiago Apóstol (two iconic sites), and for its iconic recipe: Mondeña soup. Just four kilometres away, charming Guaro is a destination with Arab influences that's most known for hosting the Festival de la Luna Mora, a large celebration of the town's Moorish past.
Wander along a longer trail and you'll reach Tolox, a place known for its revitalizing, traditional goat stew. Tolox is also home to a famous spa with medicinal waters, the only one in Spain that is believed to exclusively specialize in respiratory healing.
Further north, you'll find Yunquera, a town in the so-called "Copper Forest." This is one of the most stunning places to experience autumn in Andalusia. Yunquera is also home to the so-called "Cathedral of the Serranía." From here, you're just 15 minutes by car from Alozaina, a prehistoric town with an urban landscape that immerses you in the destination's Arab past.
The remains of the fortress of Casarabonela also date back to the Arab period, and it's near here that you'll find beautiful springs and one of the best collections of cacti in all of Europe. The Church of Santiago, which borders El Burgo, is another site to see. While you're in the area, be sure not to miss the Church of the Incarnation and the remains of Miraflores Castle.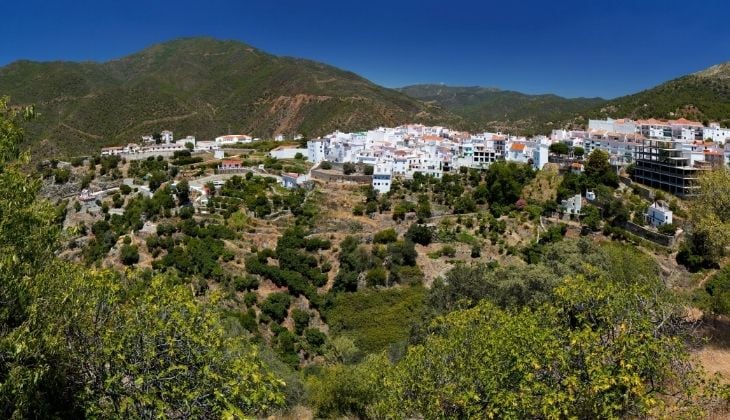 Unique parties and celebrations
The Carnaval de la Harina de Alozaina and Powder Festival in Tolox are two of the most unique events in the Sierra de las Nieves area. They take place days before Lent and consist of a fun war of flour and talcum powder between neighbours and visitors. Also in February, El Burgo celebrates Día de la Sopa de los Siete Ramales, a celebration of the area's most famous soup. Then, in April, experience another taste of the local food and drink when you attend Istán's Muestra Gastronómica y Día de la Naranja. Both are a real treat for your tastebuds.
Source: Ayuntamiento Istán
Sleep in the middle of nature
Ready for a little tranquility? Enjoy the silence, pure air, beautiful landscapes and starry night sky when you spend a few days surrounded by nature with your special someone. Staying at a campsite in Sierra de las Nieves is a great way to really experience the natural setting of the area and disconnect from the busy routine of your daily life. In Yunquera, Camping Sierra de las Nieves offer bungalows, cabins, different camping areas and a sports complex with a zip line, a Tibetan, a climbing wall, tennis courts, paddle tennis courts and even a soccer field. Fun is pretty much guaranteed here!
Source: Camping Sierra de las Nieves
For those who don't want to give up their access to nature but prefer more comfortable accommodations, stay in a rural house in Sierra de las Nieves. Options include: Molino La Teja or Casa Blanca rural house (both in Yunquera), Cerro de Hijar Hotel (Tolox), the stunning La Casa Grande del Burgo and more. Find your ideal accommodations and enjoy an unforgettable romantic getaway in the Sierra de las Nieves mountains.