he blue skies and the wild beaches and cliffs in Nerja come together to paint one of the most beautiful landscapes in the Costa del Sol. Whitewashed houses adorned with colourful flowers, cheerful plazas and a warm and welcoming atmosphere make this municipality one of the most popular tourist destinations in the world. The series 'Cocina en Origen' travels to this stretch of the Malaga coast to discover a culinary recreation made with locally sourced seasonal produce. Green mango salad is an homage to Nerja and La Axarquía region. And that's not all. Chef César Álvarez will also make a truly unique dish, sopa prehistórica, a soup whose origins date back to prehistoric times.
In Arab times Nerja was known as "Narixa", a name referencing its profuse water springs. In the municipality the salt water reaches the cliffs through the underground rocks, coming into contact with the earth and drinking from its springs. The perfect place to take a lazy stroll and feel time stretching out in front of you.
Cueva de Nerja: a must-visit
Samuel Perea interviews archaeologist and conservator of Cueva de Nerja, Luis Efrén. One of the most spectacular underground caves in the Iberian Peninsula, Cueva de Nerja is an extraordinary and one-of-a-kind archaeological site that has been in existence for almost 45,000 years. Beyond the wonders of geology, the cave also houses some impressive cave art and is without doubt a must-visit during your time in Nerja.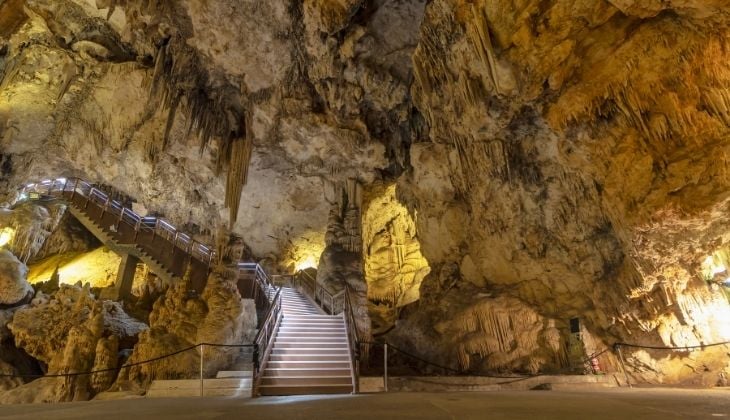 Cooking with chef César Álvarez at Parador de Turismo de Nerja
In hotel and restaurant Parador de Turismo de Nerja, chef César Álvarez shows Samuel Perea how to prepare a green mango salad using the fresh fruit sourced from Finca La Mayora. Perched atop a cliff, Parador de Nerja is an exclusive hotel where you can really relax and enjoy an incredible holiday. With its grounds populated with exotic trees, Parador de Turismo de Nerja promises stunning sunrises, a relaxed atmosphere and refined cuisine.
Recipe for sopa prehistórica
Before preparing the green mango salad, César delights Samuel with another traditional dish from Nerja, sopa prehistórica, a prehistoric soup made with molluscs and herbs (fennel, lemon thyme). And what better receptacle to make the dish in than a faithful recreation of a prehistoric bowl.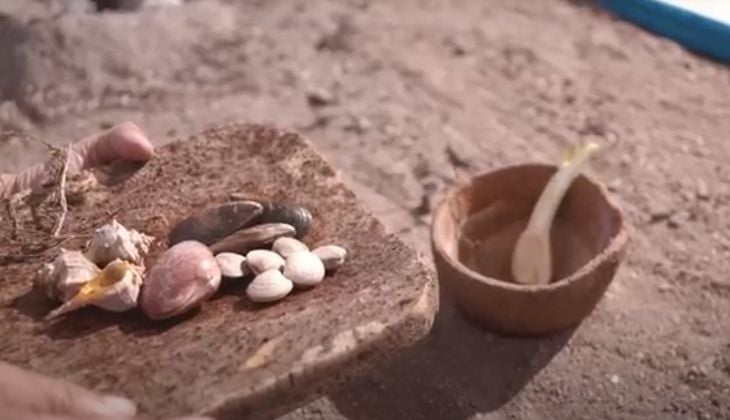 - When the fire is ready, César places a couple of pebbles found on the beach in the embers.
- He places the bowl in the sand, adding a slice of fennel, some thyme, mussels, smooth clams, sea snails and clams.
- He adds a combination of sea and fresh water.
- He then takes a hot pebble from the embers and puts it in the bowl: the aim is to bring the water to the boil and cook the molluscs.
- He covers the bowl with the bark of a tree and waits for a couple of seconds.
- He stirs to check whether the molluscs are cooked.
- He then removes the pebble and adds another to finish cooking the molluscs.
- He covers the bowl again, waits for a couple of seconds, removes the pebble and the prehistoric soup is ready to be enjoyed.
Recipe for green mango salad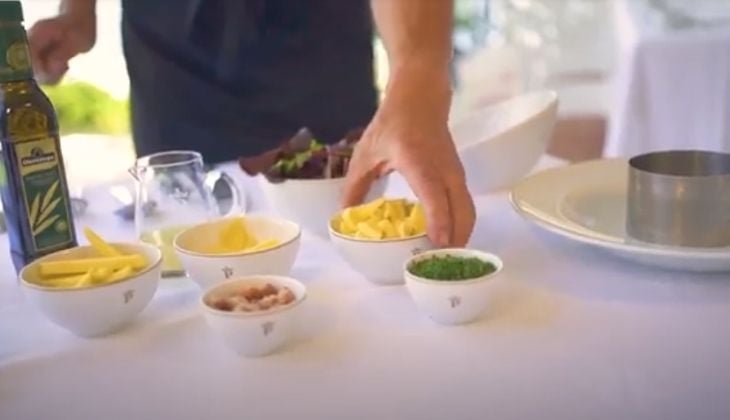 Green mango gives a zesty and intense flavour to the salad. The recipe is a recreation that uses local and seasonal produce. An homage to Nerja and La Axarquía region.
- César has prepped all the ingredients. All he has to do is let the cubed mango marinate with lime juice for a couple of minutes. He adds extra virgin olive oil, salt and lime zest, gives it a good stir and puts to one side.
- He puts a plating ring in the centre of the plate and adds some spinach leaves and Swiss chard.
- He then adds the marinated cubed mango and some slices of mango that he has previously soaked in lime juice and extra virgin olive oil. Around the ring he carefully plates some ajoblanco, pomegranate seeds, chive, caramelised almonds and, finally, a crisp made of rice, chia and sunflower seeds.
- He finishes the plate with a drizzle of extra virgin olive oil and the salad is ready to be enjoyed!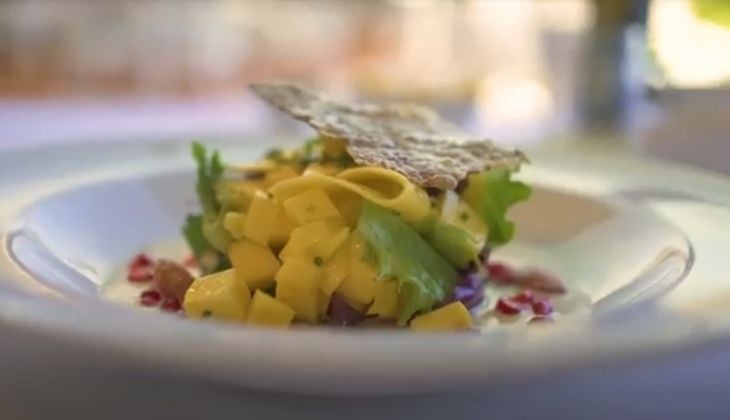 It is said that Nerja enjoys one summer and three springs, as the municipality boasts mild temperatures all year round. Any time is therefore a good time to tuck into a delicious salad, just like the one César and Samuel prepared using mango. Standing on Balcón de Europa and gazing out at views over the Mediterranean, strolling along the pretty streets, resting on the benches lining the plazas and enjoying a drink on the terraces of the local bars and restaurants. Sea caves, waterfalls, springs, verdant greenery, rich and diverse sea life and some of the most pristine coves on the Costa del Sol. Nerja is a delight to be experienced. And once you've visited once, you'll find yourself coming back time and time again.