It will come as no surprise to hear that Malaga is a city that is bursting with culture. If you don't believe us, ask Antonio Banderas. Indeed, there is just as much art and culture in the Costa del Sol as stunning beaches lining the coast.
The province of Malaga offers the best of both worlds with its incredible weather all year round and a vibrant calendar of cultural events and activities. In this post, we are going to take a look at just some of the children's theatre shows that are on this Christmas period. Keep reading to discover six wonderful ways to spend quality time with your family.
The children's theatre programme in Torremolinos
Every self-respecting list has to get off to a great start. During the festive season, family-friendly theatre really shines in Malaga province. And nowhere is this more true than in Torremolinos where the children's theatre programme promises four days of exciting shows.
On the line-up are Los viajes de Julio Verne, an adventure classic, Cubisú y los Cubicubos and more. Grab your kids and take them to Auditorio Municipal Príncipe de Asturias in Torremolinos to get them actively participating in shows, learning all sorts of interesting things and immersed in the world of storytelling. We look forward to seeing you there from the 5 December to the 2 January.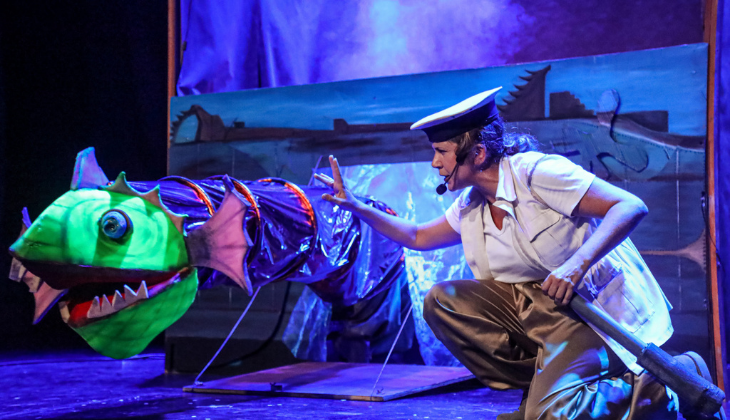 Fuente: Acuario Teatro
Puppets take to the stage
Very few things cause more excitement in children than a great puppet show. Bursting with wonder and magic, these theatrical performances will stir up their imagination. Escondidos en la fuente is no exception. Staged at avant-garde Teatro Cánovas in Malaga city on the 18 and 19 December, this Ángeles de Trapo piece is a must-see for all the family.
The show is an invitation to enter a world of imagination. In the performance, fantasy and education come together to tell the story of a street artist who, one day, meets some extraordinary creatures. Children's theatre in Malaga at its very best.
The same theatre company is also putting on a Christmassy play in Alhaurín de la Torre. El señor Scrooge: cuento de Navidad tells the well-known story of an old miser who loathes the festive period but ends up changing his world-view. The piece will be performed at Centro Cultural Vicente Aleixandre on the 11 December. You won't want to miss it.
From the page to the stage
In 1865, at the start of the Second Industrial Revolution in England, the ingenious Lewis Carroll dreamt up one of the most enduring characters in children's literature: Alice. This festive season, Centro Cultural Provincial María Victoria Atencia will host Alicia, an adaptation of Alice's Adventures in Wonderland that will capture the imaginations of all the family. Make your way to the theatre for 7pm on the 22 December.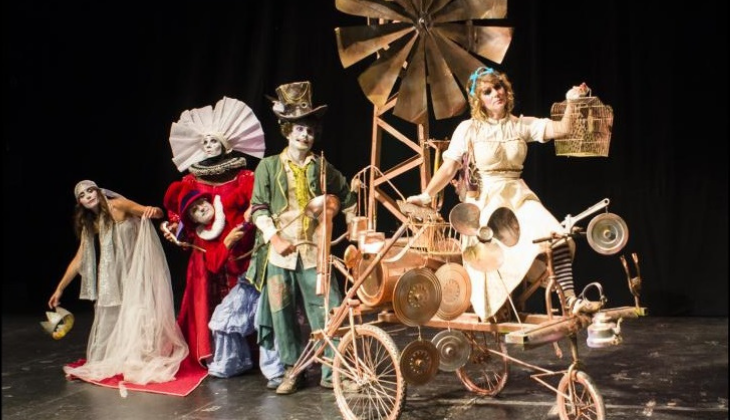 Fuente: Centro Cultural Provincial María Victoria Atencia
But this is not the only theatre play based on a literary classic to come to the Costa del Sol this winter. Hansel and Gretel will be performed at Centro Cultural MVA in Malaga to tell children aged five and above the classic fairy tale.
And that's not all. Two plays based on Hans Christian Andersen's fairy tales will delight all the family in Marbella. La Cerillera (A Little Match Girl) and La Reina de las Nieves (The Snow Queen) are the perfect opportunity to teach your children values such as solidarity and love through theatre on the 10 and 18 December respectively.
La Aventura del Teatro in Malaga (La Térmica)
Staging, movements, communication. La Aventura del Teatro offers exactly this in the making of one of the most entertaining children's shows in Malaga. Games and experiences will help the participants develop their creative skills. Designed for children aged 7 to 11, the workshops are a great way to get your little ones into the performing arts. Sign them up from the 2 October to the 25 December.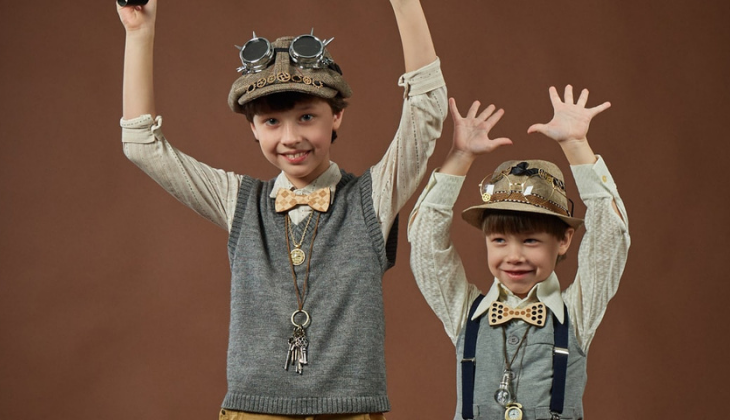 Fuente: La Térmica
Musicals in the Costa del Sol
Children's theatre in Malaga is much more than plays; it's also musicals. Anastasia, for children over the age of 12, and La Cenicienta, a chamber opera based on the story of Cinderella, are just a couple of examples of musical theatre for children. Kl'aa, tu canción is also well worth a mention, a piece for young children which won the Fetén prize 2020.
La Cocina at Teatro Cervantes
With charity event Festival Soles de Málaga 2021, in support of underprivileged children, taking place on the 21 December at Teatro Cervantes, culture in the Costa del Sol is nothing if not diverse. If you're looking for theatre that is a little bit out of the ordinary this winter, La Cocina is it, a piece which won the National Prize for Performing Arts for Children in 2013.
Now that you know what's on at the theatre this festive season in Malaga, tell us: which show piques your interest? Grab all the family and enjoy all the theatre the Costa del Sol has to offer this festive season and beyond.