Are you planning a family getaway? If you're in the mood for a peaceful destination steeped in Mother Nature—one with a range of fun activities, food, historic sites and more for parents and children alike to enjoy—Sierra de Grazalema Natural Park is where you want to be.
Sitting right between Cádiz and Malaga, Sierra de Grazalema Natural Park is made up of ​​51,695 hectares and 13 municipalities, five of which belong to the province of Malaga: Benaoján, Montejaque, Cortes de la Frontera, Jimera de Libar and Ronda. This park is sure to create an unforgettable experience for any family trip. Read below to find out why!
Wild animals in the wild
A family trip to Sierra de Grazalema Natural Park should include endless amounts of animal-watching. Unlike a typical zoo, Grazalema is all about life in the wild. See how different animals like deer, mountain goats and Majaceite river otters live together in harmony. If you're into bird watching, you can see more than 200 bird species here, from majestic griffon vultures and vigilant booted eagles to little blue tits, sandpipers and owlets.
Hiking or cycling excursions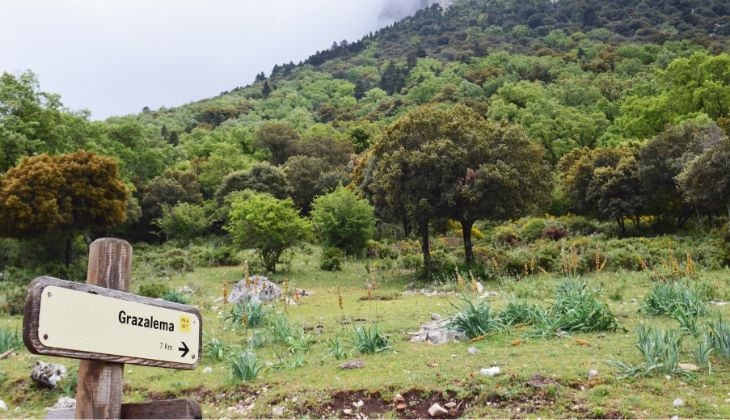 Pinsapar de Grazalema
Sierra de Grazalema is a great destination for excursions on both foot and bike. This natural reserve has 20 routes between Malaga and Cadiz, many of which follow the paths blazed by ruthless bandits in the 18th and 20th centuries. (Children usually find this very exciting!)
An excursion to Pinsapar de Grazalema is great to do with kids. The tour, which requires a special permit from the Ministry of Environment, starts on the road from Grazalema to Benamahoma and gives participants a great view of Grazalema, Ronda, the Sierra de las Nieves mountains and, if it's a clear day, the Sierra Nevada mountain range. All along the path, you'll find native species of fir trees. The Majaceite River Trail is another Grazalema route that's popular for families because it's beautiful and can accommodate all skill levels.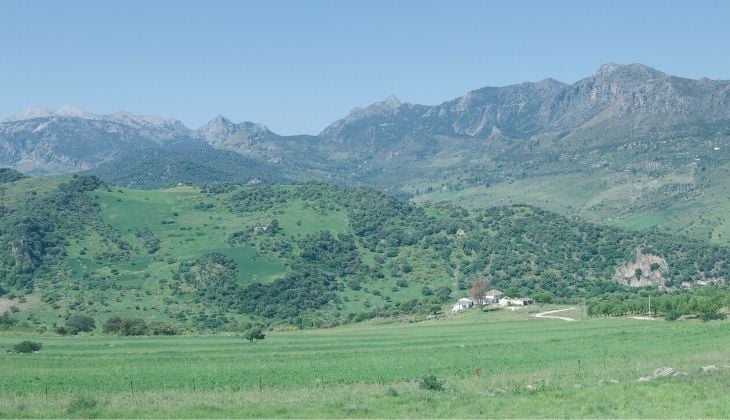 Cavers for a day
Together, the Hundidero Gorge and Cueva del Gato form the largest cave system in Andalusia, the Gato - Hundidero system. Located in Sierra de Grazalema Natural Park, these caves formed when parts of the Guadares River flowed through the area's natural limestone rock. Throughout this system, explorers will find impressive canyons, siphons, lakes, chasms and cavernous surroundings.
Declared a Natural Monument, Cueva del Gato houses mystical stalagmites, stalactites and an important collection of cave paintings from the Neolithic period—some of which are 20,000 years old. There's a play area for kids next to the entrance and a lake where families of all ages can go for a swim on a hot day. Head over to Benaoján and you'll find Cueva de la Pileta, another cave with archaeological treasures worth seeing.
Regain your strength with good food
Grab a table at any bar and restaurant in Sierra de Grazalema, and you can try one of the area's most iconic dishes: Grazalema Soup, a brothy soup made with peppermint, bread, egg and chorizo. Other typical dishes from the area include asparagus soup, baked lamb, tagarninas (or "pot thistles"), venison, tasty sausages and local payoyo cheeses.
Accommodations for the whole family in Sierra de Grazalema
When you take your family to Sierra de Grazalema Natural Park, you'll get to enjoy the splendour of Mother Nature firsthand. And to enjoy those surroundings, there are plenty of accommodations for every interest and budget. If you're more traditional, you can stay in a comfortable hotel like the picturesque Cortijo Salinas Country Hotel, which is just five minutes from Ronda and looks like a typical Andalusian farmhouse.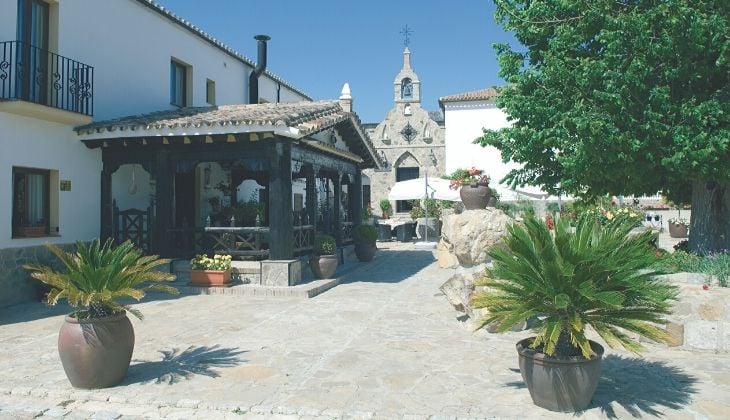 Source: Cortijo Salinas Country Hotel
For something a little different, Cortijo La Bodega invites guests to sleep in an old winery with a nice pool and an expansive garden. It sits just opposite Cueva del Gato, at the crossroads of three natural parks—Sierra de las Nieves Natural Park, Los Alcornocales Natural Park and Sierra de Grazalema Natural Park. Nature lovers might want to consider staying at Casa Rural Montion, a beautiful country house that can sleep up to 18 people. It's perfect for big family trips!