Are you looking for a totally different destination from what you've already seen? In the heart of the Serranía de Ronda and in the middle of Valle del Genal's beautiful landscape, you'll find Júzcar: the blue city. Dive into its blue streets and enjoy the tranquillity and impressive natural environment of this small Costa del Sol village.
Júzcar, the "Blue City"
This curious village shocks with its completely blue houses and buildings. However, few knew about it before 2011, when Sony Pictures chose it as the place to promote their film "The Smurfs." It was then that Júzcar truly transformed, becoming the only blue city in Spain. After the tourism boom that the film brought about, a popular vote of residents was held to decide if they wanted to maintain the blue colour or go back to white; the result was a resounding "yes."
What to Do in Júzcar
In addition to admiring the beautiful green landscape that surrounds this blue city, there are a symphony of activities that await sport and adventure lovers. In this article, we'll tell you about a few.
Hiking
If you're someone who enjoys hiking, you'll find your perfect paradise in Júzcar. There are 3 different trails that you can follow in Júzcar: Moclón, los Molinos and los Riscos. The first is a lineal, 3km trail with medium-low difficulty. The other two are circular trails of 1.3km (low difficulty) and 6.5km (medium-high difficulty).
Lookouts
Another thing to do in Júzcar is to go to its enchanting lookout points. One of the most famous is the Mirador de La Torrichela, where you'll be able to take a selfie with the Great Smurf statue. The San José and Jardón lookouts also deserve a visit.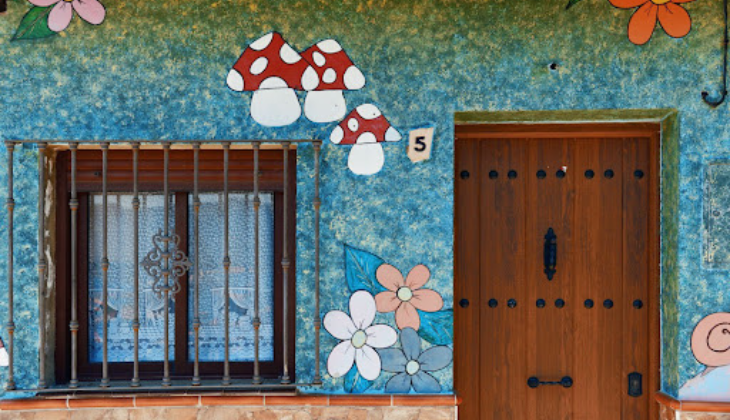 Zip Lines
Zip lines are activities you can't miss in this town. In Júzcar, you'll find many of them, where you can enjoy sliding down fast and admiring the city's beauty from above. The first zipline is Salto del Villano, 200 metres long, and the second is Salto del Gran Zul, 150 metres long. You can access both ziplines with just one ticket and it's perfect for both children and adults. This fun, outdoor amusement park also has a Tibetan bridge and several climbing walls; fun and adventure are guaranteed.
Monuments and Other Things to See in Júzcar
The Church of Santa Catalina is one of the main monuments in Júzcar; built in the 16th century, it's made up of rectangular architecture with a flat roof that conceals traces of Mudejar armour. And just like the rest of the village, this church was also painted blue for the Smurfs.
Another mandatory stop in Júzcar is the crumbling Fábrica de Hojalata, a factory that opened in the middle of 1731. In the Museo Micológico, you'll be able to learn more about the region's vast variety of mushrooms. It's also a cultural centre that hosts speeches, conferences and workshops about mushrooms.
In addition, Júzcar is part of the Ruta de Fray Leopoldo, a rural, sightseeing trail that also includes Alpandeire, Pujerra, Igualeja, Cartajima and Faraján. This trail honours the most venerated saint in Andalusia; you'll also find incredible almonds, daffodils and white rockrose.
As you can see, despite the small size of this charming city, Júzcar is a destination that surprises everyone who visits. Enjoy its calm atmosphere, kind people, the typical food of the Serranía de Ronda and all kinds of outdoor activities. It's a place to visit any time of year.