In Costa del Sol, Holy Week—the week leading up to Easter—is one of the most celebrated weeks of the year. All week long, different Malaga municipalities, including inland towns and coastal locations, parade through the streets carrying thrones they've decorated themselves, while onlookers line up alongside to cheer them on. Easter in Malaga is a big deal! We have created this guide to map out the different Easter processions taking place all over Malaga. Experience the tradition with us from the comfort of your own home when you watch it in 360º.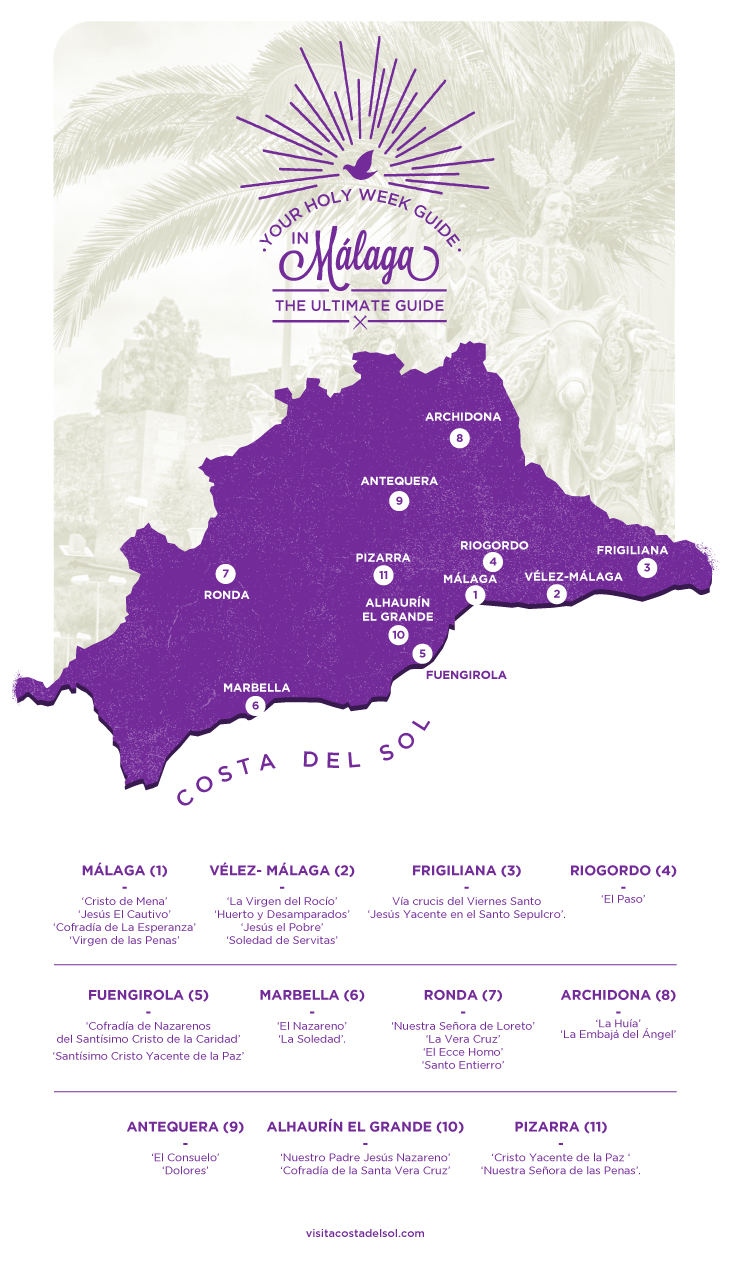 Holy Week processions in Malaga city
As the centre of Costa del Sol, Malaga is at the centre of Holy Week celebrations. The most famous procession is "Cristo de Mena," which always includes decorations and images of "Jesús El Cautivo", "La Cofradía de la Esperanza" and the "Virgen de las Penas." Adding to their allure, the mantles on display during this procession change colour every year, and are usually made with over 2,000 flowers.
Holy Week processions in the Axarquía
Vélez – Málaga
Dating back to the early 16th century, Holy Week celebrations in Vélez - Málaga draw tourists from all over the country. Of its 19+ municipality processions, some stand out more than others. Take "La Virgen del Rocío," "Huerto y Desamparados", "Jesús el Pobre" and the silent procession of "La Madrugá: Soledad de Servitas", for example.
Frigiliana
If you're thinking about visiting Frigiliana, do it during Holy Week! Aside from being in a beautiful destination, Holy Week in Frigiliana is known for its Good Friday procession, where locals use a cross (like one that could have carried Jesus Christ) to reenact the death of Jesus and the image of "Jesus Lying in the Holy Sepulcher."
Riogordo
Holy Week in Riogordo is called "El Paso", Here, 500+ amateur actors have been reenacting stories from the Bible for 50+ years.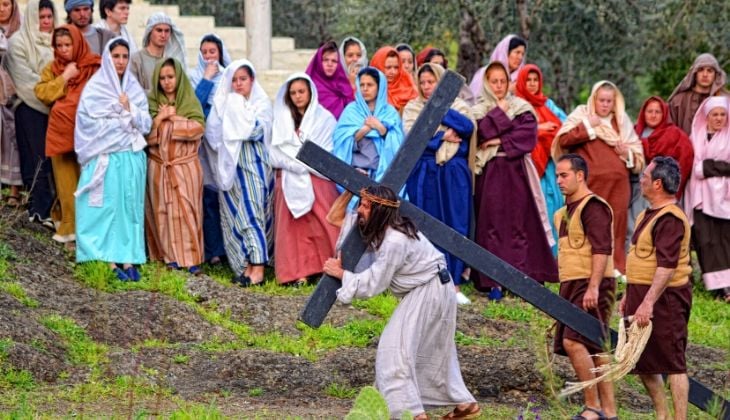 Holy Week processions in the coastal villages of Malaga
Fuengirola
For a taste of the Sevillian baroque tradition, experience Holy Week in Fuengirola! Here, there are religious processions of the "Brotherhood of Nazarenes of the Blessed Christ of Charity" and "Blessed Christ Yacente de la Paz", to name a couple.
Marbella
Like all of Malaga, Marbella is a must-see during Holy Week. During this week, the destination comes alive with religious processions of "Nazareno" and "La Soledad".
Holy Week processions in Malaga's interior villages
Ronda
Ronda was once overtaken by Catholic monarchs, and during Holy Week, that past comes to life. Holy Week celebrations in Ronda are unlike anywhere else on earth, with 15 must-see processions, including "Señora Nuestra Señora de Loreto" on Easter Sunday. (This particular procession is carried out solely by women from the coast of Spain.) Ronda also hosts processions of "Vera Cruz," "Ecce Homo" and "La Santo Entierro," which aren't to be missed.
Antequera
Holy Week in Antequera is famous for what has become known as "running the valley," an activity that consists of climbing thrones at full speed through the steep slopes that lead to the region's temples. Another special moment is "the encounter," when thrones of the same or different brotherhood face each other as a symbol of unity.
Archidona
Holy Week of Archidona, which stems from the 16th century, is celebrated by six different brotherhoods. The most symbolic event from this region is the "Figure of the Bells," where individuals lead different processions playing a specific bell chime. Other than that, popular processions come from Holy Week in Archidona, like "La Huía" and "La Embajá del Ángel," both come from the Brotherhood of El Huerto.
Holy Week processions in the Guadalhorce Valley
Alhaurín El Grande
Holy Week in Alhaurín El Grande is a top tourist event in Spain. Everyone should go at least once in their lifetime! At this festival, expect to see popular processions like that of "Our Father Jesus Nazarene" (also known as "Los Moraos") and the "Brotherhood of Santa Vera Cruz" ("Los Greens").
Pizarra
Holy Week in Pizarra is enchanting. Known for its religious heritage, this part of Spain hosts Good Friday midnight processions, like "Christ Yacente de la Paz" and the impressive "Our Lady of Sorrows".
We hope you liked our guide to Easter processions in Malaga! Most importantly, we want you to feel like you were able to live the tradition with us through our one-of-a-kind 360º.