People all over the world visit Costa del Sol for its great golfing, making it one of the most popular golf destinations in Europe. This part of the world has become known for its good weather all year round, excellent golf courses and variety of golf schools, resorts and activities. Within Malaga, Marbella, Estepona, Benahavís and Mijas are home to the largest concentration of the region's golf courses.
Tucked between Mijas and Alhaurín de la Torre, "Golf Valley" has over a dozen golf clubs, positioning itself as a benchmark in golf tourism throughout Europe. Perfect for golf lovers—and filled with golf schools, courses, many different tournaments, golf hotels and more—Golf Valley and Mijas are both a golfer's dream come true.
Golf clubs and schools in Mijas
Both in and around Mijas, golf clubs and schools abound. Read about some of our favourite golf courses in Mijas below.
Chaparral Golf Club
Spanning a length of 6,000 meters, Chaparral Golf Club golf course in Mijas was made for the avid golfer! Designed by Pepe Gancedo, this course requires great precision and skill from players. If golfing isn't your forte or there's a skill you want to improve, sign up for a lesson at the onsite golf school and get the professional instruction you need.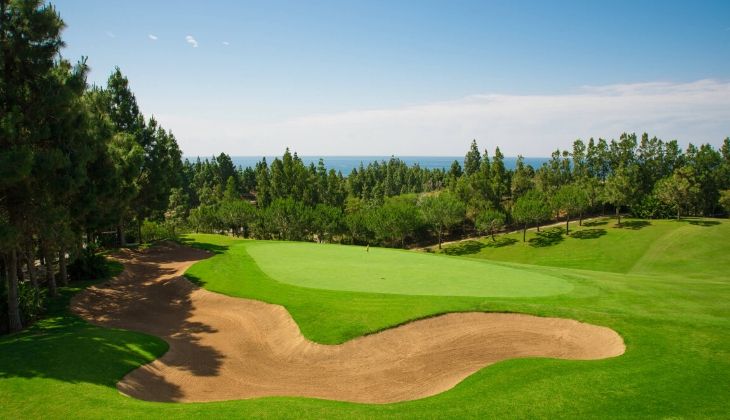 Source: Chaparral Golf Club
Cerrado del Águila Golf Resort
This golf course lucked out in terms of terrain. Its flat, wide fairways and complex holes make it an interesting and exciting course for both starting and accomplished players to play.
Club de golf La Siesta
Regardless of your skill level, La Siesta Golf Club has something for you! Its varied course makes it perfect for a wide range of players, and on top of that, it's home to an exclusive restaurant with stunning views of both the golf course and the Mediterranean Sea.
Calanova Golf Club
Head to Calanova Golf Club for one of the best views of the Sierra de Mijas over the Mediterranean Sea. There are no hidden obstacles on this course, making it great for players who just want a straightforward golf experience.
La Cala Golf
La Cala Golf: Made up of a golf school, La Cala Golf Academy, and three 18-hole golf courses—America Course, Asia Course and Europe Course—La Cala has everything golfers need. There is also a four-star hotel called La Cala Resort with a spa, Spa La Cala, and beautiful homes with stunning views available for sale.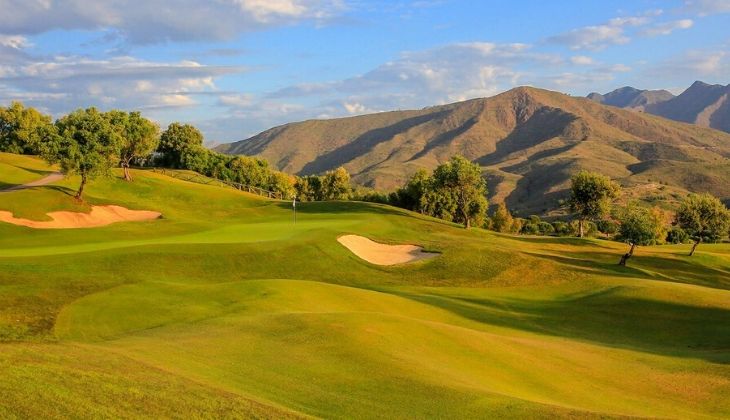 Source: Campo América - La Cala Golf
Golf tournaments in Mijas
With so many golf courses in Mijas, it's no surprise that the area also hosts countless golf tournaments. Mijas is the site of national tournaments like the San Miguel Golf Cup 2020, as well as several monthly competitions organised by area golf clubs. Find out more about all of the golf tournaments that take place in Costa del Sol here.
Golf hotels and resorts in Mijas
In a golfer's paradise like Mijas, don't miss the impressive range of hotels and resorts! We already mentioned La Cala Resort, but there is also Hotel Hacienda Puerta del Sol, which looks picturesque with its white, Andalusian-style buildings and extraordinary natural setting. Another option, Hotel TRH Mijas, sits in the heart of the mountains and offers guests complete sports facilities and a swimming pool with unbeatable views of the Mediterranean Sea.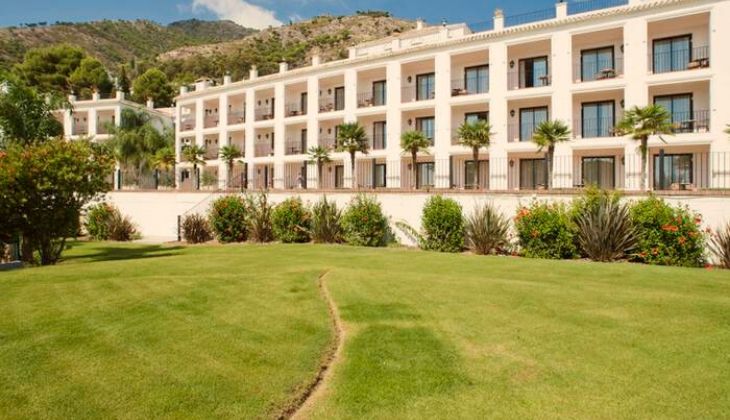 Source: TRH Mijas Hotel
Looking for something to do that isn't golf? Mijas is great for that, too. Mijas has a wonderful restaurant scene, a vibrant cultural life, leisure activities and more. When you're planning your next golf trip to Costa del Sol, don't hesitate to check out our Costa del Golf website—it has everything you need to know about Mijas, its golf amenities, the people of Costa del Sol and so much more.