The importance of Environmental Social Governance (ESG) is well proven. Sustainability is a requisite for companies, no matter what their size, nor which sector they are operating in. But we are not talking exclusively about financial sustainability. We are talking about sustainability in the purest sense: looking after resources and conserving something over time. Finca Cortesín golf club in Malaga, which is getting geared up to host the 18th edition of the Solheim Cup in 2023, is one of the 70 plus golf courses in the province of Malaga that are proud of their sustainability credentials. Keep reading to find out more.
Beautiful scenery in the embrace of mother nature
Finca Cortesín golf club in Malaga sits in a lovely setting close to the road to Casares. Surrounded on all four sides by vegetation, the course promises a round in the midst of the natural world. As you stand at the tee, you'll see gently rolling hills - that are exceptionally maintained - lay out ahead of you. This, paired with the incredible plant life in the area, doubtlessly speaks of why sustainability is one of the club's fundamental values.
Twenty different varieties of quintessentially malagueño Mediterranean trees – like the incredible wild olive trees surrounding the 13th hole – fuse harmoniously with the greens. While a sophisticated modern irrigation system using reused water keeps water usage to a minimum.
The first ever Acosol quality stamp
In April 2022, Western Costa del Sol Town Council Association, which represents a total of eleven municipalities, including Casares and Marbella, awarded its very first Acosol to Finca Cortesín. The quality stamp, which is the first of its kind in the province of Malaga (as these types of certifications tend to be issued by national and international institutions) rewards golf courses for being efficient in their water use.
Finca Cortesín Golf has been committed to using reused waters for irrigation purposes since 2017, when it changed its grass, planting the whole course with a more environmentally friendly variety named Bermuda.
Other awards, including the IAGTO Prize 2018
The glass Acosol plaque awarded to Finca Cortesín reads "100% reused water". This distinction is one of many awards that Finca Cortesín Hotel Golf & Spa has already received, including prestigious awards from Condé Nast Traveler and IAGTO. The latter was awarded to Finca Cortesín by the International Association of Golf Tour Operators (IAGTO) for its commitment to looking after the natural world and conserving resources.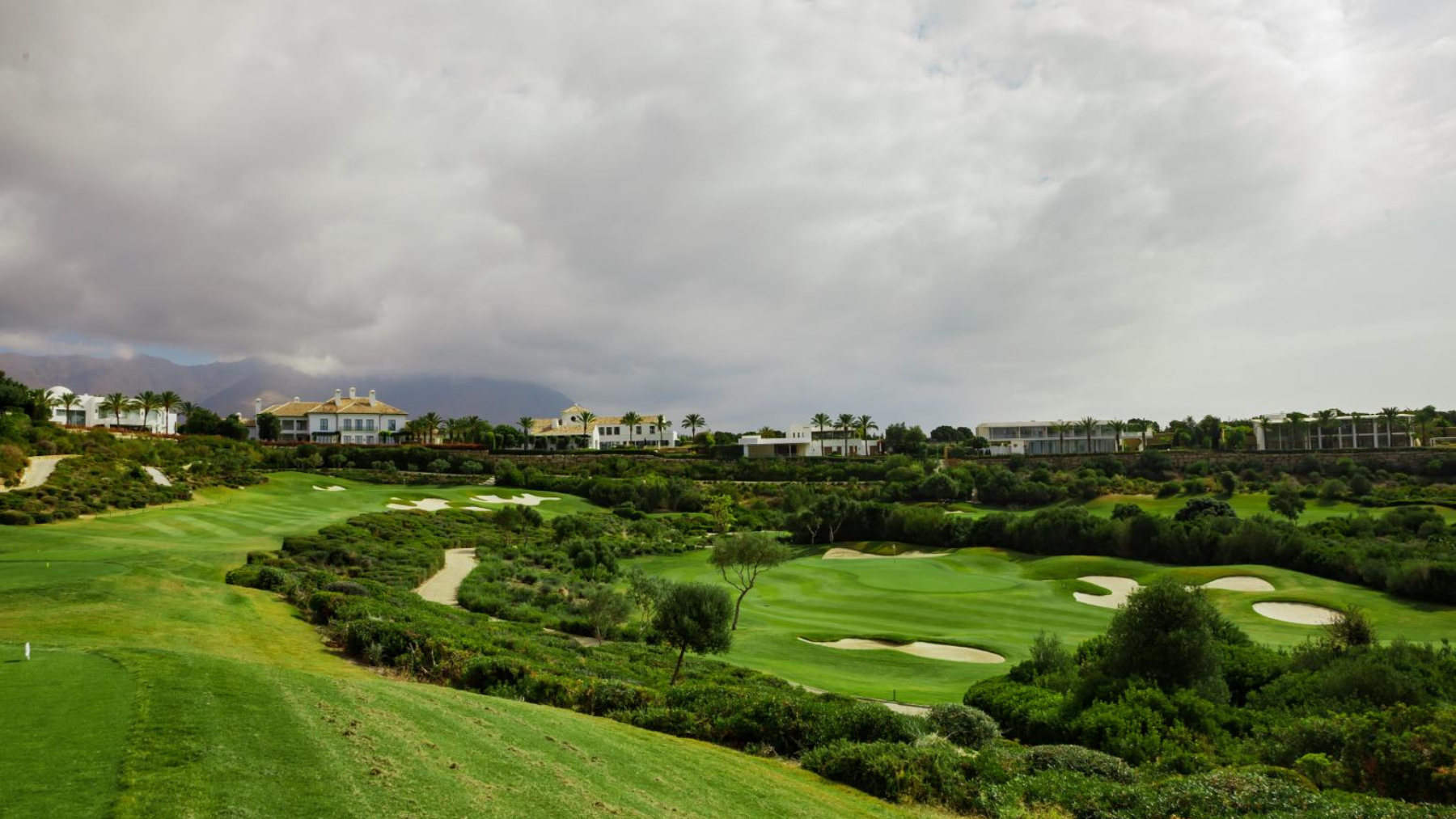 Environmental protection
Finca Cortesín Golf Club in Malaga, however, does not restrict its environmental concerns to just water use. As is noted in Andalucía Golf magazine, the resort is seeking to reduce the use of pesticides and is constantly working to conserve the flora surrounding its 18 hole-course. Which should come as no surprise given that the resort started life as a traditional Andalusian estate.
Beyond meeting Andalusian regulations encouraging golf courses to use reused water whenever resources are available – and as such to make golf an even more sustainable sport than it already is – Finca Cortesín in Malaga does its utmost to have the lowest possible impact on the scenery embracing its world-class facilities.
18 luxurious holes with a full set of services
And when we say a full set, we mean it. Finca Cortesín in Malaga is not just a golf course: it is a resort with a Five Star Gran Lujo hotel, a number of restaurants, exclusive services, a spa and an academy. This is a resort that has been crafted for golfers like you who are planning a trip to visit the 18-hole course designed by Cabell Robinson. Almost 3km punctuated with slopes and bunkers affording beautiful views over Sierra de Estepona and carressed by the Mediterranean breeze.
Do places that respect the environment and value sustainability appeal to you? If, in addition to this, you love playing golf and watching world-class competitions, Finca Cortesín will exceed all your needs and wishes. Come for a visit before, during and after the Solheim Cup 2023, which is being hosted here.