We know that, as in most sports, nutrition plays a very important role. How we take care of ourselves and what we eat will have a direct impact on our health and therefore also on our performance. For this reason, we should try to eat as complete and balanced a diet as possible. Something you should bear in mind is that, before playing golf, you need to introduce into your body foods that provide you with a lot of energy. That is why we recommend that you opt for recipes where healthy carbohydrates and/or proteins are present. Finally, if we are able to combine a good diet with exercise, we assure you that you will begin to notice the benefits of playing golf, both in the body and in the mind.
If you choose the Costa del Sol as the destination for your next golf experience, it will be so much easier. We are sure that our Mediterranean cuisine will drive you crazy and it is also characterised by being healthy and nutritious. That's why we have decided to choose the best recipes from four of our golf courses so you can fill up on energy, both before and after practicing this sport. Let's get to it!
Roast octopus - Greenlife Golf Club
Greenlife Golf Club is a golf course located in the heart of the Costa del Sol, in Marbella. It has 9 holes (par 3) that you can enjoy and it is also characterized by an incredible design and maintenance among many other aspects, such as climate, variety of holes, etc. It is on the top floor of the Club House, where you can find its restaurant called El Lago. This restaurant has been awarded a Michelin star since 2005, and if you decide to visit them, you can enjoy an extensive menu with recipes to replenish your strength between games and another very varied menu of snacks and suggestions. You can enjoy it both day and night; and, actually, it is at night when you can savour its prestigious signature cuisine.
Our first recommendation from their midday menu is the roast octopus dish, which, is placed on top of an appetising mashed potato dish made with Aove, a touch of mango and chorizo, which add a note of colour and differentiation to the recipe. We know this recipe will drive you crazy, as well as giving you the protein you need and filling you up with energy in no time. You only have to take one look at the dish to fall in love with it... Right?
Gazpachuelo malagueño - Añoreta Golf
Añoreta Golf is a golf course with a total of 18 holes located in La Axarquía. It is characterised by having a layout suitable whatever your level and magnificent views of the Mediterranean. As with the previous course, it is also in the clubhouse where you can find its restaurant, called Bendita Katalina. In the menu you can enjoy their wine cellar and a variety of dishes made with local products fused with new flavours, a very good option if you like to experiment with your palate.
In this case, our second recommendation for this course is a delicious gazpachuelo malagueño, which you can find in their menu as "Gazpachuelo Katalina style" There is no dish that is more representative of this province, as well as being very comforting and tasty. With its potatoes, egg, prawns... you'll have everything you need to perform at your best on your next golf getaway. If you still haven't tried a good gazpachuelo (in this case with a different touch), this is your chance. Are you going to let it slip away?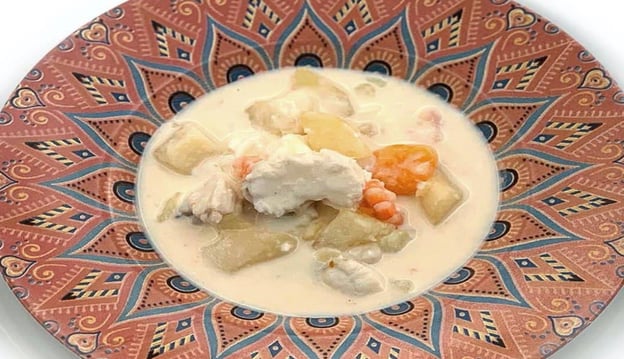 Chateaubriand - Chaparral Golf Club
Chaparral Golf Club is located in the valley of Mijas Golf, it has 18 holes surrounded by a beautiful Mediterranean forest and, furthermore, both its design and its landscape were conceived with great respect for the environment. Its restaurant, which you can enjoy in its Club House, is known as The Green Label. As well as being a restaurant it is a snack bar but, above all, it is known for its excellent service, the variety of dishes carefully prepared with natural and organic ingredients and the unbeatable views from its terrace.
In this case, and after deciding between all the exquisite dishes on the menu, we have decided to recommend their chateaubriand. As you can see, this is an excellent centre-cut sirloin steak accompanied by potatoes, cherry tomatoes, roasted mushrooms and a tasty pepper and barnaise sauce. With this dish for a minimum of two people, you're sure to hit the spot if you're a meat lover? Go ahead and enjoy a good protein dish!
Russian Salad - El Candado Golf Club
El Candado Golf Club is a 9-hole course with high quality facilities and located just 5 minutes from the centre of Málaga. It is a course where you will never get bored and where many professional players have already played. You can find its restaurant in the club facilities and be surrounded by beautiful natural scenery. Their menu is based on the traditional Malaga cuisine, based on creativity, good ingredients and professionalism.
Finally, we recommend you try their legendary Russian salad recipe. It is made with bonito tuna to enhance its flavour even more and give this appetising dish a touch of the sea. It was also awarded the prize for the best Russian salad in Spain in the 2nd Gastronomika Competition in 2019. You can find it on the menu as "Ensaladilla Rusa con Bonito" and we think it is a very good option to whet your appetite and refresh yourself with this delicious salad.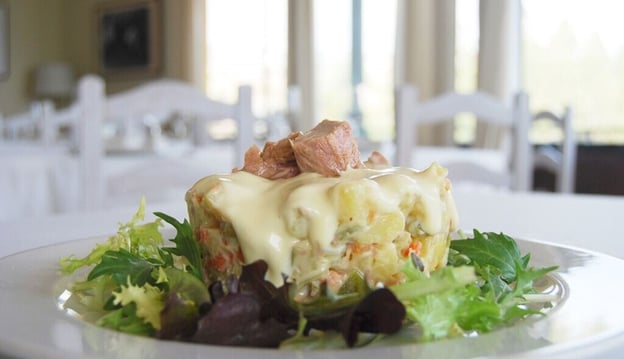 Now that we have managed to make your mouth water with these dishes, we are almost one hundred per cent sure that visiting the Costa del Golf and enjoying the recipes of its golf courses will be one of the main reasons to choose this destination. Remember to write down the ones you like the most, tell your fellow golfers about them and even share this article with them so that they can also choose their favourite dish. Finding the perfect destination for golf and gastronomy lovers has never been easier... And it's in your hands!