With its many festive experiences, the Costa del Sol is a wonderful destination for a romantic getaway at Christmas. Wander down the sparkling streets of towns and cities such as Malaga, Marbella, Antequera and Ronda, savour traditional festive food, stay in charming hotels and unwind in exclusive spas. Keep reading to discover how to make the most of the festive period in the Costa del Sol with your loved one by your side.
Sparkling Christmas lights
Can you think of anything better than a city break at this time of year? Towns and cities like Malaga emanate the magic of Christmas with streets decked in colourful lights. Calle Larios, in the capital of the Costa del Sol, comes to life with an impressive spectacle that won't fail to get you in the Christmassy mood. Jardín Botánico La Concepción, meanwhile, is also decorated with the most impressive Christmas lights, transforming the gardens into a festive wonderland when the sunsets.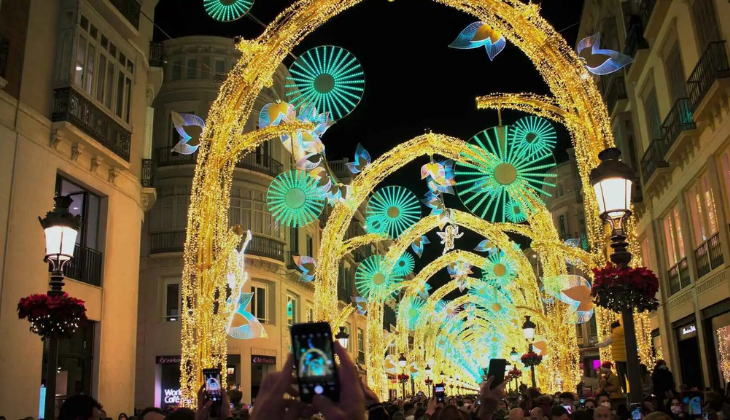 Fuente: El Español
Let the show begin!
If you and your loved one enjoy culture then you'll be pleased to know that Malaga's theatres are running incredible festive programmes. Teatro Cervantes, for example, is offering a diverse line-up featuring everything from instrumental music courtesy of La Insostenible Big Band (20 December) to the New Year's Concert by Orquesta Filarmónica de Málaga (30 December) and a performance of the Christmas ballet par excellence, The Nutcracker, by a prestigious Russian ballet company. As part of its festive programme, Teatro Soho Caixabank is hosting Company, a musical directed by and starring the great Antonio Banderas. And Teatro Echegaray is putting on plenty of shows, including the opera La Cenicienta XXXIII (Cinderella) on the 18 and 19 December.
Nativity scenes galore
Nativity scenes (belenes in Spanish) are traditionally displayed over the festive season in Spain. And the Costa del Sol is no exception. Malaga has its very own ruta de los belenes, a tour of the twenty nativity scenes in the city and a wonderful way to connect with the story of the birth of Christ. A good place to start is at the Malaga council nativity. With over 300 figurines, it is a sight to be seen. We also recommend visiting the nativity at Malaga cathedral, Parroquia de Sagrario and Museo del Vidrio as well as Portal de Belén de la Barriada de La Mosca, which is a huge nativity featuring over two thousand handmade figures at Peña El Belén.
Starred cuisine
Gastronomy is a fundamental part of Christmas celebrations. If you and your loved one enjoy fine dining, then you won't want to miss the opportunity to visit the restaurants that have been awarded a Michelin star or other prestigious awards. Some of these restaurants put on special menus to say goodbye to the end of the year and welcome in the new. A taste sensation awaits.
Sweet treats
If you've got something of a sweet tooth, you will love the festive treats traditionally eaten at Christmas in the Costa del Sol. Mantecados, pestiños, yemas del Tajo, polvorones de Antequera and other delicacies shine the spotlight on the province of Malaga's traditional gastronomy. You will see these delights and many others on tables throughout the festive period. Hotels and restaurants in the Costa del Sol also serve special menus so you can treat your palate to something special this Christmas.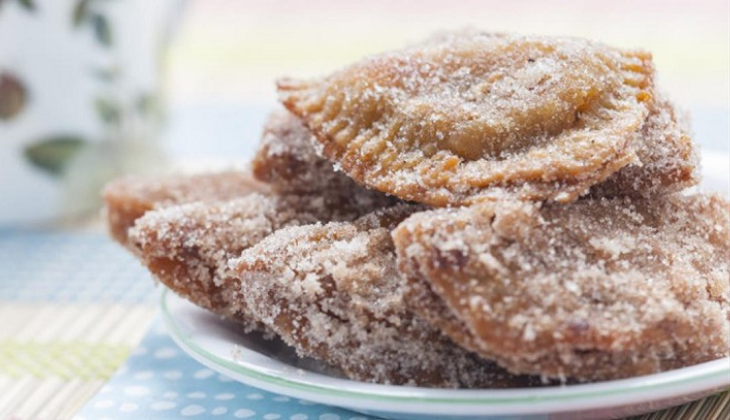 Relaxation for two
Need to relax and unwind after the excesses of Christmas? The Costa del Sol offers an extensive selection of health and beauty treatments provided by the best professionals. Sometimes the best gifts are those little moments of self-care, don't you think? Spending a relaxing weekend with your loved one at a spa hotel, balneario or the traditional Arab baths in Malaga is a romantic experience that will leave you feeling fully regenerated.
Christmas is a time for joy and romance. The province of Malaga invites you to come and enjoy all the wonders of the festive period, whether you prefer spending your time getting active, soaking up culture, savouring local cuisine or delving into the past. There are boundless ways to enjoy the festive season here in the Costa del Sol.