La Gran Senda de Malaga is much more than a simple route to be explored on foot, bike or horseback in the province of Malaga. It's an invitation to discover the purest essence of the nine local counties by immersing yourself in unique landscapes, picturesque beauty spots, delicious cuisine and cultural heritage that dates back centuries. Follow our suggestions and become totally enveloped in the trails and pathways that are suitable for all the family and all levels of fitness. And enjoy some quality family time in the midst of beautiful nature.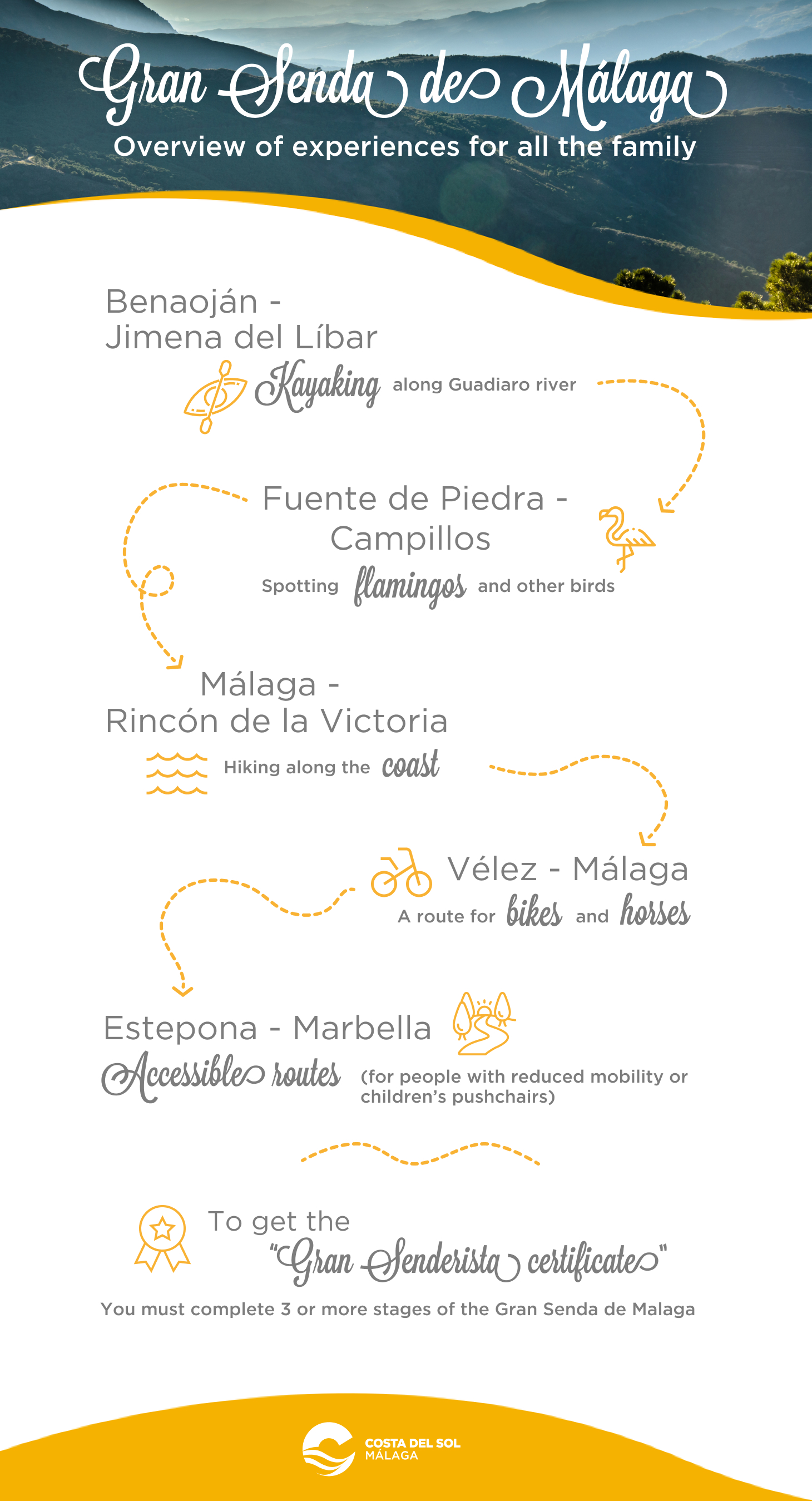 650 kilometres, 35 stages and 9 natural spaces
La Gran Senda de Malaga offers 650 kilometres of trails divided into 35 stages. Each stage is clearly signposted, defining the route and level of difficulty. Many sections of the route are child-friendly so you can enjoy a day of hiking and outdoor activities with all the family. A good example of this is the route connecting Benaoján station and Jimera de Líbar along Guadiaro river. The perfect place to paddle through the waters in a kayak.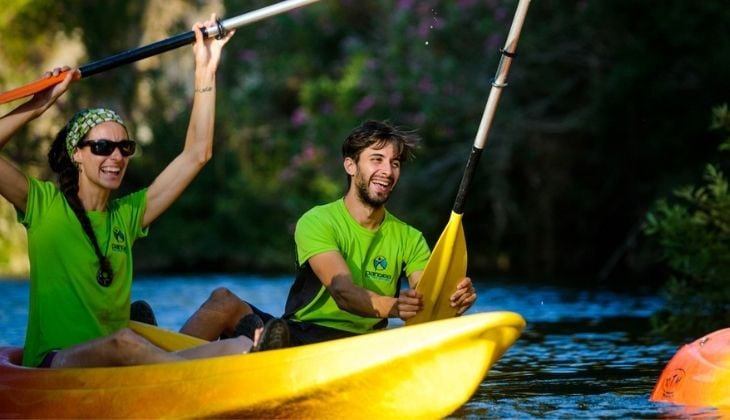 Another highly-recommended route for immersing all the family in nature is the trail between Fuente de Piedra and Campillos. As you walk the pathway surrounded by lakes, you'll be able to see various species of birds as well as one of the biggest pink flamingo colonies in Europe. A true spectacle of nature.
La Gran Senda Litoral: 160km along the Malaga coastline
If you prefer a coastal landscape, we recommend you head to La Gran Senda Litoral: a route that was created at the same time as La Gran Senda de Malaga that passes through the 14 municipalities hugging the coast, from Manilva to Nerja.
The route will treat you to awe-inspiring views of the spectacular natural coastline, including Cantales de La Araña, Peñón del Cuervo beach, Punta Chullera, the dunes in Artola, the delta of Vélez river, Desembocadura del Guadalhorce and the rocky section between Calahonda and Calaburras in Mijas. If you're looking for a child-friendly section of the route, look no further than the walk connecting Malaga and Rincón de la Victoria, which flanks the sea.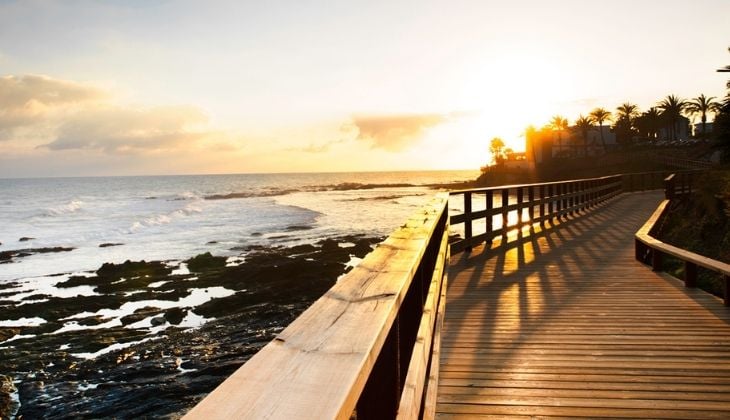 La Gran Senda de Malaga by bike or on horseback
Would you like to explore La Gran Senda de Malaga by taking a family bike ride? Most of the length of La Gran Senda de Malaga and La Gran Senda Litoral have a separate bike lane. There are also a range of routes for bikes and horses, including the trail connecting Vélez-Málaga and Torrox.
Accessible routes
Various stages of La Gran Senda de Malaga are designed to be enjoyed by people with reduced mobility and parents with pushchairs offering smooth surfaces free from obstacles to give visitors total autonomy. The perfect example of this is the route connecting Estepona and Marbella which passes through seafront promenades, marinas and beaches kissed by the Mediterranean.
The "Gran Senderista" Certificate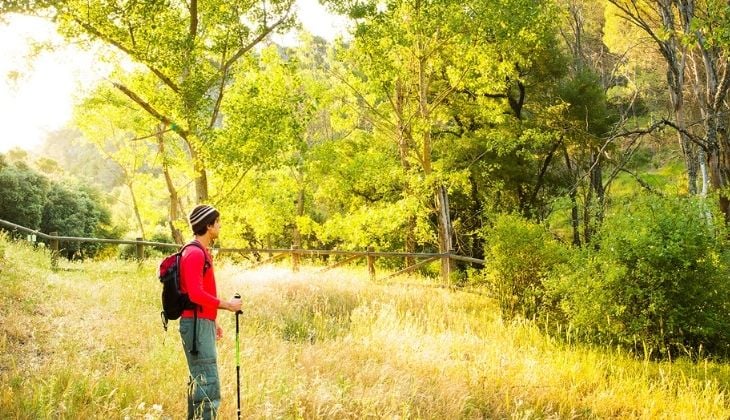 The "Credencial de Gran Senderista" is a certificate you can receive once you've completed a number of stages of La Gran Senda de Malaga. To get the certificate, you need to collect stamps along the way, stopping in at establishments (listed on this webpage) at the start and end of each stage. If you complete at least 3 out of the 35 stages of La Gran Senda de Malaga you will receive a certificate.
Our tips
Before setting off on your hike, bike ride or horseback ride, don't forget to put on suitable clothes and shoes and put some sun cream, water, hats and snacks in your backpack. If you're walking with children or older people, it wouldn't be a bad idea to add a little first aid kid too. If you're hiking, it is recommended you start at a slow pace and speed up if you feel like it. Try to match your steps with your breathing and avoid taking long breaks.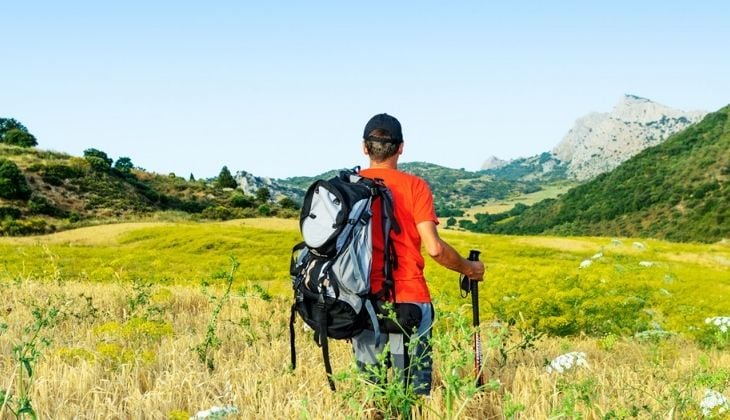 Expanding from the coastline to the hinterland, La Gran Senda de Malaga will immerse you in the most unique places of natural beauty. And that's not all: you'll also discover local heritage, cuisine and traditions along the way. Find your perfect accommodation and enjoy taking a walk with all the family through quaint white-washed villages, visiting museums and savouring an authentic taste of the Costa del Sol.