If you're reading this, you are probably looking for the perfect place to host your event in the Costa del Sol. Without doubt, one of the best options is a venue with sea views to really impress your guests, and you're in luck, as along the entire Costa del Sol coastline, there are heaps of options that you can choose from to find the perfect location for your event. Read on to discover the best selection of places to make your event a memorable one.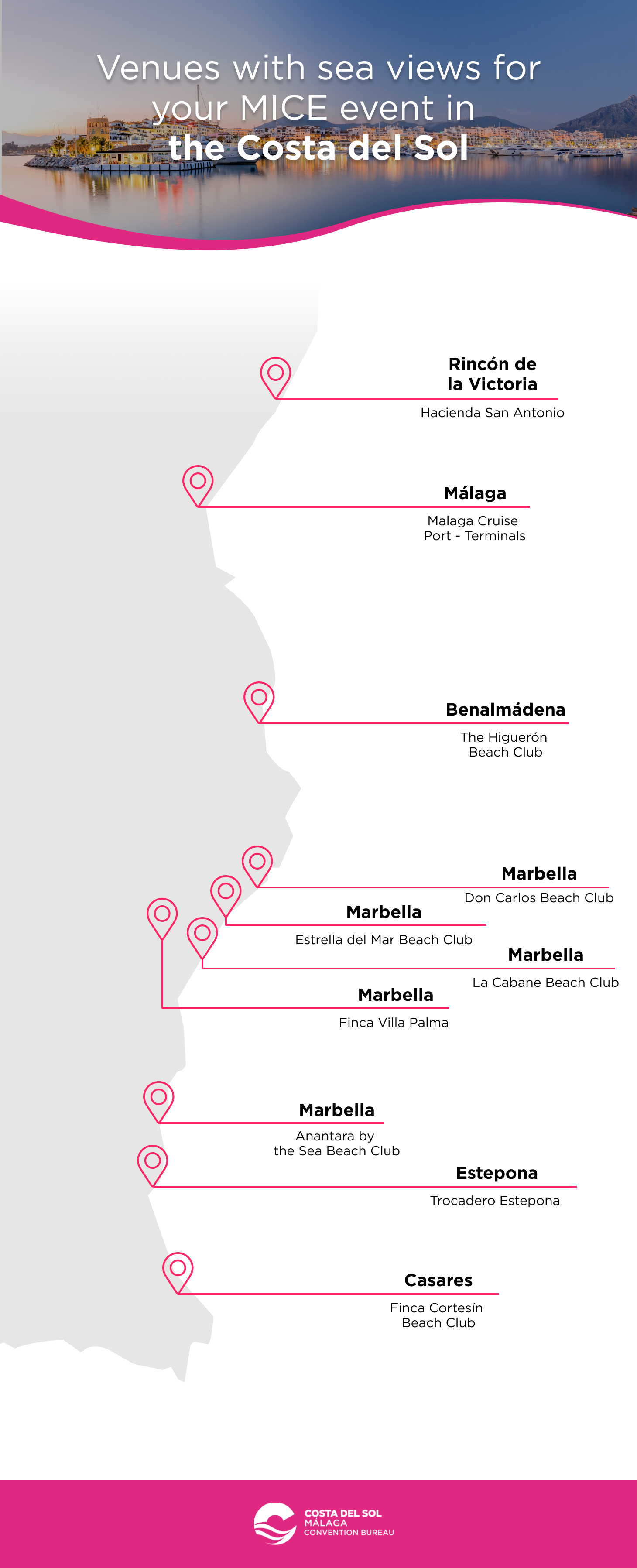 Malaga
Malaga Cruise Port - Terminals
Malaga port is around 3000 years old and harks back to the Phoenicians who used it for commercial trade. Since its latest remodelling, you can now rent event rooms with sea views for all kinds of occasions, in a unique location surrounded by the Mediterranean sea as you work.
Rincón de la Victoria
Hacienda San Antonio
Hacienda San Antonio, in Rincón de la Victoria has magnificent facilities both indoors and outdoors, all overlooking the Malaga bay. It's a unique venue for events and meetings, comprising unbeatable sea views in the heart of the region's incredible nature.
Benalmádena
The Beach Club Higuerón
Situated right on the beach, The Beach Club Higueron in Benalmádena exudes elegance and class. Opened in 2021, this club has three different restaurants (Japanese, Mediterranean, and light meals) for whichever dining experience you're in the mood for. There's an infinity pool, outdoor Balinese beds, and hammocks on the seafront. If you choose this venue for your event, all this bliss ensures it'll certainly be an unforgettable experience.
Marbella
Beach Club Estrella del Mar
The Beach Club at Vincci Selección Estrella del Mar Hotel in Marbella offers 4000 square metres of space and has everything you need to organise a company event with the Mediterranean sea as your backdrop. This modern and exclusive beach club is right on the beach, and only 400 metres from the hotel.
Beach Club La Cabane
La Cabane Beach Club is one of the most exclusive beach clubs in the whole of the Costa del Sol. Product launches, company lunches and dinners, networking events, team building activities, business meetings…all located in the luxurious Hotel Los Monteros, overlooking the Mediterranean. To host your corporate events, La Cabane Beach Club is a setting like no other and will undoubtedly make an impression.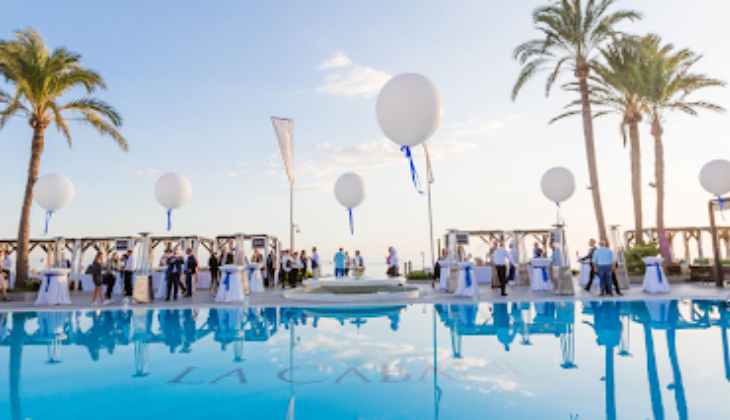 Don Carlos Beach Club
Don Carlos Beach Club is much more than just a beach club. It's a space created to indulge in hedonism while on one of the best beaches in Marbella. This exclusive and unique location, adorned with emblematic state-of-the-art furniture and pieces from leading designers, conjures up a gorgeous atmosphere for any type of corporate event. The hotel's dining experience focuses on the region's delectable cuisine, where dishes are elaborated with local Spanish ingredients, while also inspired by international gastronomy creating innovative fusions.
Finca Villa Palma
Just five minutes from the centre of Marbella city, you'll find this peaceful finca in the heart of nature. With the Mediterranean as your lucky charm, this a great place to host an event in Marbella. The site boasts idyllic gardens, footbridges, waterfalls, and secluded spots where you can soak up the lovely atmosphere while admiring the beautiful views of the bay. For evening events, the estate provides tasteful lighting that adds to the elegance of the place. Finca Villa Palma also has a function room that holds 250 people, and a swimming pool exclusively for event hire.
Anantara by the Sea Beach Club
With the seafront at your feet, surrounded by lofty palm trees, the beach club at Hotel Anantara Villa Padierna Palace is the ideal place to hold exclusive corporate events. Designed by chef Paco Roncero, with two Michelin stars to his name, its gastronomy is Mediterranean inspired fine dining. Alongside the incredibly high standards Anantara Villa Padierna Palace possesses, By The Sea Beach Club is the perfect place for a special corporate event that never cuts corners when it comes to quality.
Estepona
Trocadero Estepona
This exclusive beach club, located in front of Estepona's seafront promenade, has spacious terraces and a unique atmosphere only found at Trocadero. Enjoy all types of events here and indulge in the famous culinary delights of Grupo Trocadero, the sea at your toes, and the great weather that defines the Costa del Sol. It has a pool, hammock service, cocktail bar, and its very own sushi bar with all sorts of Japanese treats.
Casares
Beach Club Finca Cortesín
Located in the picturesque town of Casares, Finca Cortesín has an impressive beach club that covers 6000 square metres and is only 1,500 metres from the hotel. Splendid gardens and wooden decking border an impressive infinity pool. No doubt it's the perfect place to sip a cocktail while you enjoy the warm sea breeze. The restaurant, a step away from the beach, offers Mediterranean cuisine, with fresh fish, seafood, rice dishes, and salads. And of course, as always with Finca Cortesín, the service is impeccable.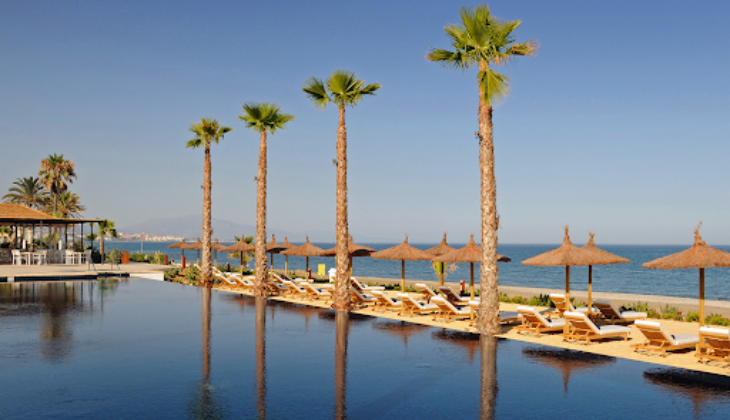 From modern spacious functions rooms for conferences, fairs and large events, to charming traditional dwellings with lavish gardens for smaller occasions - it's all here. If you want to surprise guests at your event, astound them with a venue that has breathtaking sea views. In the Costa del Sol you'll find the most enticing options to make your event that bit more special. For more information, head to the Convention Bureau page and find the perfect venue for you.