The 5,000-hectare Mountains of Málaga Natural Park is considered the most important "green lung" of Malaga! In addition to being a beautiful place to enjoy Mother Nature, it has five hiking trails recognized by the Junta de Andalucía Ministry of Environment. However, today we want to introduce you to a few hidden hiking trails in the park that locals love. Get ready for an outdoor experience you'll never forget!
Mountains of Málaga: wild and natural Costa del Sol
Declared a protected natural area in 1989, Mountains of Málaga Natural Park is a hot spot for hydrological resources due to its close proximity to the Guadalmedina river basin. It has plenty of trees, beautiful views, a backdrop of the Mediterranean Sea, archaeological sites (like the cave paintings of Casabermeja), hiking trails and plenty of oil mills that offer a peek into the area's fantastic history. This natural park is the perfect place to combine a little relaxation with southern Spain's beautiful mountainous terrain.
Mirador del Cochino - Mirador Vázquez Sell
Distance: 6,6 km – Difficulty: low (round trip)
This hiking trail starts from Mirador del Cochino, which you can get to by taking the A-7000 road (at kilometre 547) from the city of Malaga. You'll know you're at this popular viewpoint because you'll see a sculpture of a pig, as well as stunning views of both the city and the landscapes that surround it.
Start this flat, easy hike by following the path marked "El Cerrado." The trail will end at another viewpoint, Mirador Vázquez Sell (also recognized by the Junta de Andalucía), where you'll get to see rare birds of prey in the spring and fall seasons.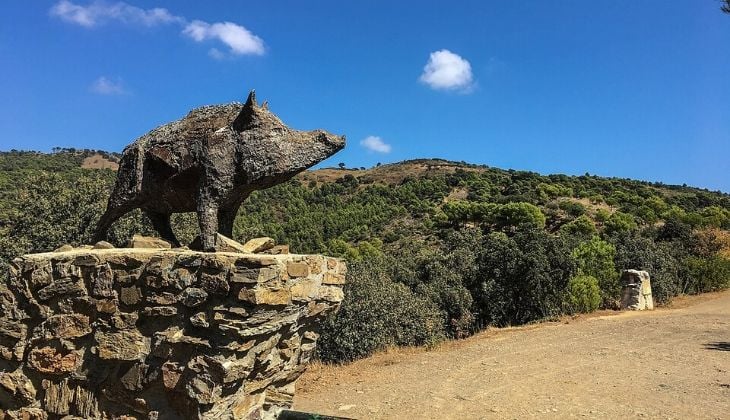 Torrijos – Chinchilla
Distance: 8 km – Difficulty: medium-low (circular route)
This trail starts and ends at Lagar de Torrijos (Some of the prettiest hiking routes in the Mountains of Málaga start here!). El Lagar de Torrijos is an ecomuseum and campsite that is home to a replica of the Lagar de Los Montes house. True to the original, this house contains antique instruments that were used to make sweet Malaga wine, bread and the area's popular extra virgin olive oil.
Start the route by heading north towards Carretera de Los Montes, until you reach a small pathway with a stream just to the left of it. You will cross that stream, make a left at Arroyo El Mirlo and continue your way around back to El Lagar de Torrijos. Wineries are common in this area, like Lagar de Santillana or Lagar de las Ucemillas (both of which you'll pass on this trail).
Molino del viento (Windmill Route)
Distance: 3 km – Difficulty: low (round trip)
The Windmill Route is perfect for beginners, and a great way to see the Mountains of Málaga. The trail starts at El Viento. To get there, you'll need to first pass Fuente de la Reina and Venta de El León on your right. Keep walking one kilometre and you'll see a path that leads to Pico de El Viento, the second-highest mountain top in the Mountains of Málaga, with an altitude of 1,029 metres.
This trail is most known for its variety of flora and fauna. Look for blue jays, robins, blue tits and blue climbers, as well as chestnut, walnut, wicker, rose, honeysuckle, majuelo and gall oak trees.
Verdiales in the Mountains of Málaga
If there is any classic Malaga folklore, it's the "verdiales," a type of song and dance show where performers dress in traditional local clothing. The ritual occurs twice a year—during the wine harvest (September) and on the Day of the Holy Innocence (December 28)—at Mountains of Málaga Natural Park.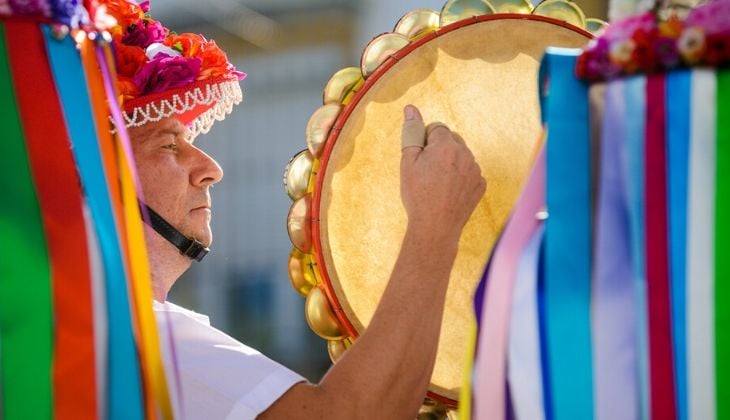 The best panoramic views
Get the best panoramic views of Costa del Sol from the Mountains of Málaga! When you go to the Cochino, Martínez Falero and Vázquez Sell viewpoints, you'll get both unbeatable mountain views and a greater understanding of how big this stunning natural park really is.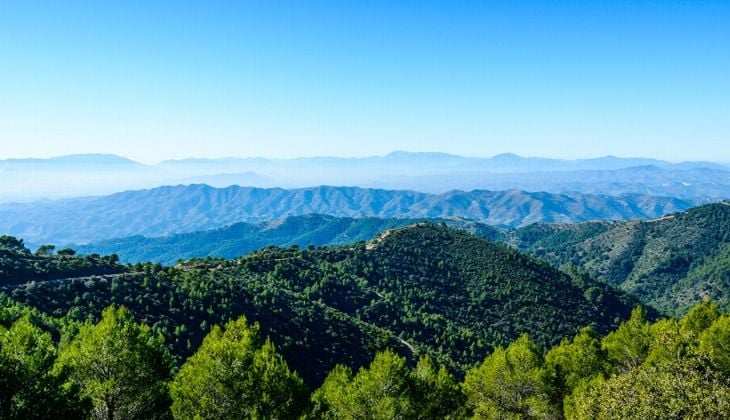 With its perfect location, Mountains of Málaga Natural Park is a great addition to any Costa del Sol itinerary. Few places have such diverse landscapes as Costa del Sol—so book a hotel and see all the nature this province has to offer!