The Costa del Sol is a formidable destination for holding a business meeting, conference or any other type of event. Malaga province boasts the highest quality services that meet all the requirements of the business world; but it is also a vibrant place where you can combine business and networking with having a great time. Sharing the Mediterranean way of life with your colleagues or clients is an ideal way to build stronger professional relationships. In this post we are going to list a number of event venues located across Malaga province that will make your meeting, conference or convention a resounding success.
Haciendas and estates: authentically charming
Hacienda del Álamo - Malaga
If you're planning a product launch or social event, an estate or hacienda could well be the perfect venue for you. The Costa del Sol is home to a large number of these sorts of properties that are equipped with all the services and facilities you need to put on an incredible event, from delicious menus to unique spaces and gardens where you can enjoy the weather. A good example is Hacienda del Álamo in Malaga, a beautiful venue where you can enjoy all this and more. Watch your guests fall in love with the historic building, business centre and exhibition space.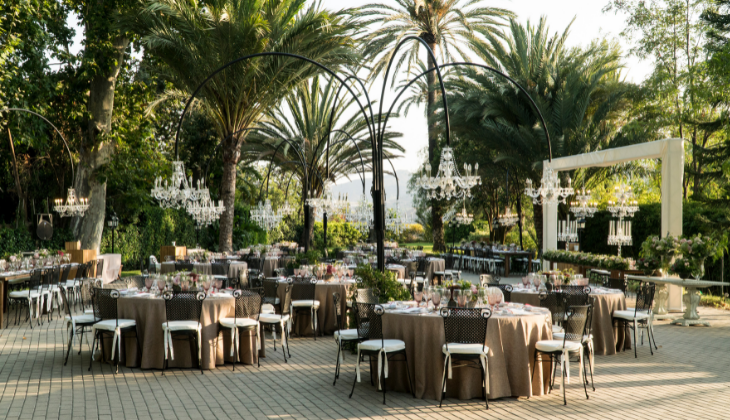 Finca El Realengo - Malaga
Another wonderful event venue in the Costa del Sol is Finca El Realengo. This estate sits in Jardín del Retiro, which is one of the most important botanic gardens in Europe. Complete with chill out areas and generous spaces, the venue is ideal for hosting all types of conventions and events.
Hacienda La Biznaga – Cártama
If you're looking to impress your clients with a quintessentially Andalusian venue, Hacienda la Biznaga is the place for you. It even has its very own bull ring! This Cártama-based hacienda offers a wide range of services that will envelop your clients in an exclusive and ever-so Costa del Sol atmosphere.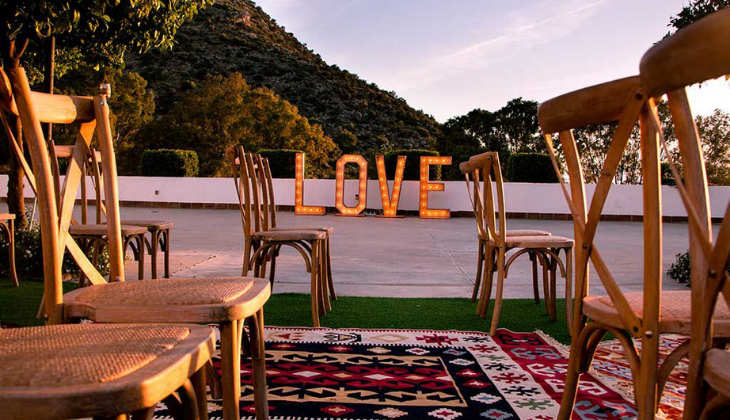 Fuente:Hacienda La Biznaga
Hacienda Nadales - Malaga
Can you imagine treating your guests to a reception in a beautiful Neoclassical 18th century palace? At Hacienda Nadales you can do exactly that. Not only does the hacienda boast spectacular architecture, it also has beautifully landscaped grounds that envelop the historic property.
Cortijo de Cortés - Marbella
Enveloped by beautiful golf courses, Cortijo de Cortés is located in the midst of Marbella's Golden Mile. Just five minutes from Puerto Banús, the property boasts elegant patios, quintessentially Andalusian spaces and a bull ring, promising versatile spaces where you can hold your event.
Finca Amalur - Marbella
Run by Alabardero Catering, Finca Amalur is a beautiful Marbella-based estate that you can rent out to hold all sorts of events and celebrations. The venue is renowned for its versatility and flawless service. A creative space where you can design an event tailored to you in the heart of the Costa del Sol.
LA Organic - Ronda
Sitting in the midst of olive groves and lavender plants and with vistas over Serranía de Ronda, LA Organic is a beautiful country property where you can host the most magical events. The 150m2 terrace affords stunning views over the grounds and the Sierra de Grazalema mountainscape and there is a selection of chill out areas where your guests can soak up the unique atmosphere.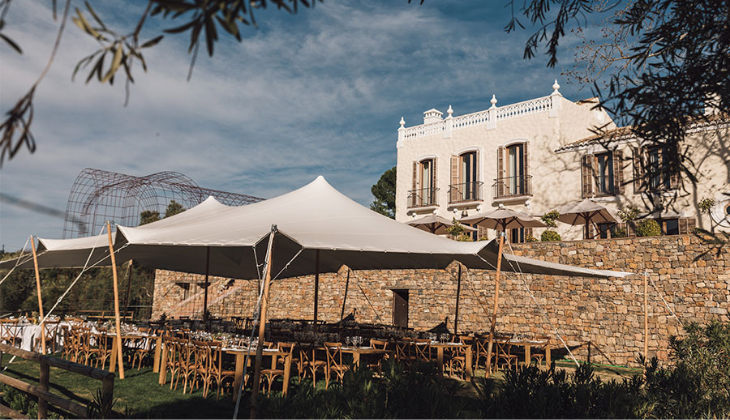 Fuente: LA Organic
Reservatauro - Ronda
Reservatauro is a fighting bull and pure Andalusian horse breeding ground located in an area named a UNESCO Biosphere Reserve, in the heart of the Costa del Sol, and just 5km from Ronda. The estate offers a wide range of options for business events and activities, in which you will be immersed in the nature, culture, art and history of Andalusia. A truly unique venue that your guests will never forget.
Museums and galleries: a world of culture
Museo Automovilístico y de la Moda de Malaga
Housed in the former Royal Tobacco Factory in Malaga, this car and fashion museum displays over 90 vehicles made from the year 1898 to the present day, as well as a collection of vintage haute couture. As an event venue, the museum offers over 6,000m2 with a capacity of up to 3,000.
Museo Carmen Thyssen Malaga
Located in Malaga city, Museo Carmen Thyssen has got everything you could possibly need for a business or institutional event. There are a selection of exhibition spaces available, in addition to exclusive halls that lend themselves to any type of event.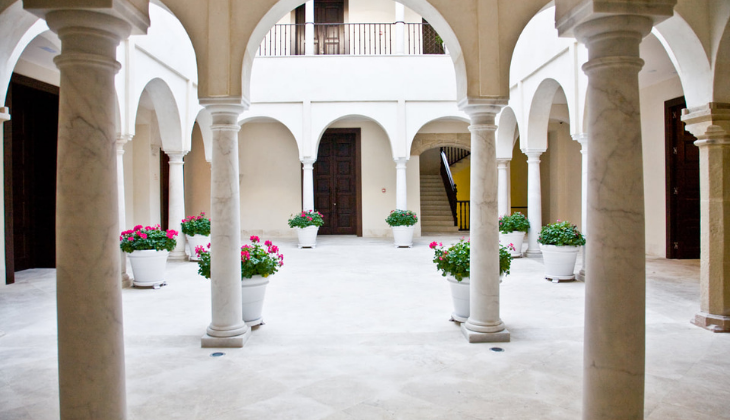 Museo Interactivo de la Música
Museo Interactivo de la Música is housed in an 18th century Baroque palace located in the historic centre of Malaga city. The music museum offers a number of spaces, halls, an interior patio with natural light and an outdoor terrace, all of which are beautiful places to hold your event.
Museo Picasso Malaga
From cocktail parties in the central patio to out-of-hours guided tours, conferences in the auditorium and art workshops, Museo Picasso Malaga offers unique experiences for corporate events. Housed in Renaissance Palacio de Buenavista, the museum spaces lend themselves to events that bring people together.
The Costa del Sol, an expert in MICE tourism
Following decades of experience in the event and conference sector, the Costa del Sol is a leading destination for business events such as meetings, conferences, trade fairs and incentive trips. And it's not hard to understand why. There are wonderful facilities and infrastructure, excellent connections via air, rail and road, a diverse range of accommodation options specialising in MICE tourism, as well as the best professionals at your disposal to help you plan your event. Whether you're planning a trade fair, incentive trip, convention, product launch, conference or meeting, the Costa del Sol promises that your event will be a success.